Apple's iPhone 4S Gets an 8-Megapixel CMOS Sensor and an F/2.4 Lens
Plus, faster processing, shorter lag times and 1080p video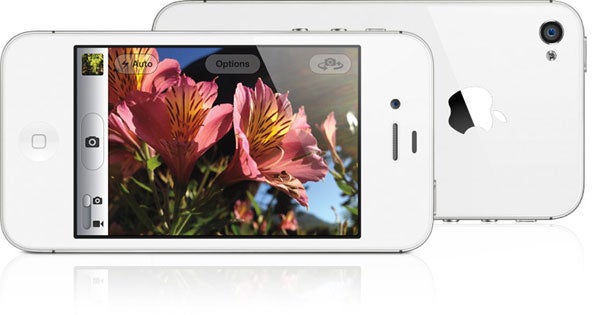 We may earn revenue from the products available on this page and participate in affiliate programs. Learn more ›
The iPhone camera is popular. Really popular. But, whether you love it or hate it, you can't deny that it just got a lot better.
Perhaps the biggest news from a photographic perspective is that the iPhone 4S is the new sensor. It's an 8-megapixel CMOS that's back-illuminated, which Apple claims captures "73% more light." That 8 MP resolution is a 60% increase over the previous model's 5-megapixel affair and brings the final resolution of the images to 3264 x 2448.
The sensor is behind a new hybrid infrared filter, which they claim will significantly cut down on the amount of ugly chromatic aberration and ghosting. That means less ugly distortion in photos, especially in extremely bright circumstances.
The combination of the improved sensor and the new A5 processor also promise better automatic white balance (something the iPhone 4 wasn't particlarly excellent at) and decidedly improved capture speed. The time between opening the app and taking the first photo is down to just 1.1-seconds and the interval between shots is now .5 seconds. That's not impressive if we're talking about compacts, but compared to other cell phones, it's pretty snappy.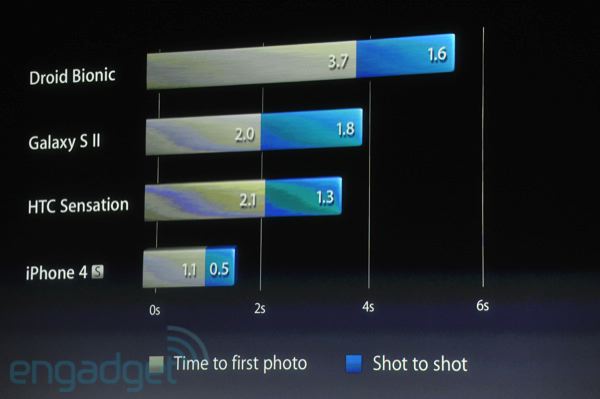 The other 800-pound gorilla from the announcement is the new lens. It's now composed of five elements, which they claim make it 30% sharper than the camera on the original iPhone 4. They've also given it a maximum aperture of F/2.4. While the tiny sensor still won't give you much in the way of shallow depth of field, the increased amount of light coming in should help cut down on motion blur. That's espcially true when combined with the new high-sensitivity sensor.
While the sensor got more pixels, there's nothing to suggest that it actually got any bigger from a physical standpoint. We'll be interested to see how that increasingly crowded CMOS chip does in terms of noise. But, with better glass in front of it and roughly 7x more processing power attached to it, it seems like we should be able to expect some tangible improvements when it comes to image quality.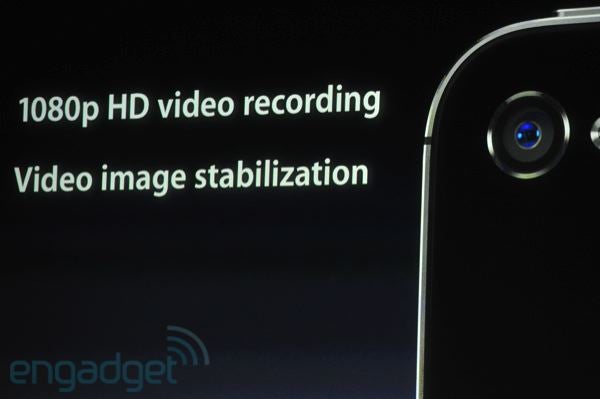 Oh, and if you're into video, Apple has empowered the iPhone 4S with the ability to grab 1080p video. The video function will also use its own specific noise reduction system and a digital image stabilization system. But, don't get that confused with optical image stabilization. Because the video capture doesn't use the entire sensor, it has the ability to shift the frame to keep things steady. The lens elements don't move like they do in optical IS systems, so it won't work in still capture mode.
So, there are the details. What do you think? Are these improvements improvements what you were hoping for? What's on your wishlist for the next version? Maybe they can integrate the camera into the voice control system so all you need to do is yell "Take a picture of Dan!" and you'll end up with a great portrait.
For everything else you need to know about Apple's new iPhone 4S, check out the full post over at PopSci.com.