"Who Stole My Pictures" Firefox Plugin Helps You Track Down Illicit Image Use
A Russian Firefox plugin will trawl through image search engines looking for duplicates of your work.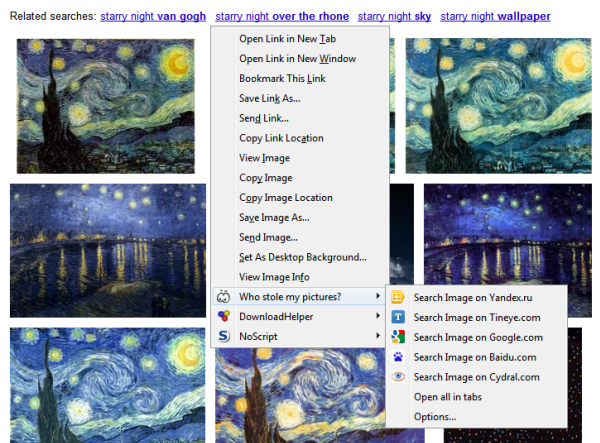 Who stole my pictures? is a Russian made Firefox plugin that adds a new contextual menu to your browser, allowing you to reverse image search for the photo across five major worldwide search engines. Once installed, just right-click on the image, and you can trawl through Yandex.ru, Tineye.com, Google.com, Baidu.com and Cydral.com for duplicates. If you're anything like me, you've only heard of two of those five, which makes sense as Yandex is Russian, Baidu Chinese and Cydral a less well known image based search engine.
The plugin allows you chose each search engine individually, or open all of them simultaneously in different tabs.
While there's no way for any engine to catalog every single photograph on the internet, this multipronged approach is more effective than just using a single service — especially as you can use it to look through non-English websites which might be harder to track down otherwise.
So, what do you do if you find your prized photography being used on someone else's website? Check out our My Photo Is Being Used Without Permission: Now What? guide on the correct steps to take to stop unauthorized use.
[Ghacks via Lifehacker]