Panasonic Updates Firmware For G Lenses, Now Labels Them HD
Panasonic has just released a new version of the firmware for a number of its lenses, improving their image stabilization and quietening their focus motor.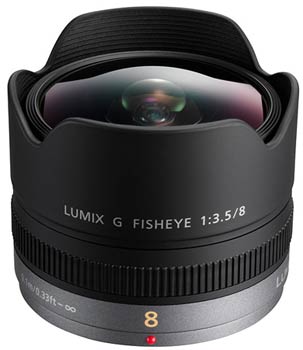 We may earn revenue from the products available on this page and participate in affiliate programs. Learn more ›
A new firmware update has just surfaced from Panasonic, but unusually, it's for their lenses, not their cameras. The firmware version 1.1 for seven G-series micro-four-thirds lenses. With this update, Panasonic is promising improved optical image stabilization and reduced auto-focus volume while recording video — a change which is apparently enough to garner them Panasonic's HD tag for the lenses. The HD label are for those lenses that Panasonic thinks especially suited to recording video with.
One thing we're left slightly scratching our heads on is which lenses this update works for. According to the press release, these seven lenses are affected:
(1) LUMIX G 14mm / F2.5 ASPH. (H-H014)
(2) LUMIX G VARIO 14-42mm / F3.5-5.6 ASPH. / MEGA O.I.S. (H-FS014042)
(3) LUMIX G FISHEYE 8mm / F3.5 (H-F008)
(4) LUMIX G VARIO 100-300mm / F4.0-5.6 / MEGA O.I.S. (H-FS100300)
(5) LUMIX G VARIO 7-14mm / F4.0 ASPH. (H-F007014)
(6) LUMIX G VARIO 14-45mm / F3.5-5.6 ASPH. / MEGA O.I.S. (H-FS014045)
(7) LUMIX G VARIO 45-200mm / F4.0-5.6 / MEGA O.I.S. (H-FS045200)
However, if you actually look at the update website, only four of those lenses are marked as being updated: the H-F008, H-FS014042, H-FS100300 and H-H014. I'm guessing it's either that there's a hiccup in labeling which ones have been updated, or that the software has only properly rolled out for those four, with more in the works. Some of the ones listed above still show the same firmware from 2009.
Since these updates need to be installed on the lens, you have to download the firmware, put it on an SD card, and then run it through the camera itself onto an attached lens to get the benefit — and you need to download a different file for each, which can run up to a couple of hundred megabytes each. Just make sure you know which files are going where and are for what bit of glass, here's hoping you can't do any permanent damage by attempting to run the wrong firmware on the wrong lens.