Nik Software Announces Color Efex Pro 4
The newest version of Nik's popular color filter and effects software has just been announced, and will be available from October.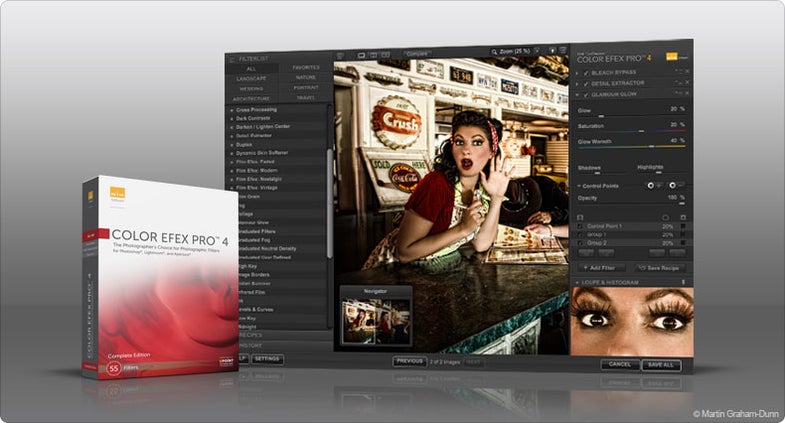 We may earn revenue from the products available on this page and participate in affiliate programs. Learn more ›
Nik Software has just enveiled the fourth version of Color Efex Pro, now available for pre-order on their website. Set to launch October 2011, the upgraded image editing program offers new filters, shareable filter settings, a history browser and more. Here's the full list of new features you can expect from the software:
Filter Combinations-Add multiple filters at once, adjust opacity, and make selective adjustments to get the desired look
Brand New Filters-Detail Extractor, Dark Contrast, Vintage Film Efex, Natural Image Borders, and much more
Visual Presets-Each filter contains single-click starting points making it possible to explore creative options quickly
Style Recipes-Customize and share filter combinations with others, using recipes
History Browser- Facilitates intuitive comparison of previous edits and different looks
GPU Processing and Multi-Core Optimization-GPU Processing takes full advantage of the processors found on advanced display adapters providing even faster performance
Interface, Interaction, and Workflow-Benefit from interface and interaction improvements to filters, zoom controls, shortcut keys, and much more
Nik Color Efex Pro 4 will be available in two packages. The Complete Edition comes with all 55 filters and will set you back $199.95, and the Select Edition comes 26 filters for half the price, just $99.95. If you're already an Efex Pro user, if you have version 2 or 3 of the software you can upgrade to the Complete Edition for $99.95, and if you purchased Color Efex Pro or a Complete Collection bundle since August 7, 2011, you get the new edition for free.
The system requirement to use Color Efex Pro 4 aren't too onerous. You need a PC running running Windows XP or newer on an AMD or Intel processor, or an Intel Mac running Mac OS 10.5.8 or newer; 2GB of RAM (4GB recommended); and Adobe® Photoshop® CS3 through CS5, Photoshop Elements 8 through 9, Adobe Photoshop Lightroom® 2.6 through 3.0 or later, or Apple® Aperture® 2.1.4 through 3.0 or later.