New Gear: Nikon J1 and V1 Interchangeable Lens Cameras
Nikon treads new ground with an ILC and a wholly new lens mount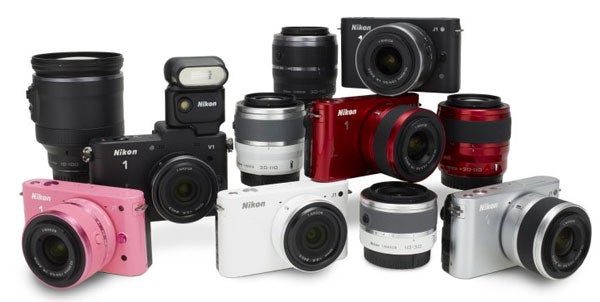 We may earn revenue from the products available on this page and participate in affiliate programs. Learn more ›
Nikon has been extremely tight-lipped about their newest camera system, but tonight they pulled back the curtain and unveiled a pair of interchangeable lens compact cameras that bring the company full-force into the ILC war.
The guts of both cameras revolve around a 10.1-megapixel CMOS sensor in what Nikon is calling the CX size. That's 13.2mm x 8.8mm which makes it smaller than its four thirds competition, but bigger than the upcoming Pentax Q system. That gives it an overall crop factor of 2.7, which comes into play when using the F-mount adapter (more on that in a minute).
One of the main talking points for Nikon about the sensor is its ability to do focal plane phase detection AF at hugely fast speeds. When phase detection is wrong for the shooting situation, it automatically switches to contrast AF for speed. First impressions from technical editor, Phil Ryan suggest that it's fast, but not really noticeably faster than Micro Four Thirds in terms of AF. It also helps that it has 73 AF points in phase detection mode. That's a serious array — more than any other interchangeable lens camera according to Nikon.
Image processing is handled by the Expeed 3 processor, which allows for a burst rate up to 10 fps with AF tracking.
One of the big new stories here is the introduction of the Nikon 1 lens mount. At launch, the J1 and the V1 will have the 1 NIKKOR VR 10-30mm f/3.5-5.6, 1 NIKKOR VR 30-110mm f/3.8-5.6, 1 NIKKOR 10mm f/2.8 and 1 NIKKOR VR 10-100mm f/4.5-5.6 PD-ZOOM. The FT1 mount adapter will allow you to slap any F-mount lens on a 1-series body, which may be a substantial advantage considering their current user base.
There are two models to choose from: The V1 and the J1. The V1 is the higher-end model and includes an integrated electronic viewfinder with 140k dots of resolution. It covers approximately 100% of the frame. It also has a 921k dot TFT LCD display, a mechanical shutter and a flash sync speed of 1/250th of a second. All of that is wrapped up in a magnesium alloy body tougher than that of the J1.
The J1 loses the integrated viewfinder and drops the resolution of the LCD display to 460k dots. It also has an electronic shutter, to help keep the price down.
The V1 also has the advantage of an accessory shoe into which you can plug a flash — neither have one built-in — or a GPS module, neither of which have received official pricing info yet. The J1 has a pop-up flash to make up for its lack of shoe.
Nikon has also spruced up the shooting modes in their new little cameras, some of which blur the line between photography and video capture. Both cameras can capture 1080p video at 60i with simultaneous still image capture at full-resolution.
The Motion Snapshot mode records "about a second" of video footage surrounding the shutter press. It's recorded at 60fps and plays back at 24fps. It actually sounds a lot like a non-repeating cinemgraph.
Both cameras will be available October 20th. The cheaper J1 will cost $649 and come packed with the 10-30mm zoom lens. The V1 will cost $899 packaged with the same lens.
We'll have more info and some hands-on impressions with the new cameras tomorrow, so stay tuned for a lot more about Nikon's new babies.