Flickr Finally Gets An Android App And Communal Browsing
Flickr has two new features it hopes will help it stay competitive in an increasingly vicious war for photo-sharing dominance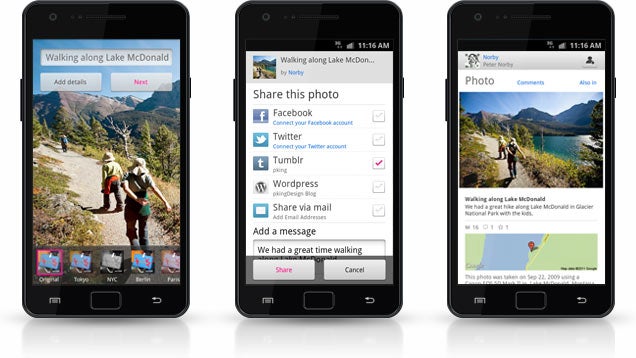 Flickr's finally branched beyond iOS, and put out an official app for Android. You millions of Android users can now snap photos from your phones and upload them directly to your Flickr account, Facebook, Twitter, Tumblr, or send it out via email. Flickr has also included a batch of filters for the application, so you can have yet another lomo-style photography app. However, looking over reviews for the software, it seems opinions are mixed. Apparently it doesn't work on tablets, doesn't allow for viewing of Flickr groups, creating of sets or albums, or uploading multiple images, all of which are features that desktop users have come to expect.
The other new feature is Photo Session, which allows you to beam a slideshow to a select bunch of friends, and you can all look at the photos together, comment over chat and scribble over the images. You can have up to 10 people at a time in the session, and users will have to use Chrome, Safari or Firefox — sorry anyone still stuck on IE. Anyone can watch the show, but in order to interact, you'll need to sign in with either a Yahoo! ID or Open ID.
While Flickr is finally giving Android a little bit of love, it seems that Photo Session will only work on iOS for mobile devices — though assumedly if your browser handles Flash, you might be able to get in that way.