Hands On: Sony Alpha A77 and A65 Translucent Mirror DSLR, Plus DT 16-50mm F2.8 SSM Zoom Lens
We spend some quality time with the newest additions to Sony's Alpha line-up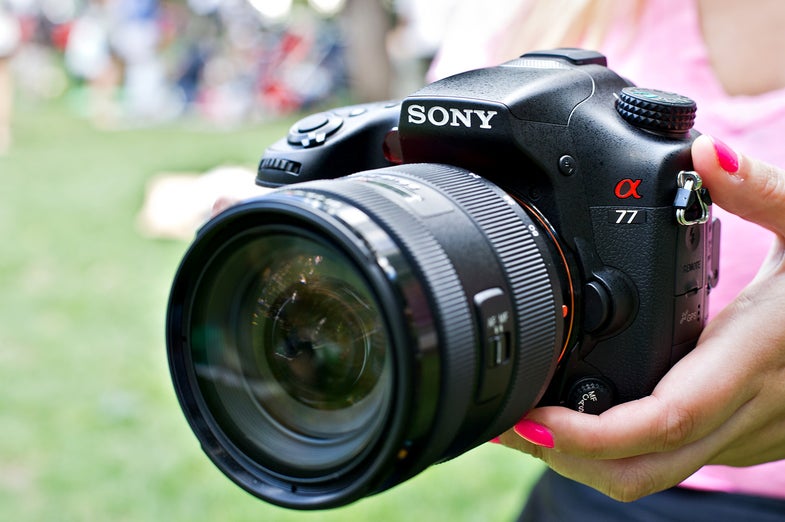 We may earn revenue from the products available on this page and participate in affiliate programs. Learn more ›
The translucent mirror technology has been working out well for Sony and now they've gone and stuffed it into two new DSLRs, this time aimed at higher-level users. Here's the breakdowns of the two new models.
SLT-A77
The direct successor to Sony's mid-level A700 uses Sony's newly-developed 24.3-megapixel Exmor APS HD CMOS sensor and the latest version of Sony's BIONZ image processing tech.
Thanks to the translucent mirror (like the one found in Sony's A33, A35 and A55 DSLRs), Sony claims the A77 to have the world's fastest continuous AF among DSLRs. It can pull down 12 FPS at full-resolution while keeping up phase-detection AF. Even the sound of that is pretty impressive.
The AF system is rounded out by 19 AF points with 11 cross-type sensors. The shutter has a minimum release time lag of just 50 milliseconds, which hammers home the idea that Sony was really going for pure speed with this thing.
The unique viewfinder system has been improved with a new OLED Tru-Finder viewfinder, which uses a 2359 dot display to give you 100-percent coverage of the frame through the eyepiece. That allows you to zoom in on the image to check focus and even preview exposure changes in real time.
Another cool feature is the built in Smart Teleconverter mode, which allows you to drop the image resolution to 12 megapixels in exchange for a crop factor of 1.4x or 2x.
Switching over to video mode, Sony is proud to proclaim themselves the first company to achieve 60 FPS at full HD resolution using the new AVCHD Progressive format. That's a result of the upgraded BIONZ processor's ability to churn through more data in a quick way. It can also still do more traditional 24p shooting, while offering a full suite of manual control modes.
ISO settings range from 50 all the way up to an expanded setting equivalent to 16000. It has on-board GPS for geotagging, and a shutter that's rated to 150,000 actuations. Plus, the 3-inch, 921K dot, Xtra Fine LCD display tilts and pivots in three directions for maximizing wacky shooting angles.
But how much are all of those bells and whistles going to cost? The kit, which comes with the newly-announced 16-50mm F/2.8 zoom lens (more on that here) will ship for about $2,000. If you only want the body, it'll cost $1,400. That makes it cheaper than Canon's 7D, about the same as Pentax's K-5 and about $200 more expensive than Nikon's consumer-level D7000. On paper, it outmatches all three in quite a few areas and occupies a space that may be advantageous for Sony.
SLT-A65
As you might expect, the A77's little brother shares many of the same familial traits. It uses the same combo of a 24.3-megapixel Exmor APS HD CMOS sensor and BIONZ processor. It also carries over the OLED Tru-Finder, the high-end video capabilities and, of course, the translucent mirror.
There are some things missing in order to make up for its cheaper $900 price tag. Instead of 19 AF points, the A65 has 15 total with just three cross-type sensors. It also gets 10 FPS with full-time phase detection AF while the A77 gets 12. The lowest ISO setting is 100, compared to the A77's 50 and its 921k dot LCD screen only rotates in two directions instead of three.
The A65 also isn't built quite as tough as the A77, which uses magnesium panels in the body and seals some of the controls in order to prevent dust and moisture from creeping in. Still you're knocking more than 35% off the price, which makes the A65 seem like a pretty solid deal. It will also be available as part of a kit for $1000 with the more traditional 18-55mm zoom lens for $1,000. We'd like to see an option that comes with the new 16-50mm F/2.8 as well, so we wouldn't be surprised if that was coming down the pipe at some point.
DT 16-50mm F2.8 SSM
As a complement to their new bodies, Sony has rolled out an extremely versatile standard zoom with a range that should sound vaguely familiar to many crop-sensor shooters. The body is dust and moisture resistant and it uses three Extra Low Dispersion lens elements to cut down on ugliness at all focal lengths. It has an internal Super Sonic wave Motor for quiet focusing and at $700, is very affordable if you consider what you're getting.
VG-C77AM Vertical Grip for A77
As you can see in the pictures, Sony has also introduced a new vertical grip meant to work with the A77. It mimics the controls offered by holding the camera in the traditional way and is beefy like the grip for the A900. It hold two batteries, which Sony says will stretch the time between charges to about 1,000 shots. It checks in at at a price of $300, which makes it the most expensive non-wireless DSLR grips we know of.