New Delkin CF Cards Are Obscenely Tough, Expensive
A newly announced set of CF cards from Delkin are designed for extremes of temperature — and will probably outlive your camera.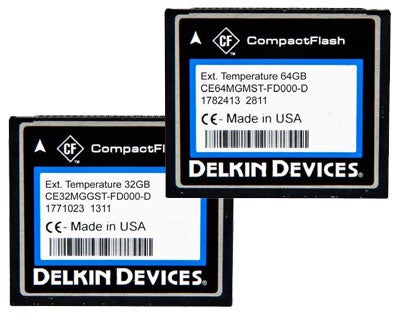 We may earn revenue from the products available on this page and participate in affiliate programs. Learn more ›
Delkin has just announced two industrial grade CF cards: the 32GB and 64GB High Performance Extended Temperature CompactFlash. Just how industrial are they? They're designed to handle extremes of heat and cold, and are able to function in -40 to +85°C, which is -40 to +185°F, if you're imperially inclined. They'll offer read speeds of 105 MB/second and writing up to 95 MB/second.
So, what's so impressive about that temperature range? Well, apart from the fact that it would be borderline deadly to be in, it's probably far hotter and colder than your camera is designed for — the Nikon D3s is rated for a paltry 105°F. So this card will survive while your camera crumbles into a pile of molten slag and non-functional circuitry.
Your memory cards aren't always in your camera, though, and it would be nice to know that your images are safe even if they fall onto hard times. It comes at a price though, since the 32GB version costs $550.37.
Delkin aren't the only ones who have cards like this. SanDisk offers something similar with their Extreme Pro CompactFlash, rated -25°C to 85°C (-13°F to 185°F). Their 32GB version costs $503.99, but if you want to leap all the way up to 128GB, you'll pay a stupefying $1,499.99.
Okay readers, if you had a memory card that you knew would function no matter what the conditions — and a camera to match — where would you go photographing? Antarctic canyons? Fumaroles? Thermal vents? Deep sea diving? Give us your extreme temperature dream photography situation!