Heliopan Begins Shipping 82mm Vario ND Filter, But Do You Need One?
Heliopan has added another size to their line of variable density filters.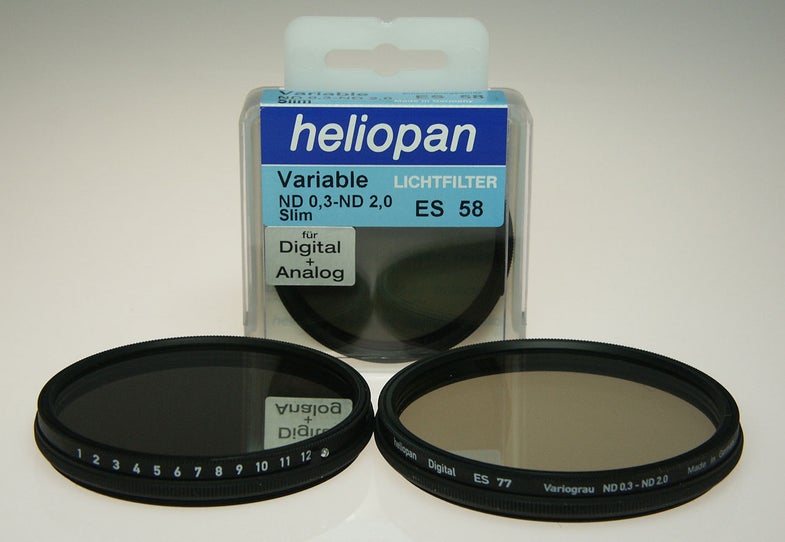 We may earn revenue from the products available on this page and participate in affiliate programs. Learn more ›
Heliopan's line of Vario ND Filters now work on even fatter lenses, with a new 82mm variant just announced. You could already pick up the filter in 52mm, 58mm, 67mm, 72mm and 77m versions, with the 82mm expected in stores soon. The Vario can be adjusted to drop from 0.1 to 6.6 stocks of light by rotating the calibrated rim of the filter. The filter is totally color neutral, and mounted on a hard-wearing black anodized brass ring, which has inscribed numerals so you can easily set the filter to the correct level.
Heliopan's Vario filter has been gaining popularity for a while now, especially with the rise of HDSLR video. Essentially, the filter has two pieces of rotating glass that, when rotated, block a variable amount of incoming light. You can adjust it to block from 1 all the way to 6.6 stops of light, which can be very useful if you're shooting in a bright environment and want to use a larger aperture. Video shooters like it because the relatively slow shutter speeds (at least compared to still photography in bright light) can be difficult to work with.
Clocking in at just 8.7mm between the filter and the camera lens, the Vario is rated up to lenses 16mm wide, and should avoid color fringing, vignetting and artifacting.
This sort of variable neutral density filter does not come cheap. We don't know the exact price, but the 52mm-77mm versions run $283-$444, with the larger ones being more expensive. With that in mind, I'd guess that the 82mm version will probably set you back between $450 and $500, which is a fair chunk of pocket change. But, it will take up a lot less room in your bag than a full set of filters and allows you to adjust on the fly.