Sekonic Celebrates 60th Anniversary with Limited Edition L-308S Light Meters
Snag a red, blue, or green meter to celebrate a Sekonic milestone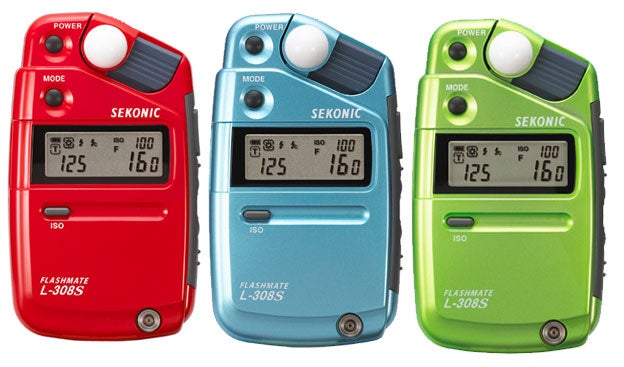 We may earn revenue from the products available on this page and participate in affiliate programs. Learn more ›
Most people don't carry a light meter as part of their normal photo kit. I'm not even surprised when I find out younger photographers have never even held a dedicated light meter. But, there are still quite a few shooters out there who rely on the things and Sekonic has been happy to provide them for 60 years now. To celebrate their anniversary, they're releasing three limited-edition colors of the L-308S Flasmate: red, green, and blue.
The L-308S is Sekonic's smallest and lightest meter. It reads ambient light as well as flash in both ambient and reflected modes. It has an LCD display to help you tweak your exposure and has a repeat accuracy of +/-.1 EV.
Sekonic is also giving away some of their limited-edition meters for sharing their stories about how they "fell in love with light." There's more info about the contest on their site.
And while you may not need a limited edition meter in your arsenal, using a hand-held meter is, in my opinion, something every photographer should do at some point if they can. Sure, you can get plenty of info from your digital camera's histogram, but you truly learn some things about light from using a meter that you might otherwise miss if you're always in run-and-gun mode.
If nothing else, it's fun to walk around with it and try to guess the proper exposure of a certain scene to see how close you can get. Yes, I know that's probably the nerdiest thing you have read today.