Photographer Becomes A Walking Studio For Burning Man
In 2010, Eric Schwabel strapped a mammoth lighting rig to himself, took his camera, and photographed a series of stunning portraits at Burning Man. This year he's going back, and fundraising for an even bigger and better rig.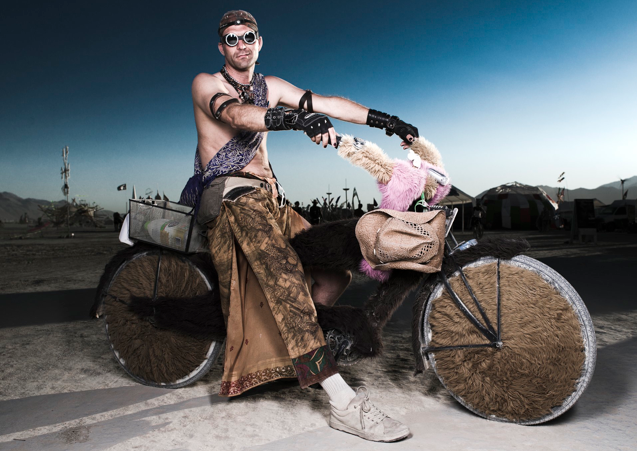 Burning Man has and always will be a world into itself, and photographers trying to document it have to deal with desert heat, sun, sand and a complete lack of any amenities. Photographer Eric Schwabel embraced the madness, and made himself into his shooting studio with a project dubbed The Human Light Suit. With a full set of studio lights strapped to his shoulders and a medium-format camera in his hands, he spend four days at Burning Man 2011, photographing the people he saw there.
Now Schwabel is fundraising to go back this year as a Kickstarter project, and he has some pretty big ideas for what he's going to do this time. Rather than be a one man studio, he's drafted some assistants into the mix, using them as light too:
Since there's now power to be had at Burning Man, the entire rig is going to be run off of solar and pedal power, lights and editing included.
With just nine days left in the Kickstarter, Schwabel still has almost $15,000 to raise, so if you like the look of his shots, throw some money his way for what promises to be an entirely cool project.
For an interesting thought exercise, think about how this compares with street photography like the video we posted late last month. Both are personal level, both are intimate, but Schwabel is trying to take his studio with him into the street, and capture people posing, rather than the usual candid goal of street photography.