Panasonic Announces Lumix DMC-FZ47 Compact With 24x Optical Zoom
A 24-600mm equivalent with manual control in video mode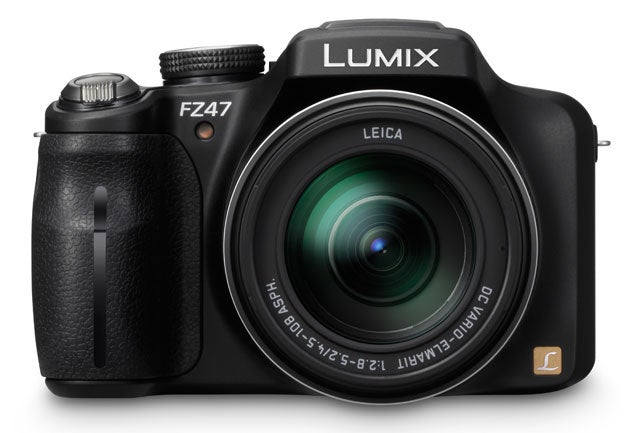 We may earn revenue from the products available on this page and participate in affiliate programs. Learn more ›
Look at Panasonic's new super zoom and you wouldn't be crazy to mistake it for one of their interchangeable-lens compacts. But, the 24x LEICA DC VARIO-ELMARIT lens (25-600mm equivalent field of view) is most certainly attached.
The FZ47 is driven by a 12.1-megapixel CCD sensor coupled with their Venus Engine FHD process, which give it the ability to grab 3.7 full-res images-per-second or 10 FPS at 3-megapixel resolution.
Panasonic continues to push the video elements of their cameras, sticking with the 1080i HD capture in the AVCHD format. The new Creative Video mode lets you control shutter speed and aperture manually during video capture, which is uncommon in non-DSLR cameras. Audio capture is handled by a microphone with Dolby Digital's Stereo Creator and a wind-cut function.
Another new addition is Panasonic's Intelligent Resolution system, which extends the 24x lens to 32x. It sounds a lot like the notoriously-terrible "digital zoom," but Panasonic claims it won't degrade your image.
While the press material doesn't make specific mention of it, the FZ40 that preceded it had RAW capture, so we can only hope the FZ47 will follow suit. At this price point and with this feature set, it would seem like kind of a shame if it wasn't included.
The rest of the feature list is rounded out by a 3-inch 460,000 pixel LCD display, Optical Image Stabilization and intelligent Auto mode. Of course, no compact would be complete without a whole pile of shooting modes, including 3D still capture and the useful-sounding Social Media Connection, which ships photos off to Facebook and videos off to Youtube as soon as the camera is connected.
The FZ47 will be available starting in August for $400