Software Review: Anthropics Portrait Professional 10
Simple, intuitive retouching for portrait shooters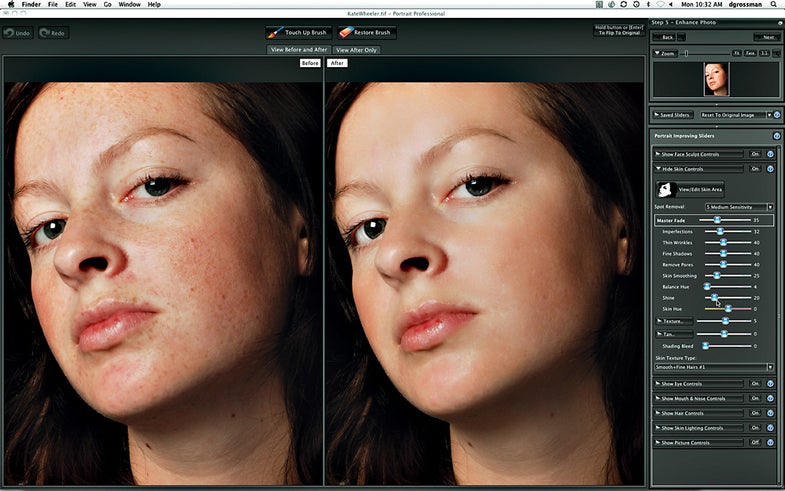 Portrait retouching can be difficult and time-consuming. It also takes a great investment in both time and money to learn to do it well­. Generally, you'll need books and lessons and, no doubt, the full version of Adobe Photoshop. But some photographers who need to do a lot of retouching may not have the time or interest to go to this much trouble. For those frequent portrait shooters, Portrait Professional 10 by Anthropics may be just the solution.
Portrait Pro does just one thing: fix faces and heads. It can clear up skin, straighten a nose, brighten eyes, and, to some degree, cure flyaway hair, and change the tone of skin and hair.
The process is simple and fun. First choose whether the face is female or male, adult or child. Then click on points of the face to define the location of the eyes, nose, and mouth. The program then creates outlines of the features that you can adjust roughly. As you work, it guides you through the process with an instruction panel that's always open on the right. The previous Portrait Pro made good guesses, but in this update, the selections are faster and more accurate.
The default corrections may be too much for some photographers or clients. The look favored by the program for women is poreless, hyper-retouched skin and a slenderized face and nose. But it's simple enough to tone these fixes down or turn them off completely.
Once in retouching mode, there are sections for adjusting face sculpting, skin, eyes, mouth and nose, hair, skin lighting, and general picture controls. You can turn each of these off and on en masse, so if you don't want faces contoured, it's easy to say no to all of this at once. Within each section are sub-sliders: Fade the effects together or adjust, say, Remove Pores or Shine on their own.
One thing the program seems to have trouble with is freckles, which it smooths and erases as if they were blemishes. To keep these as well as other distinguishing marks, use the Restore Brush to paint them back in.
The best thing about Portrait Professional, other than that it does what it purports to, is its ease of use. You'll probably never need a manual to get a good result. Each time you begin a new part of the retouching process, a window pops up to guide you. If you goof up, you can undo or redo until you get to a better place, and most adjustments are made with well-named sliders.
Portrait Professional really is a professional tool that makes most sense for photographers who must retouch multiple images each day. It comes in several editions: At $40, Standard is inexpensive enough to keep on hand for snapshots, but processes only JPEGs or TIFFs, and has some file-size limitations. The Studio and Studio 64 editions ($60 and $120, respectively) are color- managed and can process RAW files; Studio 64 works in 64-bit operating systems and on unlimited file sizes. The Studio editions work either as standalones or plug-ins to Adobe Photoshop, Lightroom, or Apple Aperture; Standard is standalone only.
Specifications:
Minimum system: 1GHz processor, 512MB RAM, Windows 2000 or newer, Intel Mac with OS 10.5 or newer.
Price: $40, Standard; $60, Studio; $120, Studio 64
Info: www.portraitprofessional.com