New Gear: Olympus PEN E-P3, E-PL3, and E-PM1 Interchangeable-Lens Compacts
A trio of new ILCs from Olympus brings faster AF and a new interface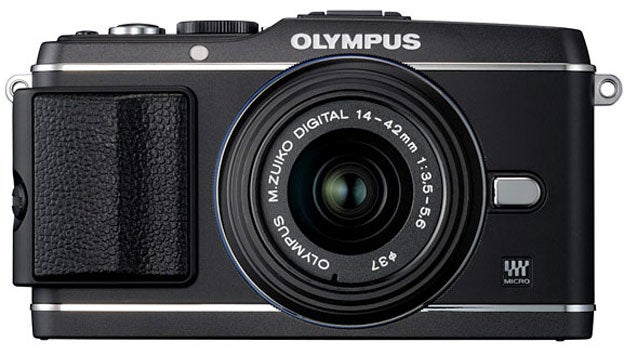 We may earn revenue from the products available on this page and participate in affiliate programs. Learn more ›
The interchangeable-lens compact war is raging harder than ever. This morning, Olympus updated their PEN line with three new options, including a new flagship in the E-P3. The new line-up is rounded out by the E-PL3 and the smaller E-PM1. All three have a 12.3 megapixel Live MOS sensor, TruePic VI image processing, in-body image stabilization, 1080i video and a revamped interface. Olympus has also bumped the maximum ISO to 12,800 across the board and added a grip of Art Filters and "creative features" which may or may not appeal to you depending on your style.
PEN E-P3
One of the biggest new features in the PEN series is the revamped AF system. There are now 35 focus points and a new Tracking AF system to help keep things up to speed. The press material claims the speed rivals their E-5 DSLR, which we're very interested to find out for sure when it hits our lab.
The back of the camera is equipped with a touch-sensitive, 3-inch, 614,000 pixel OLED touch screen, which promises better performance in high-glare situations. For a camera without a viewfinder, that's as crucial as ever.
From a form perspective, the E-P3 has gained a rotational dial, a sub-dial and two new buttons on the back, which is designed to increased the speed at which users can tweak the settings. It seems a little odd to be adding buttons and a touchscreen, but more control is better, as long as its intuitive.
It will be available in August in two kit configurations, both of which will cost $899. The first comes with the MSC M. Zuiko Digital ED 14-42mm II R f3.5/5.6 Zoom Lens and the other comes with the MSC M. Zuiko Digital ED 17mm f2.8 Prime Lens.
PEN E-PL3
Following in the PEN tradition, the E-PL3 has much in common with its big brother, but it comes in a smaller body and has a swiveling 3-inch LCD screen, which is a great addition to a camera like this.
PEN-E-PM1
It doesn't have any of the fancy screen enhancements of its siblings, but the E-PM1 is the most stylish of the bunch. It's Olympus's smallest and lightest ILC and will come in six colors: purple, pink, brown, white, silver and black. They have also streamlined the user interfaced to make it more beginner friendly and tweaked the button layout to accommodate its tiny size.
While Olympus has said the E-PL3 and E-PM1 will also be available in August, they have yet to announce pricing. We'll update you as soon as we hear and bring some hands-on previews as soon as we can.