Delkin Upgrades SensorScope Sensor Cleaning Kit
Delkin has just released an upgraded version of their SensorScope sensor cleaning set, with two new tools added to the kit.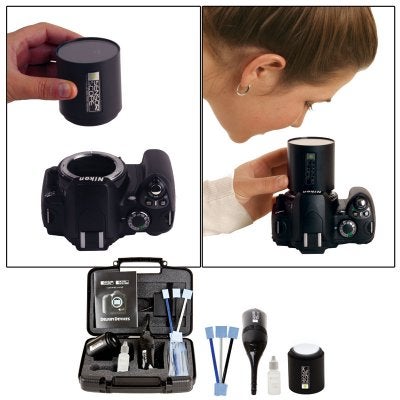 Delkin has upgraded their SensorScope Sensor Cleaning System, adding two new tools to the kit, bringing it up to six devices designed to help you clean your camera's sensor. The cleaning kit retains Delkin's SensorScope for spotting debris, SensorVac for removing small particles, SensorSafe Wands for removing "oils, condensation, pollen and other chemically adhered debris" and SensorSolution for dissolving and breaking down debris.
The newcomers to this kit are the SensorPen and cleaning cloth. The cleaning cloth, is, well, a cleaning cloth. You can use it to polish things. The SensorPen is at least a little more interesting: it has a non-carbon triangular tip, designed specifically for cleaning the edge of the sensor and polishing its surface. It can be used to dislodge detritus in hard-to-reach nooks and crannies, and according to Delkin will even reduce overall static on the sensor, helping stop further objects from sticking to the sensor. The pen also has a slide out brush for making sure your camera's body is neat and tidy, and will last around 100 cleanings.
The kit will set you back $120 from Delkin, and comes with the "SensorScope inspection device, a dual speed SensorVac that removes loose and potentially abrasive particles, 24 double-sided SensorSafe Wands and a bottle of alcohol free SensorSolution that removes chemically adhered contaminants such as pollen, condensation and lubricant, a SensorPen, a SensorCloth, a battery pack to power the SensorVac in the field, and a user guide with step by step instructions for safe inspection and cleaning." Refill packs of wands, solution and pens can be bought separately for $35 a pop.
[via DCViews]