Camera Test: Fujifilm FinePix X100
The long-awaited FinePix X100 is a true street machine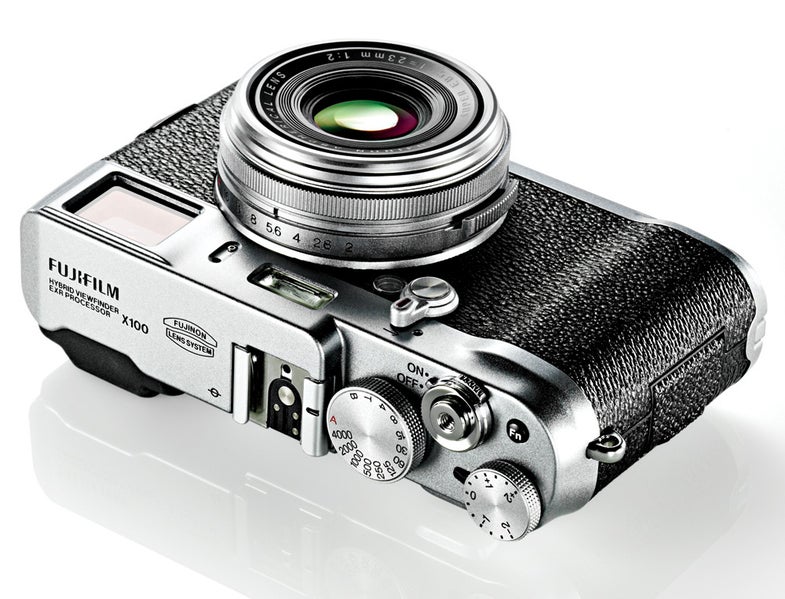 We may earn revenue from the products available on this page and participate in affiliate programs. Learn more ›
With the looks, but not the innards, of a classic rangefinder, Fujifilm's FinePix X100 is sure to turn the head of any photo enthusiast. Once a camera lover finds out that this compact has an APS-C- sized 12.3MP CMOS sensor and a fast 35mm-equivalent f/2 Fujinon lens, curiosity will turn to expectations of topnotch image quality.
We know, because that's exactly what happened to us. With the $1,200 (street) camera already heavily backordered at the time of introduction, we were quite eager to find out if this upscale compact lived up to its looks and specs. We came away impressed. The X100's image quality, thanks in no small part to its large image sensor, is on a par with mid-level DSLRs. Plus, the shooting experience will please many of those who prefer traditional controls. Rangefinder purists, though, may find fault—the X100 isn't, after all, a true rangefinder—and it has some quirks common to compact cameras that may leave advanced shooters reaching back in their bags for their high-end DSLRs.
In the Lab
With impressive resolving power for a 12.3MP sensor, some of the most accurate color reproduction we've seen, and commendable noise control, the X100 earned an Extremely High rating for overall image quality in the Popular Photography Test Lab.
Its Fujinon lens, with its aspheric element and high-refractive-index glass, no doubt contributed to the camera's Extremely High rating in our resolution test. At 2260 lines per image height, it matched the result we saw from the Olympus Pen E-PL2, and was a smidgen shy of the Panasonic Lumix DMC-GF2's 2300 lines in the same test. Plus, the FinePix held onto that resolution as ISO increased. At ISO 6400, the X100 showed 2125 lines, while the GF2 fell to 2060 and the PL2 to 2010 at that high sensitivity.
The X100 also performed very well in our noise test, keeping it to acceptable levels all the way up to ISO 3200. Neither the Panasonic nor Olympus Micro Four Thirds cameras can match that. For that matter, the Fujifilm's overall image quality tops that of the Sony Alpha NEX-5 and Samsung NX10, ILCs with APS-C-size sensors.
Now we need to point out one of the X100's quirks. We always perform our lab tests on RAW images converted to TIFFs, using the manufacturer's provided software, whenever possible. But at ISO 100 and ISO 12,800, the X100 captures JPEGs only—RAW is restricted to ISO 200–6400. Also, the software that came with the X100 didn't include a RAW converter for Mac, though we were able to download a modified version of SilkyPix called RAW File Converter EX from the Fujfilm site—Apple users, take note.
Even before generating our test results for the X100, we were impressed by its color reproduction. Our lab tests proved its amazingly accurate colors, earning it an Excellent rating.
Since the X100's lens is fixed, we also tested it for distortion and light falloff using DxO Analyzer 4.0. Even at its maximum aperture of f/2, it produced no vignetting. Distortion, though, was a mixed bag. Overall, it rated only Slight at 0.15%, but it showed complex distortion of the specific variety called moustache distortion—barrel in some areas and pincushion in others. At its worst, pincushion distortion reached Visible, 0.31%, mostly around the bottom edges of the frame, where it shouldn't pose much of a problem for most shooting.
In the Field
There's no denying that the FinePix X100 is one good-looking camera. More practically, though, its metal chassis and magnesium-alloy top and bottom plates lend a rugged heft, while the synthetic leather provides a nicely textured grip.
Meant to mimic a film camera, the X100's controls are delightfully old-school, too. You set aperture by turning a ring to the rear of the lens barrel, and control shutter speed by using a dial atop the camera. In a nice touch, exposure compensation gets its own small dial too.
The benefit of this system is that you can set exposure manually while the camera is switched off and can always see the current state of the exposure settings easily.
The only missing part is ISO, which has neither a dial nor a dedicated button. But the tiny assignable function button next to the shutter release can be set to control ISO, which we did for nearly our entire field test.
As nostalgic as it is, the X100's control system also has some downsides. Although changing apertures is easily accomplished with your left hand, it's a bit of a stretch for the right. Also, while the aperture can be set in 1/3–stop increments, shutter speeds only click in whole steps. In aperture-priority mode, however, the camera can select intermediate speeds as needed.
More annoying is the X100's tendency to reset certain controls, as is often the case in compact cameras. For instance, when set to 2-sec self-timer, it stays put for only one shot. On top of that, it's buried in the menu system instead of being assigned to the drive modes, so street shooters can't conveniently use the self-timer for surreptitious shooting, as they can with Leica's X1. Thankfully, the X100's shutter button accepts threaded cable releases, so you have an inexpensive option.
Motion Panorama also resets after one shot. This mode lets you hold the shutter button down while you pan the camera, and then stitches a panorama image out of the sequential frames. The results, though, aren't very good if you handhold the camera—if your arc sways up or down a little, you'll notice that hard edges on stationary objects, such as tops of buildings, will not stitch seamlessly as they do in Sony's Sweep Panorama mode. So we'd recommend use of a tripod to keep your pan steady.
A small switch on the left side of the body lets you swap between auto and manual focus. To focus manually, you turn the front ring on the lens barrel, although, as with Four Thirds lenses, the ring activates a motor that does the actual focusing. The upside: You can reverse the direction of the ring if you want. The downside: It can take a lot of turning to get anywhere when focusing very closely, or going from one end of the focusing range to the other.
One of the big selling points of the X100 is its hybrid viewfinder. A flip switch on the front of the body toggles between the optical finder and a 1.44-million-dot electronic viewfinder. The optical view is very clear, and it has a bright overlay for framing lines and setting info. While focusing manually, you can see a distance scale that also shows depth of field via a white section of the bar that increases as you stop down—a different experience from a distance scale on the lens, but, as electronic substitutes go, it's acceptable.
When manually focusing with either finder, press the command lever on the camera back and it will activate the EVF to zoom in on your selected focus point to help focus by eye—a very nice touch. To save time, you can press the AE/AF-Lock button while in manual focus, and the X100 will autofocus; you can then fine-tune manually.
Like most cameras these days, the X100 will capture high-definition video. It's limited to 720p at 24 fps, but the footage we captured looked very nice, and the f/2 lens allows for pleasingly defocused backgrounds.
Bottom Line
If you're looking to recreate the rangefinder experience, but don't want to pay thousands for a Leica, Fujifim's X100 is a very appealing alternative—as long as you won't miss true rangefinder focusing or swappable lenses. While it has some quirks, there's no other camera on the market anywhere near its price that offers the X100's classic rangefinder feel and level of imaging performance.
Specifications:
IMAGING: 12.3MP effective APS–C-sized CMOS sensor captures images at 4288×2848 pixels with 12 bits/color in RAW.
STORAGE: SD/SDHC/SDXC stores JPEG, RAF RAW, and RAW + JPEG files. Optical finder: Reverse Galilean; 0.5X magnification; 90% accuracy.
EVF: 1.44 million–dot LCD.
BURST RATE: Full-sized JPEGs up to 10 shots at 5 fps with focus, white balance, and metering locked.
AF SYSTEM: TTL contrast detection with Multi-AF or Selectable Area AF from up to 49 areas in EVF or LCD shooting, or up to 25 areas with the optical finder.
SHUTTER SPEEDS: 1/1000 to 30 sec, plus B; expands to up to 1/4000 sec at f/8 or smaller apertures.
METERING: 256-segment TTL metering for evaluative, average, and spot. video: Records at up to 1280x720p at 24 fps in H.264 MOV format, built-in stereo microphone, no mic input, continuous AF available in movie mode.
ISO RANGE: ISO 200–6400 (in 1/3-EV increments); expands to ISO 100–12,800 for JPEG capture only.
FLASH: Built-in, GN 15 (ISO 100, feet); hot-shoe accepts optional EF-20 and EF-42 TTL flash units.
BATTERY: Rechargeable NP-95 Li-ion, CIPA rating 300 shots.
SIZE/WEIGHT: 5.0×2.9×2.1 in., 1.0 lb with an SD card and battery.
STREET PRICE: $1,200
INFO: www.fujifilmusa.com

Fujifilm X100 Sample Image 01
Shot RAW, color-correction/slight exposure adjustments made using Fujifilm's Raw File Converter EX software. Exposure Info: ISO 800 at 1/300 sec, f/8
Mode: Aperture Priority Click to download full-res

Fujifilm X100 Sample Image 02
Shot RAW, developed using the setting "Standard Color" in Fujifilm's Raw File Converter EX software. Exposure Info: ISO 800 at 1/28 sec, f/2.8, +.7 exposure compensation
Mode: Aperture Priority Click to download full-res

Fujifilm X100 Sample Image 03
Shot RAW, developed using the setting "Film Color K" in Fujifilm's Raw File Converter EX software. Exposure Info: ISO 800 at 1/28 sec, f/2.8, +.7 exposure compensation
Mode: Aperture Priority Click to download full-res

Fujifilm X100 Sample Image 04
Shot RAW, color-correction/slight exposure adjustments made using Fujifilm's Raw File Converter EX software. Exposure Info: ISO 3200 at 1/320 sec, f/8
Mode: Aperture Priority Click to download full-res

Fujifilm X100 Sample Image 05
Shot RAW, color-correction/slight exposure adjustments made using Fujifilm's Raw File Converter EX software. Exposure Info: ISO 800 at 1/140 sec, f/8
Mode: Aperture Priority Click to download full-res

Fujifilm X100 Sample Image 06
Shot as a JPG and left unedited. Exposure Info: ISO 800 at 1/18 sec, f/5.6
Mode: Aperture Priority Click to download full-res

Fujifilm X100 Sample Image 07
Shot as a JPG and left unedited. Exposure Info: ISO 800 at 1/34 sec, f/4
Mode: Aperture Priority Click to download full-res

Fujifilm X100 Sample Image 08
Shot as a JPG and left unedited. Exposure Info: ISO 800 at 1/340 sec, f/2, +.7 exposure compensation
Mode: Aperture Priority Click to download full-res