New Gear: Lowepro Sport AW and Optics Bags for Outdoor Shooters
Lowepro's newest backpacks are aimed at the adventure crowd.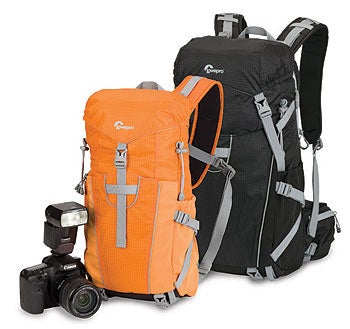 We may earn revenue from the products available on this page and participate in affiliate programs. Learn more ›
As the weather improves, the itch to get outside with a camera becomes uncrontrollable. But, not every camera bag is built to stand up to mother nature and her whims. Lowepro, however, has two new lines of backpacks meant to keep your gear dry.
LowePro Sport AW
Aimed at skiing, biking and snowboarding enthusiasts, this line of bags includes the Photo Sport 200 AW and the smaller Photo Sport Sling 100 AW. Both bags incorporate Lowepro's "Ultra-Cinch Camera Chamber" which keeps the camera snug in the bag, to avoid it bumping around in travel. The bags also feature side-pocket access, allowing wearers to quickly turn the bag and remove their camera when a possible shot presents itself. The 200 AW offers a total of 13.9 liters of space, or enough to hold a DSLR with attached lens, a jacket and, various accessories. The 100 AW offers 9 liters of space, which means it'll swallow a body with a smaller lens and less gear.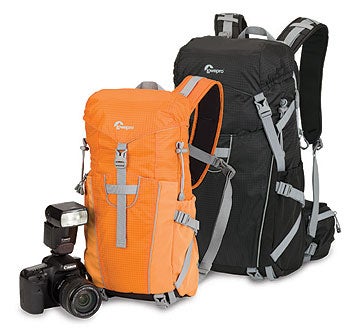 Both bags come with an All Weather AW Cover, to keep your gear dry as well as various attachment points for things like ski pole or water bottles. Sport AW bags comes in black/light grey as well as orange/light grey. The Photo Sport 200 AW will run you $199.99 while the 100 AW will cost $129.99.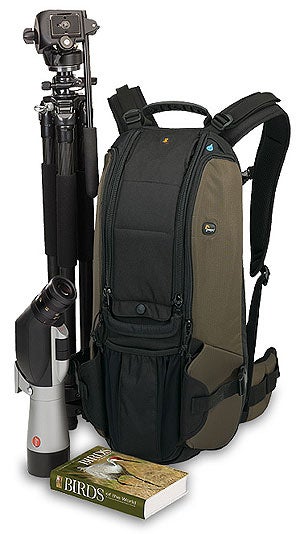 Lowepro Optics Line
This line of bags is made specifically for bird and wildlife photographers. That means there's plenty of room for long lenses. The least expensive of the bags in this line, the Scope Travel 200 AW backpack, is also the smallest—it is essentially a generic photo backpack that unzips to reveal one main compartment, with removal padding. It can fit a DSLR with attached lens, plus accessories and retails for $179.99.
The $199.99 Scope Porter 200 AW (shown above) appears to be essentially the same bag as the Travel 200 AW, the only difference being that it offers straps to secure a tripod.
Finally, the $249.99 Scope Photo Travel 350 AW offers the same tripod carrying capabilities of the Scope Porter 200 AW, plus a whole lot of extra room for a laptop, extra lenses and accessories.
For more info on these bags, head to Lowepro.com/OpticsSeries and Lowepro.com/PhotoSport.