Lab Test: Sony Cyber-Shot DSC-HX100V
A super-zoom that can compete with DSLR's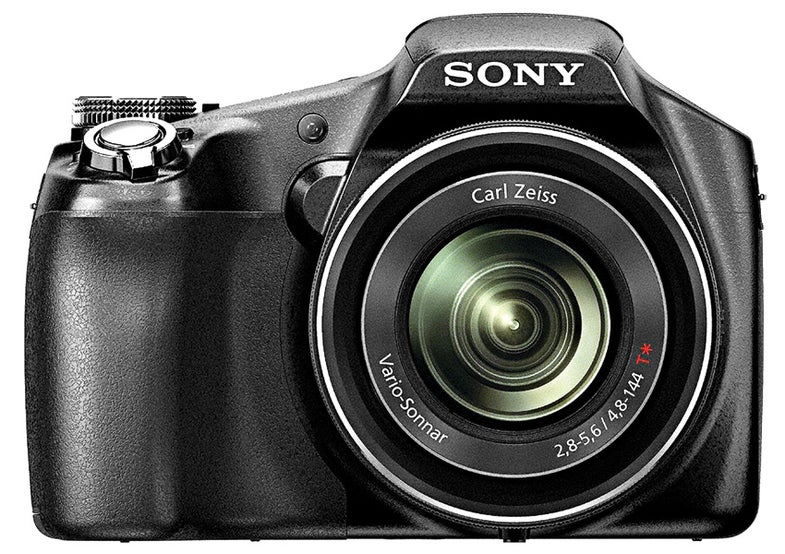 We may earn revenue from the products available on this page and participate in affiliate programs. Learn more ›
We write a lot about DSLRs and ILCs here, and all of the advantages of interchangeable lenses. But many people yearn for a camera with a built-in, long-range zoom lens that covers wide-angle to supertele—and that doesn't cost a thousand dollars or more.
We call this type of camera a superzoom, and Sony's most interesting model this year is the Cyber-shot DSC-HX100V ($450, street). It boasts a 16.2MP CMOS sensor, a lens with a 30X focal range equivalent to 27–810mm, an electronic viewfinder (EVF), and a conveniently tilting LCD to handle awkward shooting angles.
Like most superzooms, the HX100V has plenty of fancy, fun features; unlike most, it includes 3D modes. But because our main focus is always on picture quality, we ran the HX100V through the Popular Photography Test Lab to see how its images fare against our standards. The results were interesting, to say the least.
In the Lab
Despite the fact that the HX100V has about the same number of pixels as the Nikon D5100 tested in this issue, its resolution score was nowhere near what we saw with that DSLR. This Sony earned a High rating with 1770 lines per picture height, while the Nikon turned in 2490 lines for an Extremely High rating.
This comes as no surprise, as the Nikon's sensor has vastly more surface area—about 14 times as much—allowing for larger pixels, less noise, and less need for resolution-robbing noise reduction. Partly due to its limited resolution, the Sony scored an Acceptable rating in overall image quality.
The question for shoppers, though, is: How much resolution do you need? If you don't plan to print larger than letter-paper size, never crop your photos, and are more likely to share your images online or as 4×6 prints, then the Sony's resolving power should be enough for you. And as superzooms go, it has good resolution. The Fujifilm FinePix HS10 we tested last year scored 1550 lines at its best. At its top sensitivity of ISO 3200, the Sony dropped to 1500 lines at its worst. Not bad.
Like a lot of non-DSLRs, the HX100V scored only Extremely High in our color accuracy test, with an average Delta E of 9.3. Though not up to today's DSLR standards, it still beats most color films, which would score 11 or above in our test.
Note that the Sony does not shoot RAW files; we tested its highest-quality JPEGs at the camera's default settings. If you can accept that the HX100V sacrifices resolution to control noise, then you should be pleased with its noise performance. It scored Extremely Low at both ISO 100 and ISO 200, stepping up to Very Low at ISO 400. Impressively for a non-DSLR, it scored Moderately Low at ISO 800 and ISO 1600 and reached Unacceptable noise only at its top sensitivity of ISO 3200. For comparison, the Fuji HS10 reached Unacceptable noise at ISO 1600.
Since they use contrast detection for autofocus, we don't run our usual AF test on compacts or superzooms. But the HX100V's AF capabilities are average for its class. In dim light it slows considerably and might occasionally have trouble finding focus.
If you have to turn to manual focus, you'll appreciate the control ring around the lens, which handles both focus and zoom. Like a lot of electronically driven focusing rings, it can take a number of turns to get the focus you want, but it's considerably more ergonomic and convenient for focusing than a tiny wheel or pushbuttons.
In the Field
One of the things most super-zoom fans like is their DSLR-like body design. Sony's HX100V does a decent job of emulating a DSLR with its prominent rubbery grip, command wheel on the upper right of the camera back, and focus/zoom ring on the lens barrel. We like its design and found it comfortable to use. The focus ring on the lens feels sluggish next to most DSLR lenses; zoom action is better, though the loud whir of the motor might surprise you.
For photographers who are used to composing shots only on an LCD, an electronic viewfinder offers plenty of advantages. The one on the HX100V was about average—not as good as the EVF on Sony's Alpha A55 DSLR.
To change shutter speed, aperture, exposure compensation, or ISO, you use the clickable command wheel on the camera back. Click once to get to the last setting accessed, and then again to cycle through to the next one you want. This can be a good way to control settings, but the wheel was a bit too hard to press and sometimes didn't register. And its tactile feedback could be better—occasionally it clicks without changing setting.
Most other functions worked well. Face detection reliably finds faces, using them to set focus and metering. Intelligent Sweep Panorama shoots a long burst of images as you pan in one smooth motion, and stitches them together to create panoramas up to 1920×4912-pixels. While these are about one-half the height of the camera's normal images, it's the simplest way we've experienced to capture such wide panos.
You can make 3D panoramas the same way, and we found this the best of the Sony's three methods of 3D capture. 3D Sweep Panorama typically yields images that show meaningful depth and occasionally seem to extend out of the screen toward the viewer, while 3D Still image capture creates a fake 3D effect by shooting two images in succession, giving results less oomph. Sweep Multi Angle can be played back on the camera by tilting and creating a 3D-like effect, again with less impressive results. You'll need a 3D-enabled TV to view these 3D images.
Despite our few gripes, we still wouldn't hesitate to recommend the HX100V to someone interested in a superzoom camera. It offers a very pleasant shooting experience, image quality that's impressive for its class, at a price that won't break the bank.
Specifications:
IMAGING: 16.2MP effective 1/2.3-inch CMOS sensor captures images at 4608×3456 pixels each, with 8 bits/color. No RAW capture.
STORAGE: SD/SDHC/SDXC/MemoryStick Duo stores JPEG or MPO (3D) files.
BURST RATE: Full-sized JPEGs up to 10 shots at 10 fps with focus, white balance, and metering locked.
AF SYSTEM: TTL contrast detection with 9-point Multi-AF, centerweighted AF, and Flexible Spot AF selectable from center 45% of frame; Face Detection for up to 8 faces; subject tracking, although not between shots during bursts.
SHUTTER SPEEDS: 1/4000 to 30 sec, plus B (1/3-EV increments).
METERING: 99-area TTL metering for evaluative, centerweighted, and spot (percentage of frame not available). In face detection, metering is based on the face used for focus. video: Records at up to 1920x1080p at 60 fps in AVCHD format, built-in stereo microphone, no mic input, continuous AF available in movie mode.
ISO RANGE:ISO 100–3200 (in 1/3-EV increments). **
FLASH:** Built-in pop-up with a range to approximately 20 feet (Auto ISO, with lens zoomed to telephoto)
BATTERY: Rechargeable NP-FH50 Li-ion, CIPA rating 410 shots.
SIZE/WEIGHT: 4.6×3.5×3.6 in., 1.3 lb with an SD card and battery.
STREET PRICE: $450
INFO: www.sonystyle.com