Think Tank Retrospective 5 Bag Is Stylish, Stealthy
Because sometimes a teched out gear bag just doesn't look right.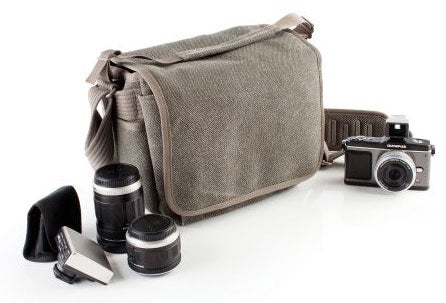 We may earn revenue from the products available on this page and participate in affiliate programs. Learn more ›
We love high tech camera bags with tons of zippers, compartments and straps all over the place and enough room for a studio full of gear. But, ever tried to pull off one of those with a suit? Not a great look. Think Tank's new Retrospect 5 bag, however, is built to carry a small camera system without drawing a ton of attention to you.
It was primarily designed with interchangeable-lens compact shooters in mind, offering enough space to fit everything you'd need from extra lenses to a flash and even microphones for video recording. If you're an SLR shooter, you can expect to fit a normal-sized body (no grip) and two lenses, depending on size.
The shoulder strap is padded, the front pocket is expandable and the divider set is removable in case you want to use it in a non-photographic way. They even include the Sound Silencers to cover up the Velcro and prevent that awful tearing noise from drawing attentionn to you when it's opened.
It will be available starting in May for $129.