Video: Nikon D3 Shutter in Super Slow Motion
Shot at 5000 fps, this incredibly hypnotic video gives us an unusual look at what exactly happens inside the camera in the moments after pushing the shutter release.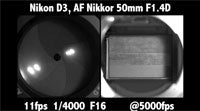 We may earn revenue from the products available on this page and participate in affiliate programs. Learn more ›
You can find super slo-mo videos of just about anything on the internet, but this ultra-high-speed capture of a Nikon D3's shutter in action is one of the more educational ones we have seen.
According to the description, the video depicts a camera firing continuously at 11 fps with a shutter speed of 1/4000 of a second. At that speed, the second curtain is literally chasing the first across the frame. It's impossible to see with the naked eye. The aperture blades on the left are working hard as well, going all the way down to f/16 with insane precision.
Plus, watching the mirror slam up and down in such an aggressive way is a good reminder of why mirror lock-up is necessary during long exposures.
There are a couple more videos with similar subject matter in the related videos area to take in if you find yourself particularly hypnotized by the movements.
From: Reddit