Lens Test: Canon 70-300mm F/4-5.6L IS USM
Canon's newest big boy offers users of their L line of lenses even more reach.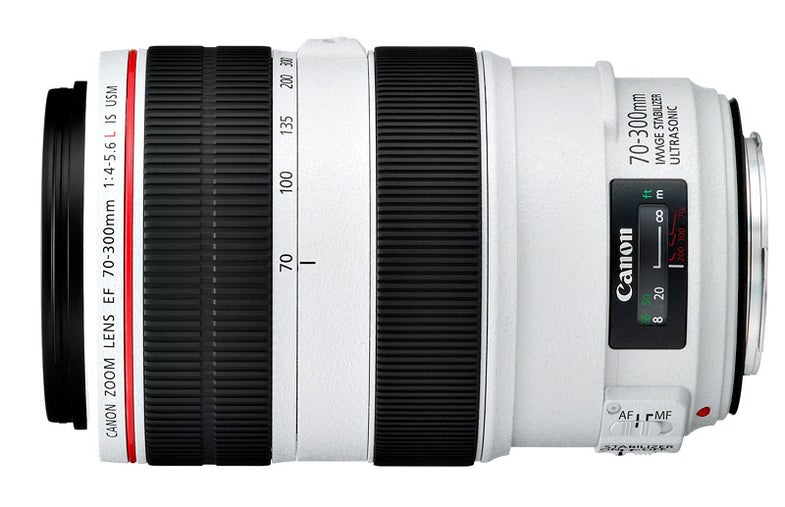 We may earn revenue from the products available on this page and participate in affiliate programs. Learn more ›
Canon has five 70–300mm and 75–300mm zooms in its catalog, including this new full-framer, the first L-series lens in the class. It's for serious Canon shooters who want a longer, lighter, and less-expensive alternative (though it's still $1,600, street) to the 70–200mm f/2.8L IS zoom.
With two UD elements for reduced chromatic aberration and increased sharpness, this 112–480mm equivalent (on APS-C bodies) sports O-rings and seals for dust- and water-resistance, a new fluorine coating on the front element to fend off smudges, and Canon's quiet USM focusing motor.
It's reasonably compact for 300mm, and reasonably light for a rugged, all-metal L-series workhorse. To encourage handholding, Canon swapped its usual zoom and focusing ring positions, placing the zoom ring at the far end of the lens. The optional tripod collar is not included.
Autofocus is flawlessly quick and quiet, and the manual focus ring's turning action smooth and well damped. The windowed distance scale has feet in dark green that can be hard to read in all but the best light. The lenshood is flocked in velvety black.
In our Test Lab, we expected its Excellent-range SQF showings at 70mm and 200mm, butwe were surprised to see sharpness and contrast dropping two quality levels to the top of the Good range at 300mm. Its scores were comparable to 70–300mm zooms from Nikon and Sigma, but slightly softer at 300mm than Canon's own non-L 70–300mm.
Our DxO Analyzer Version 4.0 tests found mid Slight-range distortion throughout—noticeably better than the non-L lens, which showed Visible distortion. Light falloff bottomed out at f/8 at 300mm, not great but better than the f/11 of the non-L zoom. The image stabilization gave our testers 3 extra stops of handholdability—a fine performance.
Final thoughts? This lens gives high-end Canon shooters a stabilized telezoom that's physically less burdensome than the 100–400mm and financially less so than the about-to-be-replaced 70–200mm f/2.8L IS. It's also significantly superior by most optical standards. If you don't need its rugged L-series build, though, stick with Canon's current non-L 70–300mm f/4–5.6 IS, which is slightly sharper (at 300mm) and has slightly better close-up magnification (1:4.1 at 300mm).
70–300mm (69.99–300.06mm tested), f/4–5.6 (f/3.97-n.a.* tested), 19 elements in 14 groups. Focus ring turns 130°. Zoom ring turns 100°. Focal lengths marked at 70-, 100-, 135-, 200-, and 300mm.
SPECIFICATIONS:
Diagonal view angle: 34–8 degrees.
Weight: 2.08 lb. Filter size: 67mm.
Mounts: Canon AF.
Included: Lenshood, case.
Street price: $1,600.
TEST RESULTS:
Distortion: At 70mm, 0.24% (Slight) barrel. At 200mm, 0.27% (Slight) pincushion. At 300mm, 0.28% (Slight) pincushion.
Light falloff: At 70mm, gone by f/5. At 200mm, gone by f/6.3. At 300mm, gone by f/8.
Close-focusing distance: 41.45 inches.
Maximum magnification ratio: At 70mm, 1:12.79. At 200mm, 1:4.70. At 300mm, 1:4.25.
Image Stabilization: 3 stops.