Olympus Announces VR-320, VG-110, and SZ-10 Compacts
A super-zoom, a basic compact and a sub-$100 budget camera are coming to market in March.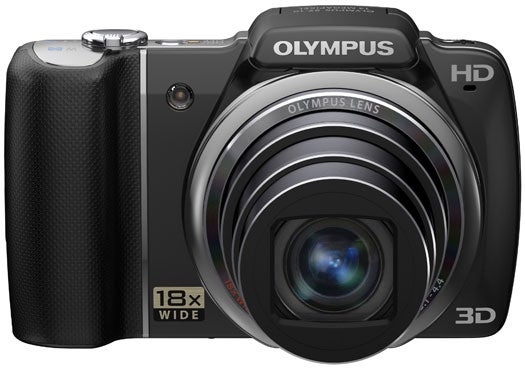 We may earn revenue from the products available on this page and participate in affiliate programs. Learn more ›
A trio of new cameras from Olympus includes a stylish super-zoom, a feature-oriented compact and a $90 model aimed at beginners. Here's the breakdown.
SZ-10
For some manufacturers, the super-zoom game is all about reach, sending focal lengths over 800mm, but Olympus is trying to keep it real, packing an 18x lens (28-504mm equivalent) into a body that can actually still be considered compact. The lack of 1080p video capture is a little disappointing — 720p is so 2010 — but the 3-inch LCD with 460,000 dots of resolution should perform nicely.
The press material talks at length about the Magic Art Filters, which come built-in, but the only one that really appeals to our grumpy photography nerd side is the 3D Mode, which allows you to take one frame, then line up the image on the screen and take another, creating a real 3D image that can be viewed on compatible 3DTVs.
The guts include a 14-megapixel sensor and the TruePic III+ image processor. IS is handled by Mechanical Sensor-Shift and Digital IS technologies. Expect it to hit shelves in March for $249.
VR-320
While its 12.5x zoom (24-300mm equivalent) is a little less super than the SZ-10's, the VR-320 uses the typical compact form factor most of us have gotten so used to. It's powered by the same 14-megapixel sensor and its video capture maxes out at the same 720p resolution.
The similarities don't stop there, either. The VR-320 also shares the SZ-10's 3-inch LCD display, focus tracking mode, dual-IS set-up and its giant pile of Creative Art Filters. Look for it in March for $199.
VG-110
When Olympus says affordable, apparently they mean it because this barebones 12-megapixel camera checks in at a scant $99. It offers a 2.7-inch LCD and a 4x zoom lens and that same giant pile of art filters, which, at this level, might actually be a worthwhile selling point.
Unfortunately, there's a total lack of video, but for less than $100, that's not surprising. Look for it on shelves starting in March.