Canon Rolls Out Four New PowerShot Cameras
New compacts bring with them 1080p video and even more scene modes.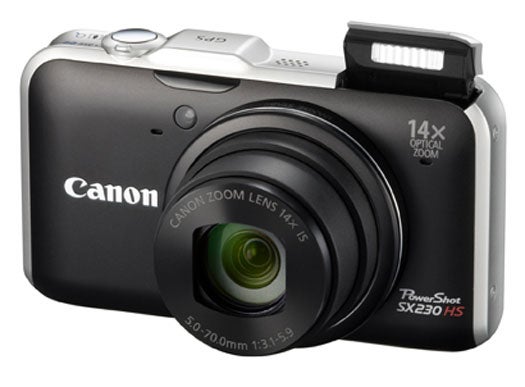 We saw two new budget compacts from Canon at CES, but their newest batch of small cameras are packing more photographic firepower. Here's an overview broken down by camera.
SX230 HS
At the top of the pile when it comes to the new releases, the SX230 has a 12.1 megapixel sensor and, as the name suggests, uses the HS system for improved low-light performance. It has built-in IS, which particularly welcome thanks to the 14x optical zoom lens (28-392 equivalent). Like the rest of the line, it also grabs 1080p video. It's also the first Canon compact to come with built-in GPS, something we're excited to see making its way into more models. The internal receiver colllects the latitude, longitude and altitude at the time of capture and bundles it with the EXIF data. It will hit shelves at the end of March for $350.
ELPH 500 HS
The top dog in the new ELPH selection has a spacious 3.2-inch touchscreen LCD display, as well as well as an impressive f/2 lens. The 12.1-megapixel high sensitivity CMOS sensor and 4.4x optical zoom make this a slightly cheaper alternative for those considering the excellent S95. It carries a price tag of $299.
ELPH 300 HS
Continuing down the line, the 300 HS has the same 12.1-megapixel, High Sensitivity CMOS sensor and actually ups the optical zoom to 5x. It gets a downgraded 2.7-inch LCD display, though, that's not touch-sensitive. It will require $250.
ELPH 100 HS
The cheapest new model checks in at $200 and has the same sensor as those listed above, augmented by 4x optical zoom, a 3-inch LCD display and color options that include blue, gray, pink, silver and orange.
Ultimately, this group is a nice addition to Canon's compact line-up. We welcome the addition of 1080p video, especially when they can cram it into a camera that can be had for $200 plus tax.
All of the new models also have the improved SmartAUTO mode, which automatically chooses from the 32 different shooting scene modes depending on the scene.