Lab Test: Nikon D7000
Nikon upgrades most everything in its launch of a new midlevel flagship.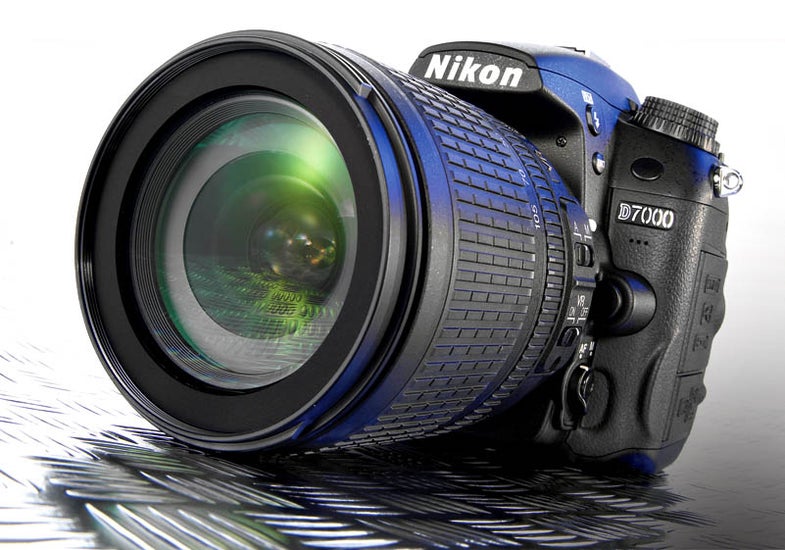 We may earn revenue from the products available on this page and participate in affiliate programs. Learn more ›
Eventually serious photographers outgrow the cameras they learn on and decide to step up to more advanced models. For the current Nikon system, that model is now the 16.2-megapixel D7000—a rugged body with nicer controls, faster bursts, and better AF than the D3100 or D5000. This $1,200 (street, body only) DSLR offers everything the aging D90 does, while adding 1080/24p video capture, a second memory card slot, and upgraded metering and AF systems. With all that going for it, we were eager to run it through our rigorous tests.
In the Test Lab
The D7000 earned an overall image quality rating of Extremely High for ISOs from 100 all the way up to ISO 800. In our resolution test, it turned in 2390 lines per picture height, placing it squarely in the middle of the range that qualifies it for an Extremely High rating. Not quite as much as we would have expected from a 16.2MP sensor, and not enough to beat out Canon's 18MP EOS 60D, but it's still a whole lot of resolving power.
Color accuracy easily earned an Excellent rating with an average Delta E of 6.4—certainly laudable, although most DSLRs these days earn an Excellent rating here.
In our autofocus speed test, while the D7000's 39-point Multi-CAM 4800DX system was no slouch, it proved slightly slower than the Canon 60D across the board. To its credit, the Nikon managed to focus in less than 1 sec all the way down to EV –1, the lowest light level for which it's rated to function. So, it lives up to its claims with aplomb.
Given Nikon's excellent record in noise suppression over the past few years, we expected the D7000 to do better in our noise test. Again, it fared well, but it couldn't match the 60D, which reached one more stop of sensitivity before hitting Unacceptable.
Even though our test deemed the D7000 too noisy by ISO 3200, the camera retained an impressive amount of resolving power across its entire sensitivity range. At ISO 6400, it maintained 2330 lines, and at ISO 25,600 it still managed 2260 lines. As always, there's ample room to turn noise reduction up from Nikon's default settings in Capture NX2, the included software, which we used to convert the RAW images in our test. So, if you don't mind sacrificing resolution—if you're planning to print small, for example—it's entirely possible to turn the noise down to bring ISO 3200 and maybe ISO 6400 into acceptable territory.
In the Field
One advantage of an advanced DSLR is a more user-friendly design. The D7000 sports two command wheels, so shooting in manual mode is seamless, with one wheel controlling aperture and the other shutter speed. Thanks to Nikon's ample customization, you can choose not just which wheel controls what, but which direction you turn to increase or decrease the numeric value of a setting, and which direction the displays move as you change a setting.
Like the D3100, the D7000 employs a flip-switch to enter live-view shooting mode with a button in the center, adorned with a red dot, to start or stop video recording while you're in live view. This made live-view shooting extremely convenient and led to our using it more frequently than usual. If only the D7000 had an articulated LCD screen (like the D5000), it would have been among the best live-view experiences we've had.
The second Nikon to record 1080p video (the first was the D3100), it delivered impressive video quality, with accurate-looking, well-saturated colors and relatively few artifacts. But, at its top resolution of 1920×1080 pixels, you're limited to 24 frames per second instead of the 30 fps that's native to most TVs. For a 30-fps frame rate, res drops to 720p. While we excused this at the D3100's price ($600 less than the D7000), we'd prefer to see 30 fps at 1080p from a camera in this class.
Another new addition to the body is a button to select AF mode, located in the middle of the switch for auto/manual focus. While experienced Nikon shooters might be left hunting for this control, as we were on first picking up the D7000, it proved a great way to control that function. It also underscores the fact that higher-level photography is truly a two-handed endeavor.
In fact, once you learn the placement of the D7000's controls, you likely won't pull your eye away from the optical viewfinder. Most essential controls can be operated through external buttons, with settings visible in the window. And the finder's 100-percent accuracy and ample magnification are a big plus.
One of the few controls that isn't a hard button is drive mode. For the first time in a camera at this level, Nikon included a locking wheel on the top of the body's upper left side to control this, as on its higher-end cameras. Unlike those models, the mode dial sits atop that wheel on the D7000.
Typical of a Nikon in this class, the grip is extremely comfortable, with a nice indent on the inside for your fingertips and a ridge underneath the shutter button for leverage when tilting the camera up and down. The body has a decent amount of heft, and it balanced well even with moderately heavy lenses such as the full-frame 24–70mm f/2.8 Nikkor, which yields a field of view similar to a 36–105mm due to the D7000's APS-C sensor's 1.5X crop factor.
Bottom Line
The Nikon D7000 is a pleasure to use, and it carries on the tradition of the company's very impressive advanced midrange DSLRs. If you have Nikon glass and are ready to upgrade, you won't regret it.
However, if you are looking to enter the DSLR world at this level and are not yet committed to a particular brand, you should read our Canon 60D test to learn about a model that's very competitive with the D7000 in performance and features.
Specifications:
IMAGING: 16.2MP effective, APS-C sized CMOS sensor captures images at 4928×3264 pixels with 14 bits/color in RAW.
STORAGE: SD/SDHC/SDXC stores JPEG, NEF RAW, and RAW + JPEG files.
VIDEO: Up to 1920x1080p, 24 fps or 1280x720p, 30 fps, MOV H.264 format files; built-in mono mic, stereo mic input, contrast-detection AF with continuous and subject tracking modes.
BURST RATE: Full-sized JPEGs (Fine mode), up to 31 shots at 6 fps; RAW (14-bit), up to 10 shots at 6 fps.
AF SYSTEM: TTL phase detection with 39 illuminated focus points (9 cross-type); single-shot and continuous AF with 3D predictive tracking. Tested sensitivity down to EV –1 (at ISO 100, f/1.4).
LIVE VIEW AF: TTL contrast detection.
SHUTTER SPEEDS: 1/8000 to 30 sec, plus B (1/3-EV increments); 150,000-cycle rating.
METERING: 2,016-pixel RGB sensor TTL metering, evaluative, centerweighted, and spot (approx. 2.5% of frame), EV 0–20 (ISO 100).
ISO RANGE: ISO 100–12,800 (in 1/3-EV increments), expandable to ISO 25,600 (in 1-EV increment).
FLASH: Built-in pop-up with i-TTL autoflash, GN 39 (ISO 100, feet); wireless flash control of off-camera units; flash sync to 1/250 sec.
VIEWFINDER: Fixed eye-level pentaprism.
LCD: 3-inch TFT with 921,000-dot resolution.
OUTPUT: Hi-Speed USB 2.0, mini-HDMI video, composite video, remote/GPS jack.
BATTERY: Rechargeable EN-EL15 Li-ion, CIPA rating 1050 shots.
SIZE/WEIGHT: 5.2×4.1×3.0 in., 1.7 lb with an SD card and battery.
STREET PRICE: $1,200, body only; $1,500, with 18–105mm f/3.5–5.6 VR lens.
INFO: www.nikonusa.com