CES 2011: Meet the Slightly-Tweaked Olympus E-PL2
This new PEN camera offers welcomed updates.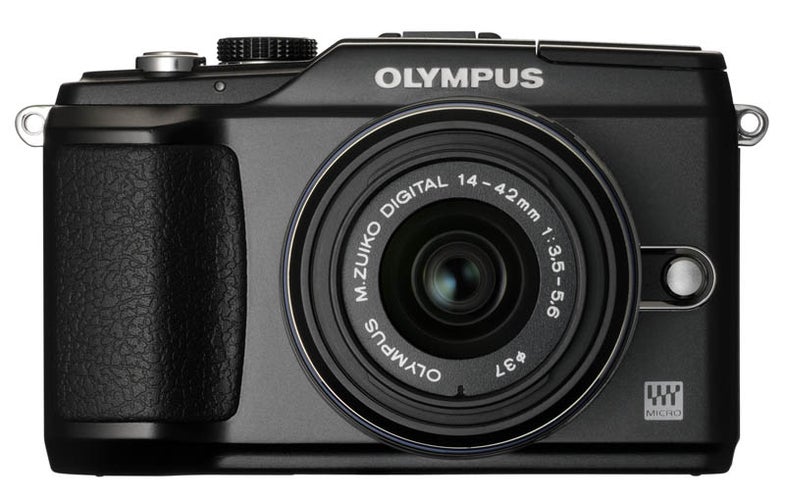 We may earn revenue from the products available on this page and participate in affiliate programs. Learn more ›
Las Vegas- Meet the Olympus E-PL2, the fourth generation of PEN camera in Olympus' line of micro four-thirds bodies. While no groundbreaking updates have been made to the E-PL1's replacement, that is not necessarily a bad thing. However the changes that were made are small but welcomed, like a much higher-res LCD, a larger grip, a silent-focus lens (that comes bundled with the camera) and a bump in ISO range.
Let's begin with what hasn't been changed on the E-PL2. It sports the same 12.3MP SMOS sensor, the same 11-point autofocus system, the same in-body image stabilization, self-cleaning sensor and 720p video capture.
As for the upgrades, the E-PL2 features a brand new 460,000 dot 3" LCD, doubling the resolution of the E-PL1's LCD. It also features Live Guide II, Olympus' new live view mode. When shooting either video or stills, a nice feature of Live Guide II is the ability to view the effects of Olympus' different art filters before anything is shot.
Speaking of art filters, the Olympus E-PL2, like its predecessor, comes with six different ones including: Pop Art, Soft Focus, Grainy Film, Pin Hole, Diorama and Dramatic Tone. For added creative potential, the E-PL2 now allows users to add Art Filters to images after they have been shot, even if they were originally shot with a filter on.
Another big change on the E-PL2 is its newly redesigned body that features a larger grip and new button layout. Olympus claims that the new layout makes for easier functionality—we will let you know if this is actually the case as soon as we get our hands on one.
In the low-light department, while the E-PL1's ISO range maxed out at 3200, the E-PL2 is capable of ISO's as high as 6400. How much noise should be expected at this range? Stay tuned for our lab test and we will let you know for sure.
The E-PL2 also features both iDetect and face Detection. When iDetect is activated, the camera will instinctively focuses on one's subject's eyes. Additionally, the Face Detection feature is capable of tracking up to eight individuals in the frame, ensuring crisp faces.
But probably what we are most excited about is an upgrade that has nothing to do with the E-PL2 body at all. Bundled with the new PEN is a 14-43mm f3.5/5.6 MSC lens (28-84mm equivalent). The MSC in its name stands for Movie and Still Compatible, which refers to the lens' snappy yet virtually silent auto-focusing. While previous PEN lenses were notorious for having loud auto-focusing motors that were extremely distracting during video capture, this new lens offers the best of both worlds for the videographer and photographer in us all.
In addition to the E-PL2, Olympus announced that they will also be offering the following accessories for the PEN line of cameras: a Fisheye Lens Converter, a Wide-Angle Lens Converter, a Macro Lens Converter, a Macro Arm Light and a PENPal.
While the converters are all fairly self-explanatory, offering users more versatility in shooting, the other two accessories are not. The Macro Arm Light it is a rig that connects to the camera's accessory port and contains two LED lights affixed to flexible arms for up-close shooting. The PENPal is another neat accessory that is essentially a Bluetooth enabled device that connects to the camera and can transfer up to 2600 images to another Bluetooth device, PC or PEN camera.
The Olympus E-PL2 will be available some time this month bundled with the 14-43mm f3.5/5.6 MSC lens for $599.99