Tested: Tokina AT-X 16-28mm f/2.8 Pro FX
All but flawless, this fuller-framer is in a class of its own.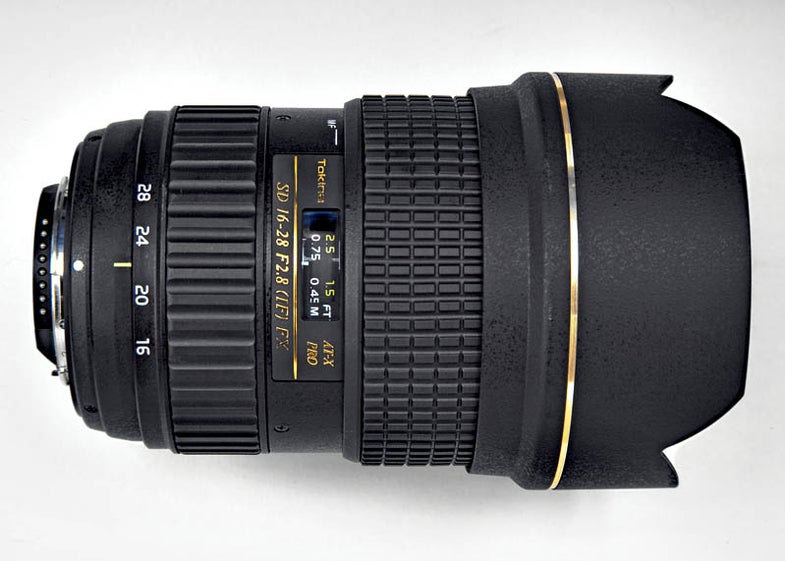 We may earn revenue from the products available on this page and participate in affiliate programs. Learn more ›
The first lens in a promised line of AT-X Pro FX full-frame Tokinas, this is also the company's first with a highly refined, micro AF motor that's both silent and fast-focusing. Approximately a 26–45mm equivalent on Canon's APS-C bodies and 24–42mm on Nikon's-—the only mounts in which it's available—this $850 (street) lens zooms and focuses internally for a completely stationary barrel.
This barrel is large and quite heavy. (To compare, in 2008 we called Canon's 16–35mm f/2.8L II, which is 12 ounces lighter, "tank-like.") It's nicely finished with gold accents and a fixed hood. Unlike most internal-focusing lenses, this Tokina doesn't offer full-time manual focus. But in use it feels close to that norm, thanks to the smooth-turning MF ring, which doubles as a push/pull-type MF/AF switch. The zoom turn, although even, feels stiff, and the new DC motor makes the AF action fast and very close to silent.
On our Test Lab's optical bench, the lens produced Excellent-range sharpness and contrast. Its SQF numbers were significantly stronger than those of the 16–35mm f/4 VR Nikkor, especially in the middle of the zoom range.
Its most remarkable strength? An unparalleled ability to control distortion. DxO Analyzer 3.2 tests found only Imperceptible distortion across the focal lengths. No lens this wide has come this close to distortion-free imaging in recent memory—the comparable Canon's distortion was Slight to Visible at the wide end. Equally remarkable: The Tokina produced no edge falloff at any focal length.
Its 1.75X zoom range is a bit stingy, and the lens is not image-stabilized—significant because neither Canon nor Nikon offers sensor-based stabilization in their DSLR bodies.
Nonetheless, with nearly flawless optics, this lens is in a lofty class by itself. Here's hoping all the future AT-X Pro FX glass is as strong.
SPECIFICATIONS:
16–28MM (16.47–27.32mm tested), f/2.8 (2.55–2.94 tested), 15 elements in 13 groups. Focus ring turns 80°. Zoom ring turns 60°. Focal lengths marked at 16-, 20-, 24-, and 28mm.
DIAGONAL VIEW ANGLE: 107–76 degrees.
WEIGHT: 2.21 lb.
FILTER SIZE: Doesn't accept threaded filters.
MOUNTS: Canon AF, Nikon AF
STREET PRICE: $850.
TEST RESULTS:
DISTORTION: At 16mm, 0.04% (Imperceptible) barrel. At 24mm, 0.02% (Imperceptible) pincushion. At 28mm, 0.02% (Imperceptible) pincushion.
LIGHT FALLOFF: At 16mm, none. At 24mm, none. At 28mm, none.
CLOSE-FOCUSING DISTANCE: 10.16 inches.
MAXIMUM MAGNIFICATION RATIO: At 16mm, 1:7.18. At 24mm, 1:4.89. At 28mm, 1:4.25.