New Gear: Samsung NX11 Adds Improved i-Control Integration
A redesigned grip and i-Control-specific buttons define Samsung's latest ILC.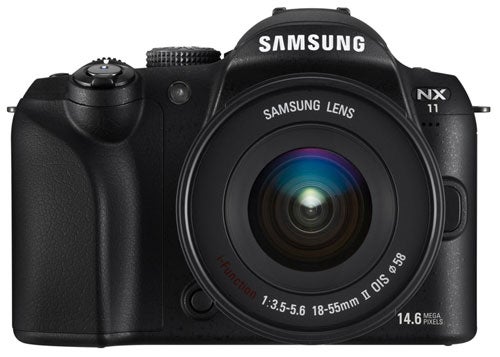 We may earn revenue from the products available on this page and participate in affiliate programs. Learn more ›
Apparently Samsung was just too excited to wait for next week's CES convention to launch the latest update to their line of interchangeable lens compacts. As the name suggests, the NX11 has a lot in common with its predecessor, the NX10. The most important difference is the addition of the i-Control system that was debuted with the dew drop-inspired NX100 and later added to the NX10.
The 14.6 megapixel, APS-C CMOS sensor can also grab 720p HD video at 30 fps. To maximize i-Function compatibility, they have added a lens priority mode dial and a dedicated i-Function button for controlling common camera functions directly from the lens. That means you'll have even less of a reason to take your eye away from the VGA (640 x 480) electronic viewfinder when shooting. If you prefer to shoot in Live View mode, you can do so on the big 3-inch AMOLED.
Ultimately, the design of the NX11 is very similar to the NX10, but the grip has been noticeably revamped to make it easier to hold in both normal and Live View positions. While better hand position will likely lead to better images, we can't help but wish they had included in-body image stablization as part of the upgrade.
The NX11 will be bundled with the 18-55mm F3.5-5.6 OIS Lens starting in February for $649. That's the same price that the NX10 is currently fetching (before savings) at most online retailers and about $50 more expensive than the NX100 bundled with the 20-50mm lens. While the upgrades aren't exactly earth-shattering, it's good to see that Samsung is still going full steam ahead on their NX series cameras.