New Gear: Panasonic Lumix DMC-GF2 Is Tiny, Touch-Friendly
Panasonic's smallest Micro Four Thirds camera boasts a 3-inch touchscreen.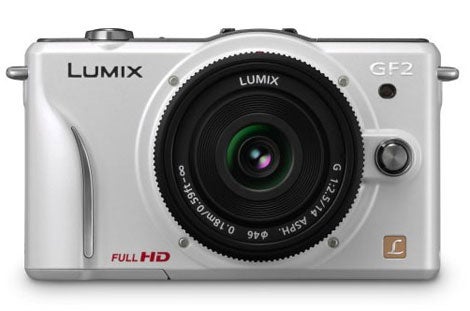 We may earn revenue from the products available on this page and participate in affiliate programs. Learn more ›
It must not have been quite ready for Photokina, where Panasonic introduced their SLR-like DMC-GH2, because today they have unleashed the extremely compact Micro Four Thirds contender that is the DMC-GF2. According to the press material, the GF2 is 19% smaller and 7% lighter than its predecessor,** the GF1**. But, despite the shrunken body, it still manages to retain the built-in flash and compatibility with Panasonic's new 3D lenses.
The other big news about this new body is the 3-inch touchscreen that spans most of its backside. Like in the GH2, crucial operations like autofocusing and setting exposure can be achieved by simply poking at the 460,000 dot display. The entire interface has been revamped to be touch-optimized, including the Touch Q system which allows for user-created shortcuts to cut down on time spent in the menus.
When it comes to photographic firepower, the GF2 is powered by a 12.1-megapixel Live MOS sensor and the Venus Engine FHD. That set-up allows for HD video capture in 1080i at 60 fps or 720p at 60fps in AVCHD format.
AF is handled by a contrast-based system that Panasonic claims to be extremely fast. It offers a wide range of focus modes, including a 23-area mode, a single point mode and AF tracking, which can be initiated by simply tapping on a subject on the touch screen. If it's anything like what the GH2 can do, it will be both snappy and pretty accurate.
There's no pricing available quite yet, but the solid aluminum body will come in black, silver, white and red when it starts shipping in January 2011. There will be two kit options, one of which includes the 14mm F2.5 lens and the other bringing the 14-42mm Zoom lens.

gf2 4

gf2 3

gf2 2

gf2 1