Sample Images: Nikkor 200-400 f/4 VR II Lens
We took Nikon's new superzoom out for some serious "field" testing.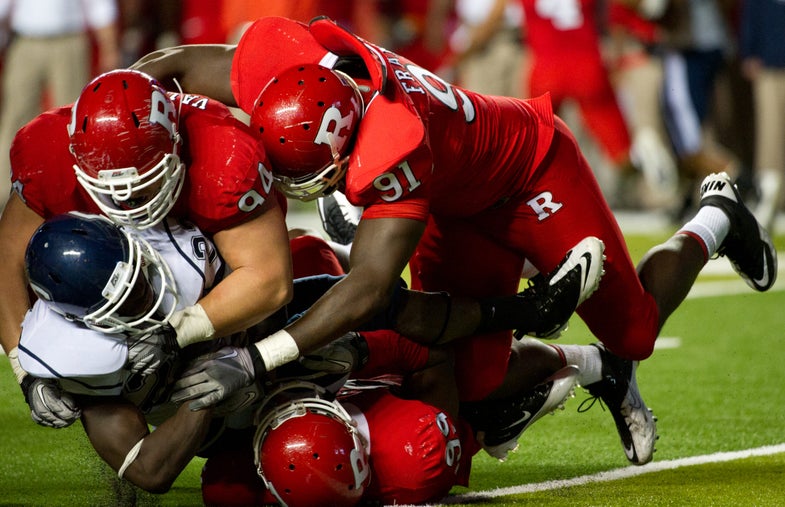 We may earn revenue from the products available on this page and participate in affiliate programs. Learn more ›
What better place to test the new Nikkor 200-400mm f/4G ED VR II lens than a nighttime college football game—a Big East Rutgers vs. Uconn football game to be exact.
There are three things required for successful football photos: a quick eye, intuition and snappy auto-focusing, but most importantly, snappy auto-focus. The 200-400 handled itself very well, despite the somewhat low–light conditions, at keeping focus on the player with the ball.
Also, thanks to Vibration Reduction, the wobbly monopod we had the camera affixed to (Actually a ski pole/monopod/cane made by the late Herbert Keppler), was a non-issue.
The 200-400mm focus range was more than adequate for covering all 100 yards of the field. It should also be mentioned that even though the lens was mounted on a D3S body, we had no problems lugging the camera up and down the field (and throughout the stadium for that matter).
All the photos that follow were shot using a Nikon D3S body. For the most part the images are unedited other than some cropping and slight exposure adjustments made in Adobe Lightroom 3. The photos were all shot in RAW and converted to jpgs in Adobe Lightroom 3. Click the link on each photo for the full-resolution version.