Tested: Sony A33 and A55 Video Overheating Issue
How much video can Sony's translucent mirror cameras shoot before shutting off due to heat? We found out.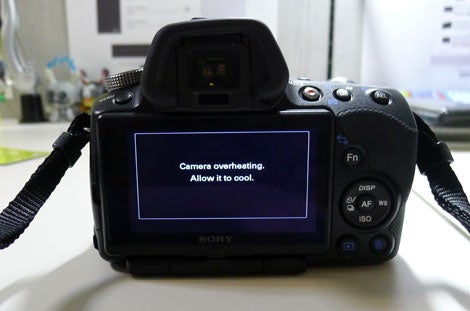 We may earn revenue from the products available on this page and participate in affiliate programs. Learn more ›
Plenty of DSLRs put a limit on how long video clips can be. Canon's 7D and Rebel T2i cap out at 12-minutes and even the current king of video DSLRs, the 5D Mark II, maxes out at 29:59 or when the file size reaches 4 GB. But, Sony has recently stated that their new A55 and A33 cameras will overheat after a couple minutes of video capture when the in-body SteadyShot is turned on.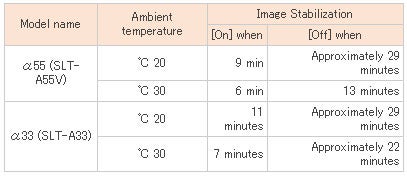 This chart was taken from the statement made by Sony Japan (link in Japanese) and gives rough estimates as to how long it should take before the overheating error screen pops up. While useful, we have both cameras here in our 70-degree office, so we figured it couldn't hurt to fire them up and see for ourselves.
Shooting at 1440 x 1080 in MP4 mode with SteadyShot turned on, we managed to squeeze 7:42 out of the A55 and a relatively impressive 12:40 out of the scrappy A33. We then let the cameras sit overnight. This morning, we switched them over to 1920 x 1080 in AVCHD and saw some improvement. We got 9:36 with the A55 and 14:09 from the A33. Out of curiosity, we turned the A55 back on after five minutes and tried shooting more video. This time we were cut off at 2:56.
After both tests, the back of the camera (specifically, the area under the articulating LCD screen) became very hot to the touch. Assistant Editor, Dan Bracaglia, likened it to a MacBook Pro that has been left on a bed for an extended period of time, which seems like an apt comparison.
As Sony suggests, we had no traces of overheating problems when the SteadyShot was turned off. We don't expect users will have much trouble reaching the 29-minute maximum as long as the camera is mounted on a tripod.
Ultimately, it's not something to worry about. Other cameras, like Nikon's D5000, have a limiter that stops recording at five-minutes and both Sony cameras were able to surpass that regardless of settings. We wouldn't be surprised to see Sony apply a similar restriction in a future firmware upgrade to prevent any long-term damage that might result from multiple instances of overheating. Until then, your best bet is to just keep your clips relatively short. And that's true with any HDSLR, all of which will overheat if you run them long enough.