New Gear: Panasonic Lumix DMC-GH2
PHOTOKINA: Panasonic's new G-series is a true photo/video hybrid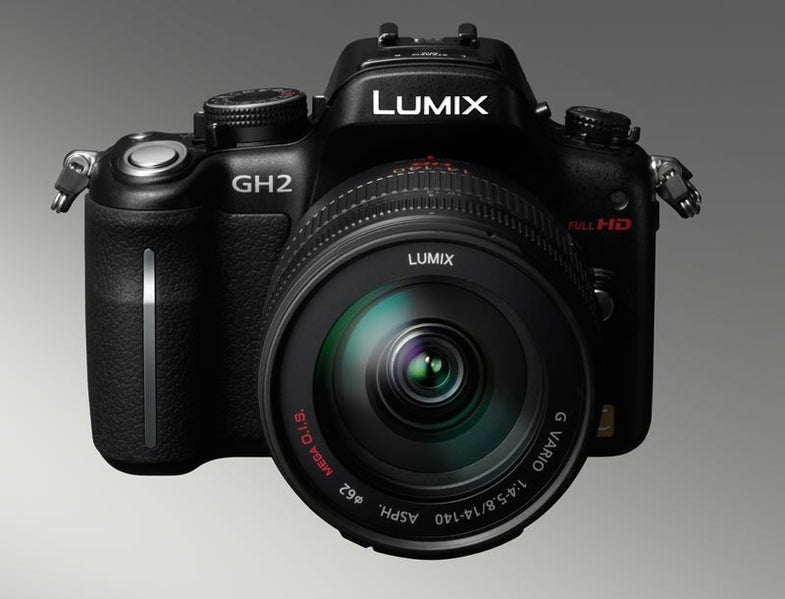 We may earn revenue from the products available on this page and participate in affiliate programs. Learn more ›
FROM OUR EDITORS AT PHOTOKINA: Panasonic is touting its all-new touchscreen Lumix DMC-GH2 digital-single-lens-micro unit as a true hybrid camera, offering a long list of impressive photo and video features. Compatible with all micro four-thirds lenses via adapter mounts, and able to use Panasonic's new 3D lens via a firmware update, the GH2 is both versatile and advanced.
Photo:
At the heart of the new GH2 is a 16MP multi-aspect LIVE MOS sensor and an all-new Venus Engine FHD processor. The new processor is capable of advanced signal processing which allows it to achieve a higher quality image by separating chromatic and luminance noise, preventing color mixture and selectively reducing noise. With all these new quality-advancing features, we are very excited to get the GH2 in our lab and put its color accuracy and noise reduction to the test.
The GH2 also offers 22 different shooting modes to please your creative side including: Expressive, Retro, Pure, Elegant, Monochrome, Dynamic Art, and Silhouette mode. In addition to all of these creative modes, the GH2 also offers Panasonic's Intelligent Auto mode for amateur photographers and enthusiasts.
With the success of the iphone and other smartphones, it has always surprised us that more companies don't offer touchscreens in their units, but the GH2 changes all that with its 'intuitive touch-control operation". Panasonic claims that the 3'' 460,00-dot LCD is comfortable to view at any angle thanks to their Multi Aspect Wide Screen Live View Finder.
To top off its still camera features, the GH2's new mechanical shutter allows for an impressive burst rate of 5 fps for high-speed photography. Additionally the GH2 can be paired up with a total of 11 lenses, including the three new ones launched today.
Video:
In the video department, the GH2 offers a truly impressive full HD 1920×1080 video in 60i, doubling its sensor output from 25p/24p on the GH1, to 50p/60p. It also supports native 1080p video at 24 fps.
Along with its long list of still photo modes, the GH2 offers several video modes including the ability to record at variable frame rates, effectively speeding up or slowing down frames for a creative effect. Other impressive video features include touch-screen autofocus, which allows shooters to simply tap the GH2's screen to focus in on a subject. To top off its video features, the GH2 is capable of recording in Dolby Digital sound with the addition of an optional stereo mic.
One of the most impressive feature we are very excited to test out is the GH2's ability to shoot a 14mp still image during video recording thanks to the Venus Engine FHD processor.
The Panasonic LUMIX GH2 will be available in time for the holiday in black and silver, for a price of: $899.95 (Body only); $999.95 (Body with lens LUMIX G VARIO 14-42 mm / F3.5-5.6 ASPH. / MEGA O.I.S.); $1,499.95 (Body with lens LUMIX G VARIO HD 14-140mm/F4.0-5.8 ASPH./MEGA O.I.S.).