Leica Unveils Limited Edition Titanium M9
PHOTOKINA: With some help from the Audi design team, Leica has created a stunning limited run.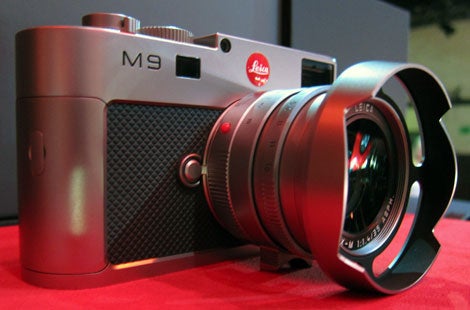 We may earn revenue from the products available on this page and participate in affiliate programs. Learn more ›
FROM OUR EDITORS AT PHOTOKINA: If you're looking to drop a small fortune on a camera, but aren't interested in that monstrous new 80-megapixel Leaf back, Leica has a new limited edition model that should fit the bill. The new Titanium M9 was designed in collaboration with automobile designer, Walter de'Silva and his Audi design team. It comes packaged with a shoulder holster, carrying strap, finger loops and a Leica Summilux-M 35mm f/1.4 ASPH lens, the outer pieces of which are also made from titanium. Only 500 kits will be made available world-wide when its released in November.
On the outside, the camera is easy to tell apart from the regular M9 thanks to some seriously nice details. The titanium bits are created from solid blocks of metal, a process which requires specific tools. Because it was partially created by car designers, the trim is made from leather that's "typcially reserved for the interior's of Audi's premium automobiles." Even the classic Leica logo has been restyled.
While the improvements are mostly cosmetic, there are a few performance-oriented upgrades like new LED illumination of the bright-line frames in the viewfinder and a revamped carrying solution that uses one strap-mounting point instead of the two traditional lugs.
There's no official pricing in the Leica press material, but even if you do have the cash, it's likely they will all sell out before you can get your hands on one. One that's definitely already spoken for was Leica's 4,000,000th camera, which they presented to Kodak's Steven Sasson, "the inventor of the digital camera." Check the gallery for actual pictures of #4,000,000.
Between this announcement and the new Fujifilm X100 digital rangefinder, it has already been a good show so far for fans of old school camera aesthetics.