Sony A55: Hands On
Get an up-close look at Sony's new camera.

We may earn revenue from the products available on this page and participate in affiliate programs. Learn more ›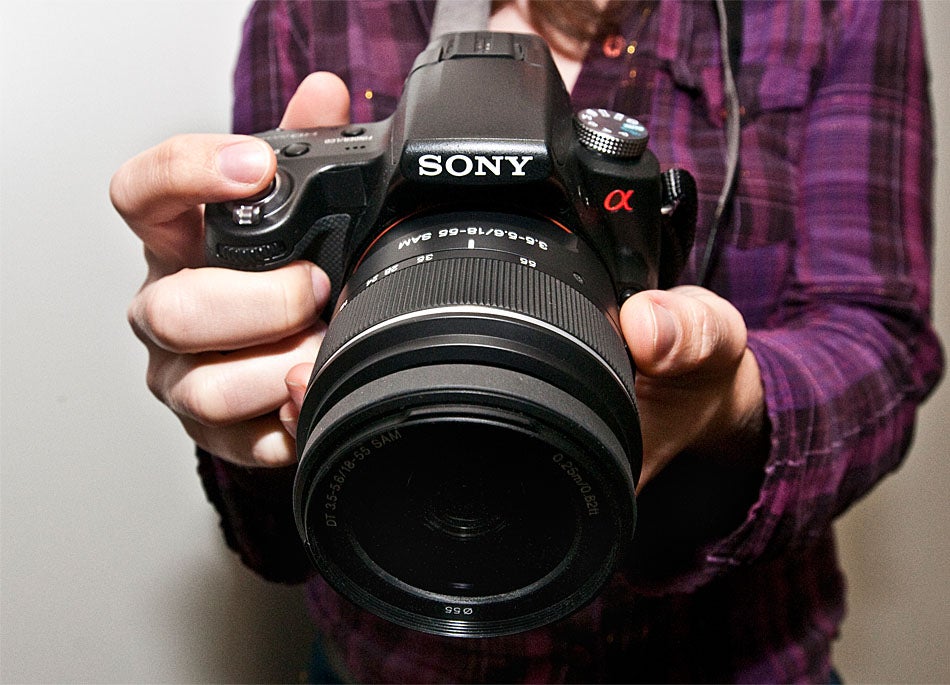 a55 hands on main
Today, Sony introduced two new interchangeable lens cameras—with a twist. Unlike the usual DSLRs, with mirrors that flip up during shooting to allow light to strike the sensor, the A55 and A33 use "Translucent Mirror Technology." In place of a mirror, there's a fixed film that's reflective enough to direct light to the autofocus sensor while simultaneously transmitting light to the image sensor behind it. That means that phase detection autofocus can be in effect the entire time you're shooting, with no interruptions when you click the shutter. This includes video—these two cameras are the first cameras on the market to use continuous phase detection AF while shooting HD footage. Another unique quality of these two cameras? Instead of the usual pentaprism viewfinder, there's an electronic viewfinder, which shows you exactly what the sensor sees.
For the past week I've been shooting with a pre-production version of the A55. Here are my impressions.
The Camera Body
Because there's no pentaprism, the body of the A55 is more compact than a normal midrange DSLR, which means there's a bit less real estate for control buttons. The Function button allows you to access most of the controls you'll need while shooting, though you can't change compression or go from JPEG to RAW from there. Instead, you'll need to hit the Menu button to scroll through the camera's main menus (this can be frustrating because the camera's automatic HDR feature can only be accessed while shooting JPEG).
This is a midrange body, so there's only a single control dial. That's never a wonderful thing, but it gets more awkward than usual with this camera because the exposure compensation button (also the button which allows you to toggle between adjusting f/stop and shutter speed while shooting Manual) is on a plane of the camera that's angled forward. Trying to hold it down while moving the control wheel often gave me the feeling that I would lose my grip on the camera, particularly when I was shooting with a heavier lens.
In a move that we will hope is the norm in the future, Sony's added a tilting and swiveling LCD, which is really useful for live view shooting from any angle.
The EVF
I was most uneasy about the electronic viewfinder—an EVF on an SLR? It seemed anathema. Sony is aiming for shooters moving up from a compact, and those folks will most likely feel more immediately comfortable than veteran DSLR shooters with the concept. At first I found myself reviewing the LCD (AKA "chimping," as it's often derogatorily called) as I normally do while shooting, only to find myself, essentially, in live view mode. That's because, by default, the option to review is turned off, and when you take your eye away from the viewfinder you automatically switch to viewing through the LCD. Having review on while shooting through the EVF is annoying—suddenly you're staring at a still when you're in the middle of a photo shoot. But I quickly became adept at tapping the well-located play button to review my images via EVF when there was a break in the action. One advantage of the EVF soon revealed itself: Shooting in bright sunlight, I had no trouble seeing the images I had just shot—no more hiding the camera under my jacket to check exposure.
I enjoyed the EVF even more when I was shooting a nighttime, outdoor rock opera with challenging, constantly-changing lights. Not only was I glad that I wasn't disrupting others' experiences with my glowing LCD, I could also see my exposure as I was shooting. Because it's an EVF, you'll know right away if you're overexposing, or if your white balance is off. With the need to chimp mitigated by the live shooting experience, I missed fewer shots.
Another bonus of the EVF: all your menu items are accessible while shooting, and they don't fill the screen. That means, if you're monkeying with a function while looking through the viewfinder and you see a shot, you can still fire the shutter. It's worth memorizing the button locations so you never have to remove the camera from your eye.
Still, the EVF is no pentaprism—nor is it as crisp and clear as the LCD screen. In a few more generations, I'm sure I'll be fully won over.
Special Shooting Modes
The A55 includes a number of modes previously only found on its compact cameras, including, among others, Sweep Panorama and Handheld Twilight mode. Sweep pano is great fun to have on a DSLR—I found myself shooting far more panoramas then usual, with the added bonus that I didn't have to remember to stitch them myself. They're super easy to make, and come out well as long as you remember to lock your focus and exposure on your primary subject before you start shooting. Your output is a JPEG, though, so if you still want to print a giant pano you might consider doing the old fashioned way with RAW files. The other drawback? The camera goes into full auto mode while shooting, so you leave your settings up to the camera, which can occasionally mean a higher ISO or a wider aperture than you might otherwise have chosen.
Because of its continuous phase detection autofocus, this camera should be able to keep a moving subject in focus during burst shooting, even when the subject's moving rapidly toward the camera. I was impressed with the sharpness of my burst shots from the concert, which had the added challenge of being a low light situation. We're looking forward to putting this feature to the test, both in burst shooting and in HD video, when we have a production camera to test. The continuous AF during normal video recording was very good.
Auto+ shooting mode, which chooses among all the camera's special modes was promising but also frustrating. It's cool that the camera will do, for example, an auto HDR when it thinks the situation demands it, but that requires more processing. It was annoying to find that the camera was hung up in processing when I was ready to take my next shot.
GPS worked like a charm—I imported my photos into Apple Aperture and immediately saw them placed on a map. Note that if you get this camera, take it outside and let it get a signal before you start shooting. Date and time are set automatically by satellite, and won't be correct until the camera gets its initial signal. A bonus of the GPS: you'll never have to correct for time differences when you return from a far-away journey.
Conclusions
Despite the slightly awkward button placement, I enjoyed shooting with the A55, particularly when I got used to shooting with the EVF. I did have some issues with the camera overheating after 45 minutes or so of shooting bursts and video, but hopefully those issues won't carry over into the production sample. We're looking forward to see how this camera does in the Popular Photography Test Lab.