Canon Unveils 4 New L-Series Lenses and 2 Extenders
Pros and serious shooters get a fisheye zoom, a telephoto zoom and two updated f/2.8 super-tele primes.

We may earn revenue from the products available on this page and participate in affiliate programs. Learn more ›
To coincide with the unveiling of their new 60D DSLR, Canon has also announced four serious new lenses and a pair of extenders to go with them. Here's the rundown.
Canon EF 8-15mm f/4L USM


This is easily the most interesting new addition. Unlike the Sigma rectilinear 8-16mm f/4.5-5.6 DC HSM we saw at PMA earlier this year, Canon's new ultra-wide zoom is a full-fledged fisheye. On a body with a full-frame sensor, the lens creates a 180-degree circular fisheye image. Attach it to an APS-C or APS-H and you get a rectangular image with 180-degrees of coverage, diagonally. A switch on the lens limits the zoom according to the camera's sensor size to prevent frames with the corners cropped off.
Inside, the lens is equipped with UD and aspherical lens elements. Canon's proprietary Sub Wavelength Structure Coating helps prevent flare and a new fluorine anti-smear coating applied to the outermost elements is said to make cleaning—even without solution—much easier and effective. It will be available in January 2011 and will cost about $1,400.
Canon EF 70-300mm f/4-5.6L IS USM


There's no shortage of 70-300mm options in Canon's arsenal, but this new L-series lens sits at the top of the heap. Inside the familiar white exterior are two UD (ultra-low dispersion) elements and a floating optical system, which reduces minimum focus distance by more than a foot to 1.2 meters throughout the zoom range. Like the other new lenses, the front and rear elements have been treated with the protective fluorite coating (Canon says it serves only as a layer of protection and doesn't enhance the image) and uses the revamped IS system that promises up to four-steps.
It will be available at the end of October for $1,500.
Canon EF 300mm f/2.8L IS II USM lens


Canon's 300mm f/2.8 first appeared way back in 1974 and is now in its 6th generation. The latest version shows some serious improvements over its predecessor that pros will surely appreciate. The lens (without hood) weighs in at 82.9-ounces, which is 8% lighter than its predecessor. Plus, the new version has a built-in tripod collar.
Part of that weight reduction comes from the inclusion of two fluorite elements—they're lighter than the UD glass. But, despite its smaller size and lighter weight, they have also increased the overall durability of the lens by increasing the amount of magnesium alloy and titanium in its barrel construction. The improved IS system offers four-steps of blur-annihilation and is much quieter than its predecessor thanks to a totally revamped design that nixes the electromagnets.
Canon says it will be available before the end of the year and will carry an approximate retail price of $7,000.
Canon EF 400mm f/2.8L IS II USM


If 300mm isn't quite far enough for your shooting style, you can take the plunge and pick up the 5th generation of Canon's 400mm f/2.8L. They were able to drop the weight of this beautiful beast from 189.4-ounces all the way to 135.8-ounces. It also has a pair of fluorite elements and the better, quieter IS system. If you're ready to take the plunge, it'll be available before the end of the year for a suggested $11,000.
Both of the new pro super-tele lenses have a security slot, which allows for the attachment of a wire-type security lock to protect the pricy glass. They're also the first lenses to have the Power Focus mode to assist video-shooters in performing smooth rack focuses.
Canon Extender EF 1.4x III and Canon Extender EF 2x III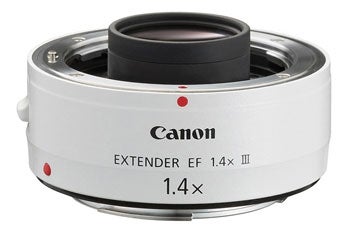 Canon has also done some serious upgrading in the extender department. Both have fluorite coating on the front and back elements, plus an anamolous dispersion lens element to help prevent image degradation. They have also upgraded the internal microcomputer to help improve AF performance when used with an IS Series II EF super-telephoto lens. Both will hit shelves in December for $500 each.