Lens Test: Sigma 50-500mm F/4.5-6.3 APO DG OS HSM
Bigma has shed some weight and picked up optical image stablization.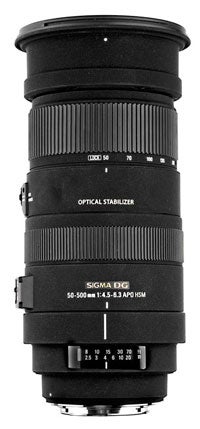 We may earn revenue from the products available on this page and participate in affiliate programs. Learn more ›
The first version of this lens earned the nickname Bigma for its 4.25-pound heft and huge size.
Now comes Son of Bigma ($1,600, street), lighter at a little less than 4.2 pounds, yet with a number of optical improvements including image stabilization.
Like the original, this 50–500mm boasts the broadest zoom range—10X—of any Sigma full-frame lens. That's far more range than the Canon 100–400mm f/4.5–5.6 IS (4X) or Nikon 80–400mm f/4.5–5.6 VR (5X) stabilized full-framers.
A 75–750mm equivalent on most APS-C-sensor DSLRs, it has four SLD elements, Sigma's HSM silent AF motor, and AF that allows manual-focus touch-ups. Its build is superb, with an attractive
finish and a removable tripod collar with grooves for a solid grip.
In our Test Lab, its SQF sharpness numbers were Excellent at 50 and 100mm. As expected, they dropped to Very Good then Good at 200mm and 300mm, respectively. At 300mm, it was just slightly less sharp than Canon's comparable 100–400mm IS zoom. (Due to equipment limitations, we could perform SQF tests only on focal lengths out to 300mm.)
Our DxO Analyzer Version 3.2 tests of three focal lengths going all the way out to 500mm found only Slight-range distortion—a vast improvement on the original Bigma's distortion scores.
Close-up capabilities were similarly impressive: The top magnification ratio reached 1:2.7 at 200mm, compared with only about 1:5 from the comparable Canon, Nikon, and older Sigma.
The OS results? Three users got sharp pictures at shutter speeds 2 to 4 stops slower than was possible without OS. Bravo!
Most shooters will use this lens on a tripod, obviating the need for OS. And the earlier version, while no longer in production, is still selling at $1,059 (street). The many other pluses of the new lens, though, may make it the better choice.
TEST RESULTS
Distortion:
At 50mm, 0.20% (Slight) barrel
At 200mm, 0.25% (Slight) pincushion
At 500mm, 0.26% (Slight) pincushion
**Light falloff: **
At 50mm, gone by f/5.6
At 200mm, gone by f/7.1
At 500mm, by f/10
Close-focusing Distance:
At 50mm, 18.25 inches
At 200mm, 21.75 inches
At 500mm, 65.75 inches
Max. magnification ratio:
At 50mm, 1:5.10
At 200mm, 1:2.71
At 300mm, 1:4.11
Stabilization: 2–4 stops