Lens Test: Nikon 85mm F/3.5G ED DX AF-S VR Nikkor
Nikon users with DX format cameras can now get closer than ever.

We may earn revenue from the products available on this page and participate in affiliate programs. Learn more ›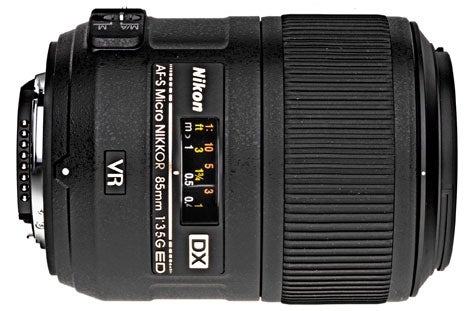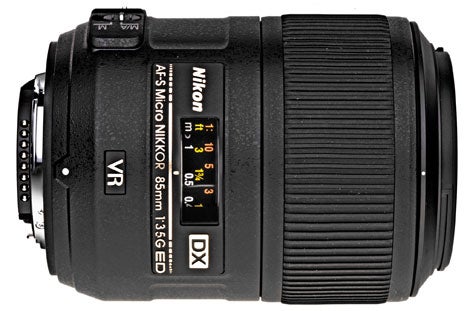 nikon 85mm macro main
;
This is Nikon's first 1:1 Micro Nikkor in the DX (APS-C) format. With a street price of $500, it offers D3000, D500, D300, and D90 shooters true close-ups–with Vibration Reduction II–at a much lower cost than Nikon's other VR macro, the $890, full-frame, 105mm f/2.8G.
This 85mm, an unusual 127.5mm full-frame equivalent, is well suited both to close-ups and to portraits. Internal-focusing, it's stippled barrel looks, but doesn't feel, similar to Nikon's pro-grade lenses.
In the field, its light weight swift and silent autofocus, and stationary barrel were all major boons. And it"s compact: The lens cast no shadow when used with the built-in flash on our Nikon D300s–even at 1:1 close-focusing distance of about 11 inches. We also appreciated the large distance and macro scales, the latter rare on non-pro glass.
Even more–and especially in the macro range–we liked the VR. We often hear that stablization is irrelevant in macro, because the small apertures you use to maximize depth of field require shutter speeds too slow to forgo a tripod. This may be true for product shooters and other pros, but more casual photographers who don't mind a little defocus in close-up backgrounds will like the VR on grab shots.
Negatives? Focusing would have been much easier if there were a focus-range limiting switch. And we didn't love the plasticky feel of the barrel and the less-than-well-damped action of its MF ring.
In our Test Lab, the lens turned in Excellent-range scores in SQF tests of sharpness and contrast. Our DxO Analyzer Version 3.2 tests found imperceptible barrel distortion (0.08%), a superior performance, and light falloff leaving the corners by f/5, just an average showing.
In macro it did noticeably better, with barrel distortion a mere 0.03% and vignetting disappearing entirely. Maximum subject magnification was 1:0.89–much stronger than Nikon's claimed 1:1.
In our tests of the VR II system, three users took sharp pictures at shutter speeds 2 to 3 stops slower than was possible without VR. As is typical, in the macro range the average gain dropped to about 2 stops.
Although this f/3.5 lens is priced like an f/2.8, what you're paying for is the VR, for much sharper images in dim light. We think it's worth it.
TEST RESULTS
Distortion: 0.08% (imperceptable) barrel
Macro distortion: 0.03% (imperceptable) barrel
Light falloff: Gone by f/5
Close-focusing distance: 11.12-inches
Maximum magnification ratio: 1:0.89
Image stablization: 2-3 stops in normal range focusing, 2 stops in macro