Software Review: Corel Paintshop Photo Pro X3
Edit and share your images easily.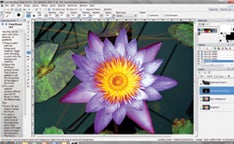 We may earn revenue from the products available on this page and participate in affiliate programs. Learn more ›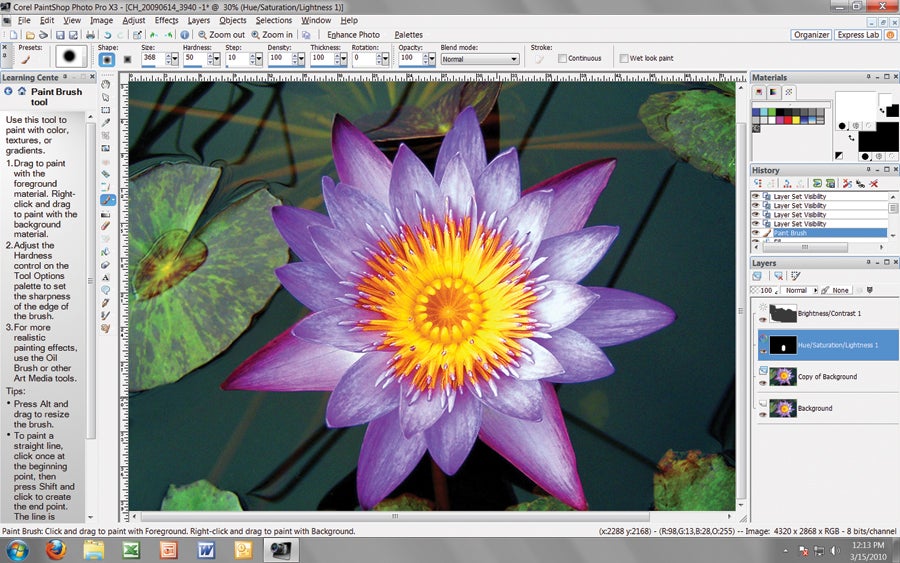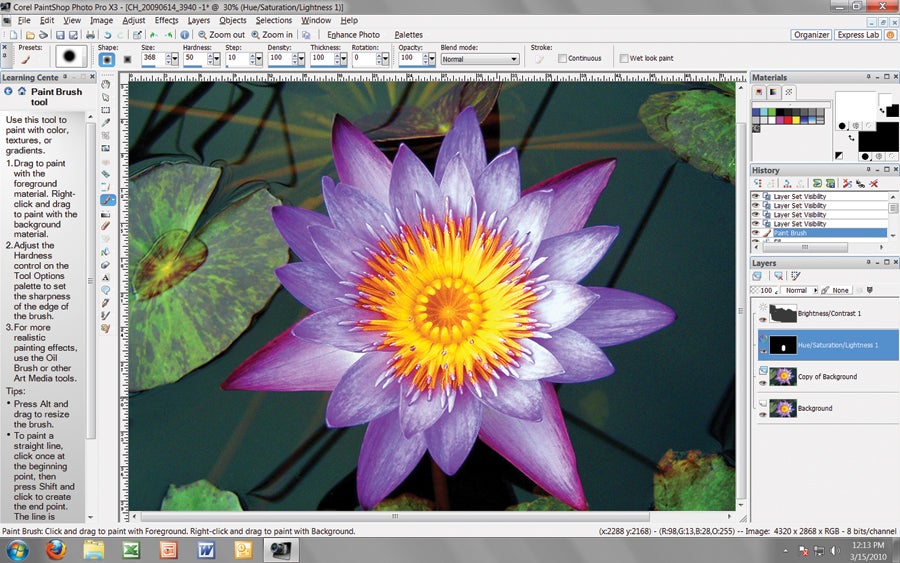 Corel's Paintshop Pro
In the full editor, the Learning center is there to help you along.
Corel's paintshop Photo Pro, now in version X3, has long been a compelling image editor. It offers Windows users sophisticated adjustment tools, as well as fast fixes and fun projects.
In this iteration ($90, street), Corel added and improved some editing features and made a smart move: It separated editing and organizing from creating and sharing, giving each of these two sets of functions its own application. This makes for a better experience no matter what you're doing with your pictures.
Now, when you want to upload quickly to Facebook, Flickr, or YouTube—or make collages or slide shows combining photos and HD video—you go to the Project Creator. It shares much of the sleek, simplified design of Corel's beginner-friendly Digital Studio 2010 (see our review).
The Organizer, Express Lab for quick fixing, and the Full Editor are all accessible through the primary PaintShop Photo Pro application. New tools in the Full Editor include the Image Extractor for cutting out an object and the Smart Carver tool for scaling without losing important information. Both tools work better on some images than others and take practice to get good results.
Express Lab's improvements are more uniformly effective. As before, Express Lab corrects images fast without entering the Full Editor. A new Local Tone Mapping tool brings out shadow and highlight detail, and there are new ways to fix color balance, brightness and contrast, sharpness, and noise.
One major improvement: RAW file handling. With the new RAW Lab, you can fix white balance, noise, exposure, sharpness, and saturation—just the basics, but the most important basics.
RAW files convert at 16-bit, but, as with rival Adobe Photoshop Elements 8, they open in the sRGB color space. This smaller-gamut space shows fewer colors than largergamut ones such as AdobeRGB.
The web and most devices default to sRGB, so if that's how you plan to display your images, the smaller gamut won't matter. But if you shoot RAW because you want to color-manage and print on a high-quality photo printer, you'll have to live with losing some color info.
Because PaintShop has serious editing features such as adjustment layers, masking, HDR, and more, it's too bad you can't put these tools to use on all of your color. Corel told us it chose to focus on other features this time around, but we hope the next version will bring that capability.
This software's strengths are many: It has tools for photographers who know what they're doing, and a Learning Center to help those who are new to editing. Considering an upgrade? Do it to work more with RAW or for the beefed-up Express Lab.
For shooters who want to both make photo projects and try out more serious editing—though not necessarily at the same time— PaintShop Photo Pro X3 is a great choice.