Hands On: Olympus PEN E-PL1
A new Micro Four Thirds with mainstream appeal.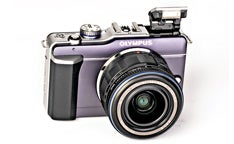 We may earn revenue from the products available on this page and participate in affiliate programs. Learn more ›
The third time's the charm. With the Pen E-PL1 ($600, with 14–42mm f/3.5–5.6 lens), Olympus has finally gotten it all together in a Micro Four Thirds camera: plenty of pixels, attention-grabbing size and styling, and a built-in flash that lets you add light to your scene even when using an accessory electronic viewfinder (EVF). But perhaps even bigger news is the introduction of two new Micro Four Thirds lenses. Together, the new 9–18mm f/4–5.6 M.Zuiko Digital ED ($700, street) and 14–150mm f/4 –5.6 M.Zuiko Digital ED ($600, street) cover a 35mm-equivalent range of 18–300mm—almost 17X. Both employ the new Olympus inner focusing design, which shifts a single lens element near the middle of the lens to achieve focus. This smaller element can move faster and more quietly than the elements in earlier Micro Four Thirds lenses, a particular help when you're shooting video.
Handling and Controls
The camera body, while more utilitarian than sleek in design, maintains an attractive rangefinder look. Boxier than the first two Pens, it provides a prominent grip that feels more solid in the hand.
The LCD is smaller—now 2.7 inches, down from 3—and the mode dial moved to the righthand side. Both changes seem to be concessions to accommodate the pop-up flash, a feature notable by its absence on the previous Pens. We're willing to accept the smaller screen for this convenience, particularly since the pop-up can control Olympus accessory flashes wirelessly.
With the mode dial on the right, it's possible to change almost any setting with just one hand. To make such changes faster, the menu navigation buttons also give you access to functions such as bracketing and drive mode. People moving up from compacts will likely find these controls more intuitive to use than those on a more advanced DSLR.
Since such photographers probably also want to shoot movies, they'll appreciate the dedicated video button—just tap the red dot, and you're recording. The E-PL1 can record at up to 1280x720p at 30 frames per second and stores the footage as Motion JPEG AVI files.
A new Live Guide interface, active only in iAuto mode, attempts to simplify settings such as aperture and shutter speed by asking whether you want the picture to be brighter or darker, or whether you want a sharper or softer background. This should be a boon to people who aren't familiar with photography's technical terms. And if you don't want to think, iAuto can set everything for you.
Fans of scene modes will find 19 of them, and for those who want to get fancy, there's inthecamera panoramic stitching and six Art Filters, including a new one called Gentle Sepia.
In our limited time with preproduction samples of the Pen E-PL1 and 9–18mm lens, we were impressed. Focusing was a bit faster than on previous Pens and much faster than on most compact cameras—and, with the new lens, very quiet.
We did miss the tiny vertical command wheel and rotating ring around the control pad that are on the backs of the E-P1 and E-P2, which we found faster for controlling the camera than the buttons on the E-PL1.
When Size Matters
These changes highlight the major advantage of the Micro Four Thirds system: compactness. An E-PL1 body, the two new lenses, and the optional EVF ($280, street) can all fit in a modest-sized purse or bag.
Sure, it's still more to carry than an all-in-one superzoom. But, with a sensor nearly 10 times the area of a typical superzoom's, a Micro Four Thirds camera can produce images that put those cameras to shame. While you won't get the extreme one-lens reach of the latest 30X ultrazooms (such as Olympus' own SP-800UZ), you can always change the lens on a Pen.
There are no dedicated macros or fisheye lenses available yet in Micro Four Thirds mount, but adapters will let you use regular Four Thirds lenses in the meantime.
Still, for newcomers to interchangeable-lens camera systems, the current selection of native-mount lenses should be an adequate starting point.
All told, Olympus has made a nice camera that showcases the virtues of the Micro Four Thirds format at a competitive price. We're looking forward to running a full production sample through the Pop Photo Lab soon.
Future Tests Will Reveal
– How the camera handles in the field.
– If the E-PL1's res can match its siblings.
– Noise level of images at high ISOs.
– Whether Olympus has sped up the AF.