Lens Test: Tamron SP 60mm f/2 Di II Macro AF
The world's fastest 1:1 digital macro lens that offers surprising close-up performance.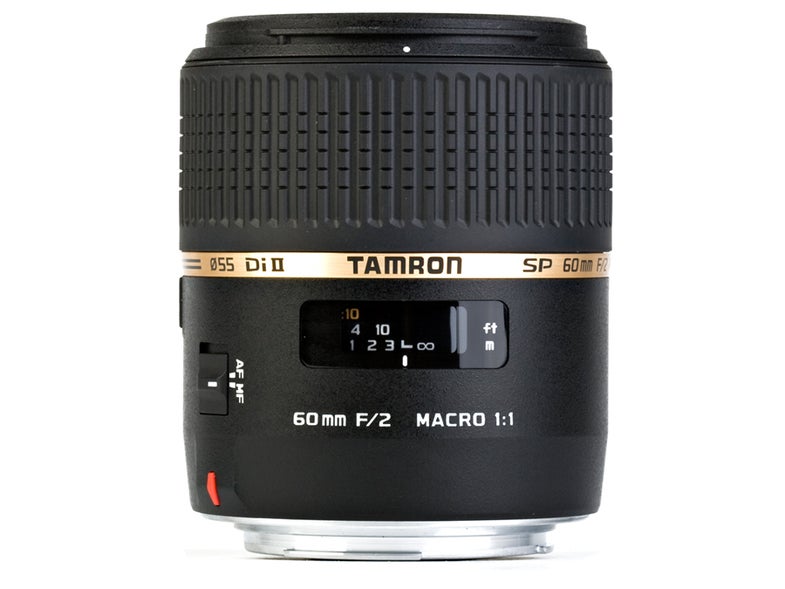 We may earn revenue from the products available on this page and participate in affiliate programs. Learn more ›
The world's fastest 1:1 digital macro lens ($570, street), this is also the fastest Tamron, and its first to allow manual focus while in autofocus mode. It has a very tight closefocusing distance, and it belongs to Tamron's top-tier SP family of Super Performing lenses. Made for DSLRs with APS-C-sized sensors, on most it's a 90mm equivalent.
At 13.2 ounces, it's amazingly light and compact for an f/2, casting no shadow when used with the Canon EOS 50D's built-in flash. While the AF is fast and quiet, the manualfocusing action is unusually stiff. Tamron says this is intentional: The "heavy torque" makes it easier to find and hold focus within the macro range. Barrel markings are minimal-for example, it lacks a depth-of-field scale.
Its Excellent-range SQF numbers came in significantly better than those of the Canon 60mm f/2.8 EF-S macro. And in our DxO Analyzer 3.0.2 tests, its Imperceptible barrel distortion (0.08%) fell to an almost nonexistent 0.04% within the macro range. Similarly, vignetting improved as you focused closer, with falloff leaving the corners by f/2.8 at infinity and by f/2.5 at 9 inches. Added bonus: The close-up performance, significantly better than advertised, was 1:0.91.
Clearly a stellar macro tool, this 90mm equivalent, with its f/2.0 maximum aperture for defocused backgrounds, could also become a favorite portrait lens.
Certified Test Results:
-Distortion: 0.08% (Imperceptible) barrel.
-Macro distortion: 0.04% (Imperceptible) barrel.
-Light falloff: Gone by f/2.8.
-Macro light falloff: Gone by f/2.5.
-Close-focusing distance: 9 inches.
-Maximum magnification ratio: 1:0.91.