Camera Test: Nikon D300s
Nikon's top APS-C DSLR gets HD video and faster bursts.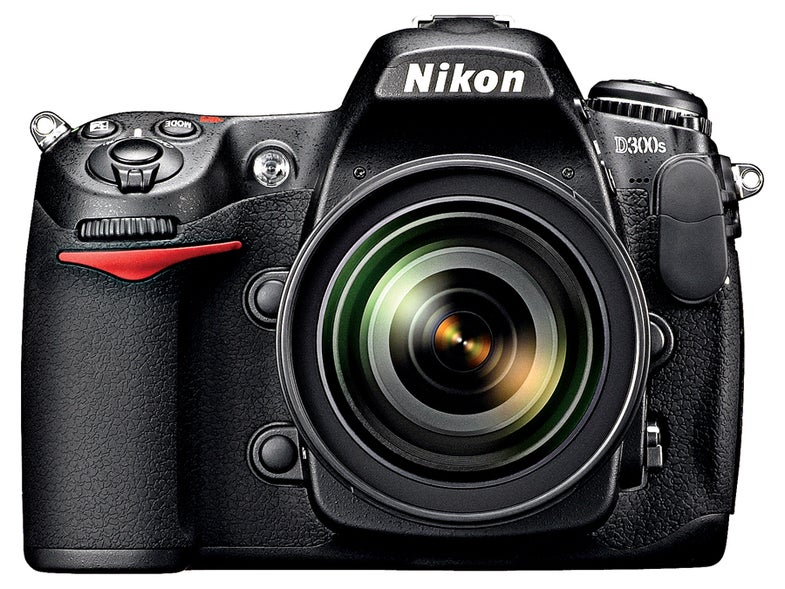 We may earn revenue from the products available on this page and participate in affiliate programs. Learn more ›
When Nikon's D300 hit stores about two years ago, it wowed everyone with its high-resolution LCD, 14-bit RAW capture, and sophisticated AF and metering systems that combined to precisely track moving subjects.
But now many DSLRs have big LCDs, 14-bit RAW, and video capture, too-witness the new Canon EOS 7D previewed on page 71. Not to be outdone, Nikon launched a "refinement," the D300s ($1,800 street, body only; $2,650 with AF-S DX Nikkor 18-200mm f/3.5- 5.6G ED-IF VR II lens), which will soon replace the D300.
Unsurprising Test Results
This refinement didn't really affect the D300s' results in our lab. The new camera turned in comparable resolution to the D300, putting it behind Canon's EOS 50D and Rebel T1i, though ahead of the Olympus E-3 and Sony Alpha 700.
Noise also remains similar to that of the D300-and that's not up to the level of Nikon's more mass-market D90. JPEGs cooked by the camera's Expeed processing engine show a lower noise level than those produced by the default noise reduction in Nikon's Capture NX 2 software-but we always test RAW files converted to TIFFs using the manufacturer's software at default settings.
At those defaults, noise just barely reached an Unacceptable rating by ISO 3200, but it held onto a lot of resolution throughout the ISO range-at ISO 1600, resolution remained within 100 lines of the result at ISO 100.
Its 14-bit RAW capture and D-Lighting hold onto a lot of data in both light and dark areas, earning it high marks in highlight/ shadow detail and contrast. And low-light shooters will definitely appreciate the camera's speedy AF system. It runs neck-and-neck with the Canon 50D, and handily beats the Olympus E-3 at murky EV 1 and below and the Sony A700 at EV 2 and below.
In our field tests, the Nikon's 3D focus tracking worked really well. At a New York fashion show, it easily kept up with the strutting models. Since the camera tracks based on the color and shape of the subject, you can recompose the image as the subject moves. It also provides feedback through subtle illumination of focus points, so you know what part of the subject is being used for focus at any given moment. It feels almost like operating some sort of futuristic weapon.
New And Notable
The D300s's most prominent new feature is its 720p, 24-frameper- second video capture. New to this level of Nikon camera, it's the same HD movie recording as in the D90. We're still impressed with the clips it shot, but Canon's EOS 7D ($1,700 street, body only) will offer full 1080p at 30 fps or 24 fps, as well as 720p with a 60-fps option-that leaves this new DSLR feeling a little behind the times on video. (To be sure, shooting video with any DSLR is cumbersome, due to the sluggish AF systems they use for video and their lack of continuous AF.)
Other upgrades proved minor, though welcome. Continuous shooting now reaches 7 fps when the camera is powered by a single EN-EL3e battery. As with the D300, adding the MB-D10 battery grip ($260, street) brings the burst rate up to 8 fps. But it slows to 2.5 fps if you shoot 14-bit RAW files or 14-bit RAW + JPEGs because of the added size of those files- also the case in the D300. And, the built-in flash's coverage now spans the field of view of a 16mm lens, up from 18mm.
Subtle Changes To The Body
The camera body is nearly identical to its predecessor, with a solid magnesium-alloy shell and extensive weathersealing. A second card slot now lets you use both CompactFlash and SD/ SDHC cards. And a dedicated button gets you into live-view shooting fast-the D300 had it on the drive-mode dial.
Taking live view's place on that top dial is quiet-shutter mode. Hold the shutter button down after a shot and the D300s waits to recock the shutter and flip down the mirror. If you want to grab a shot at a quiet event, you can then wait for a noisy moment to release the shutter button.
Nikon also added a dedicated Info button instead of doubling that function up on another button, the way it did on the D300.
The layout of the controls is excellent-the comfortable grip has a divot on the inside to rest fingertips and a solid ridge below the shutter for your middle finger. You need two hands to fully control it, but you can still reach many settings with the right hand.
Various switches, buttons, and dials make on-the-fl y changes easy. Press the Info button twice for a customizable menu to switch settings, or move quickly between custom shooting modes.
Our Verdict?
Nikon was smart to update the D300, but it could have done more, especially in terms of noise reduction, which was bested in our tests by even the lower-priced D90.
We also would've liked to have 30-fps and 60-fps options for video recording-and it would behoove Nikon to step up to 1920×1080-pixel recording, too.
The D300s is certainly still a wonderful, rugged, workhorse of a camera and well worth its serious price tag. We doubt, however, that many current D300 owners will be clamoring to upgrade. And with the EOS 7D on the way, we don't think it'll steal away many more Canonites.
Imaging: 12.3MP effective, APS-C-sized, DX-format CMOS sensor captures images at 4288×2848 pixels with up to 14 bits/color in RAW mode
Storage: CompactFlash, SD and SDHC. Stores JPEG , NEF RAW, RAW + JPEG , and TIFF files
Burst Rate: Full-sized JPEG s (Fine mode), up to 100 shots at 7 fps; RAW, up to 18 shots at 7 fps (12 bit) or up to 30 shots at 2.5 fps (14 bit)
AF System: TTL phase detection with 51 illuminated focus points (15 cross-type); single-shot and continuous AF with 3-D focus tracking; tested sensitivity down to EV -2 (at ISO 100, f/1.4)
Live View: Contrast detection
Shutter Speeds: 1/8000 to 30 sec, plus B (1/3-, 1/2-, or 1-EV increments); 150,000-cycle rating
Metering: TTL metering using 1005-pixel RGB sensor, 3D Color Matrix II, centerweighted, and spotmetering (approximately 2% of viewfinder); EV 0-20 (at ISO 100)
ISO Range: Normal, ISO 200-3200; expanded, ISO 100, 6400 (in 1/3-EV increments).
VIDEO: Records up to 1280×720 pixels at 24 fps in AV I Motion JPEG format; built-in mono microphone; stereo minijack input.
Flash: Built-in pop-up with i-TTL flash and wireless control of optional flash units, GN 39 (ISO 100, feet); flash sync to 1/250 sec; dedicated Nikon hot-shoe
Viewfinder: Fixed eye-level pentaprism
LCD: 3-in. TFT with 921,00-dot resolution
Output: Hi-Speed USB 2.0, mini HDMI video, composite video, and GPS
Battery: Rechargeable EN-EL3e Li-ion, CIPA rating, 950 shots
Size/weight: 5.8×4.5×2.9 in., 1.85 lb with a card and battery
Street Price: $1,800, body only; $2,650 with 18-200mm f/3.5-5.6G ED-IF AF-S Nikkor VR II lens
Info: www.nikonusa.com