Lens Test: SONY 70–400MM F/4–5.6 G SSM AF
An optical superstar, this lens is a natural for wildlife and sports.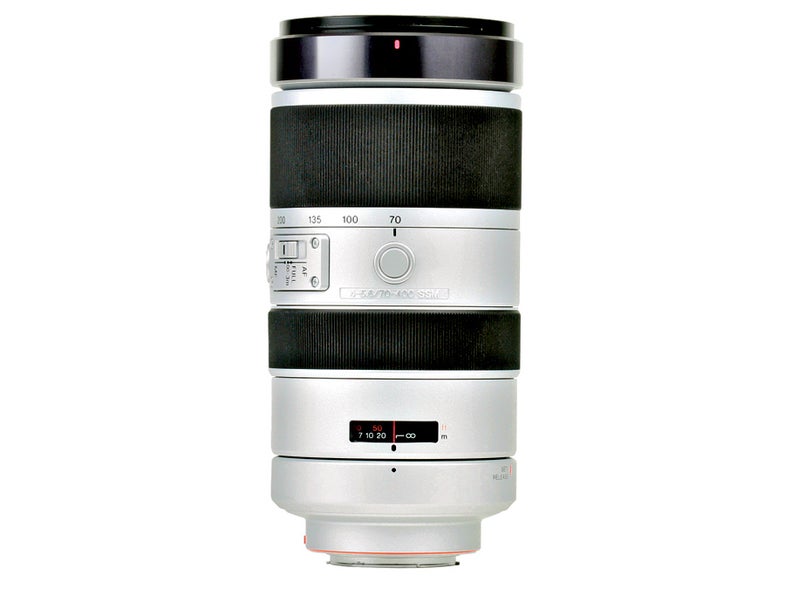 We may earn revenue from the products available on this page and participate in affiliate programs. Learn more ›
This full-framer boasts topdrawer materials, solid construction, flawless optics and fast, silent autofocus. The street price, $1,600, is high-end, too. Made for Sony's Alpha 900, it scales up to 105-600mm on bodies with APSsize sensors. And it has a 5.7X internalfocusing zoom, two ED elements to suppress color fringing, and rounded aperture blades for better bokeh.
Heavy and long (15.4 inches with the petal-style hood), it has an unusual silvery matte finish. AF torque is surprisingly high, with split-second start/stop timing and moderately fast speeds. The zoom ring turns stiffly across a broad radius; manual-focus action is very well damped and smooth. There's a dual-range focus limiter (full and nonmacro ranges), tripod collar, and access port in the hood for adjusting filters. Three perfectly positioned AF-stop buttons circle the barrel.
On our test bench, SQF results were Excellent at 70mm and 135mm, dipping only to Very Good at 400mm-the best of any long tele zoom we've seen. DxO Analyzer 3.0.2 tests found superb control of distortion-slightly better than Tokina's 80-400mm f/4.5-5.6 ($650, street). Light falloff handily beat the Tokina, as did maximum magnification ratios.
An optical superstar, this lens is a natural for wildlife and sports. And you can mount one of Sony's manual-focus teleconverters to reach an equivalent 1200mm on APS-sensor Alpha bodies.
Certified Test Results
-Distortion: At 70mm, 0.01%
(Imperceptible) pincushion. At 135mm, 300mm, and 400mm, 0.18% (Slight) pincushion.
– Light falloff: At 70mm, f/5. At 135mm and 300mm, none. At 400mm, f/6.3.
-Close-focusing distance: 55 inches.
-Maximum magnification ratio:
At 70mm, 1:15.40.
At 135mm, 1:8.16.At 300mm, 1:4.01.
At 400mm: 1:3.16.