Camera Test: Panasonic Lumix DMC-GH1
The HD-video successor to the camera that impressed us so much last year.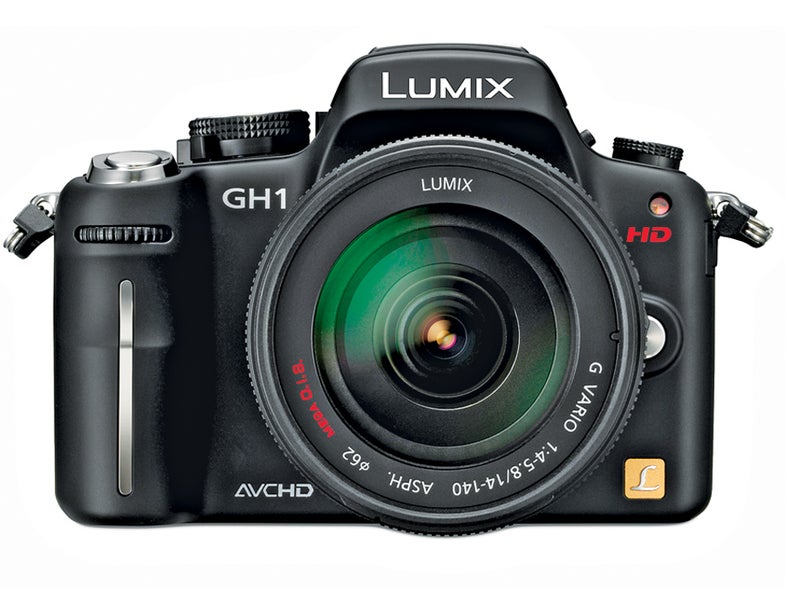 We may earn revenue from the products available on this page and participate in affiliate programs. Learn more ›
When Panasonic's first-of-its-kind Lumix DMC-G1 won our 2008 Camera of the Year award as the model that best refined or redefined photography, the emphasis was clearly on "redefined." Now, with its Micro-Four-Thirds-format, HD-video-shooting successor, the Lumix DMC-GH1, Panasonic makes refinement its top priority. And we're just as impressed.
The Micro Four Thirds system couples the flexibility of interchangeable lenses with the convenience of a more compact size. Olympus also offers this format-our test of its E-P1 is coming soon. But Panasonic got there first with last year's G1, and, with the new GH1 ($1,500, street, with 14-140mm f/4-5.8 lens, a 28-280mm full-frame equivalent), it's reached another level entirely.
Our Pop Photo Lab tests of this 12.1MP camera showed impressive image quality at lower ISOs, rivaling results from many entry-level DSLRs, although its performance was compromised by noise starting at around ISO 800. The revised Live MOS sensor delivered resolution similar to its predecessor's.
Because of the way the GH1 achieves focus, we couldn't test its AF system with our usual lab setup, so we can't report precise time results. But our field tests found that it's quite fast in bright light, matching the performance of an entry-level DSLR. It slows down significantly as illumination dims, and we think most DSLRs (though very few compacts) would beat it in low light.
Movie Maker
The big wow is high-definition video. This comes in two resolutions, 1920×1080 and 1280×720 pixels-both American HD standards. At the former, the GH1 limits you to 24 frames per second (cinema rate) instead of the smoother 30 fps of HDTV sets. If you step down to 1280×720, you can record at up to 60 fps. We preferred the sacrifice in resolution to the slower frame rate-and so will you if you shoot fast-moving subjects. The 720p footage we shot was on par with the image quality you can expect from a midlevel HD camcorder.
You can also choose the type of video file you want, although the top resolution is limited to AVCHD, the format most HD camcorders shoot. At 1280×720 or less, at 30 fps, you can also record MOV Motion JPEG files, also a common format, so it should be similarly troublefree to edit. For the smoothest video, use the AVCHD 1280×720 60-fps mode.
Unlike the latest crop of DSLRs, while shooting video, this Panasonic autofocuses continuously-a big advantage. And when more lenses become available, you should be able to achieve the same kind of limited depth of field that fast lenses for DSLRs allow.
For now, though, you don't have much choice: The only Micro Four Thirds lenses optimized for continuous AF for video are the 14-140mm f/4-5.8 that comes in this kit and the 14-42mm f/3.5-5.6 Olympus kit lens for the E-P1.
Despite the fact that its 3-inch, 460,000-dot LCD monitor flips leftward and swivels-a familiar arrangement for video shooters-the GH1 feels nothing like a camcorder. Instead, the body mimics a tiny DSLR or electronicviewfinder superzoom still camera.
We felt most comfortable cradling it from below, with the left hand controlling zoom and manual focus. That leaves the right free to pan, adjust brightness (via exposure compensation), or start and stop recording. We generally held the camera below shoulder height, using the LCD rather than the EVF. Sound? If the built-in stereo microphone isn't enough, there's a stereo mic input and hot-shoe for an even bigger accessory mic.
Still Shooter
The Panasonic's EVF really shines in still-image capture. It uses the same 1.44 million-dotequivalent finder as the G1-the best one we've seen outside of a professional camcorder. Its one problem comes when shooting in bursts: As with all EVFs, you can't see what's going on between frames, making it hard to pan along with a moving subject, though its relatively slow 3-fps burst rate doesn't lend itself to fast-moving sports anyway.
If your hands are large, the GH1's size-about the same as a superzoom camera such as Canon's PowerShot SX1-may irk you. But we enjoyed using it and found it comfortable to hold, even after hours of shooting.
We also appreciated the many control buttons, dials, and switches. Changing AF mode, drive, ISO, and white balance require just a simple finger motion. And the Quick Menu button lets you get to any other common control quickly. Image stabilization is built into the lens and controlled by a switch on the barrel. Four of our testers gained an average of 2 stops of handholding leeway with it.
Bottom Line
Given the quality of its HD video, the GH1 is more compelling than the G1 was. But it's quite pricey, since it comes only as a kit with the 10X zoom lens. That's a useful-and for many people, all-encompassing-range.
Nevertheless, we look forward to a more economical offering from Panasonic. After all, if you don't care about continuous AF in video, you could get a Nikon D90 kit with 18-105mm f/3.5-5.6 VR lens for about $350 less.
That lens doesn't have as much reach as the Panasonic's, but you'd get much better low-light AF performance and significantly better noise control at higher ISOs. Of course, the D90 is also much bulkier-and if you're serious about video, you'll want that continuous AF.
In the end, we like the GH1 for what it is: a solidly performing, new kind of camera that leaves us with a good feeling about the future of the Micro Four Thirds format. We look forward to more.
| | |
| --- | --- |
| IMAGING: 12.1MP effective, Live MOS Four Thirds sensor captures images at 4000×3000 pixels with 12 bits/color in RAW mode.STORAGE: SD/SDHC cards. Stores JPEG, RAW, RAW + JPEG.BURST RATE: Full-sized JPEGs (Extra Fine mode), up to card capacity at 3 fps; RAW up to 7 shots at 3 fps.AF SYSTEM: TTL contrast detection with 23 focus areas and adjustable size single-area focusing. Face detection, single-shot and continuous AF.SHUTER SPEEDS: 1/4000 to 60 sec plus B (1/3-EV increments).METERING: TTL metering with 144-zone Intelligent Multiple (a.k.a. evaluative), centerweighted, and spotmetering. EV 0-18 (at ISO 100).ISO RANGE: ISO 100-3200 (in 1/3- or 1-EV increments). Flash: Built-in pop-up flash GN36 (in feet at ISO 100). Supports TTL autoflash with Panasonic Lumix flashes; X-sync at 1/160 sec.VIEWFINDER: Electronic viewfinder with 1,440,000-dot equivalent.LCD: Fully articulated 3-in. TFT with 460,000-dot resolution.OUTPUT: Hi-Speed USB 2.0. HDMI (mini-type) video, NTSC/PAL composite. PictBridge-compatible.BATTERY: Rechargeable DMWBLB13PP Li-ion; CIPA rating, 300 (LCD) or 320 (EVF) shots.SIZE/WEIGHT: 4.9×3.3×1.8 in., 0.85 lb with card and battery.STRET PRICE: $1,500 with Lumix G Vario HD 14-140mm f/4-5.8 Mega O.I.S. lens.FOR INFO: www.panasonic.com. | |