Lens Test: Tamron SP 10–24mm
This lens can handle everything from tight interiors to broad, horizon-spanning landscapes.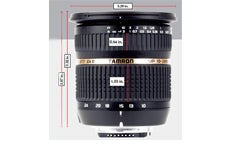 We may earn revenue from the products available on this page and participate in affiliate programs. Learn more ›
Tamron's widest zoom ($480, street), this lens belongs to the exclusive SP (Super Performance) line, which traditionally offers stronger resolution, contrast, and flatness of field than the company's other optics. A digital-only lens, it's a 16-37mm equivalent on DSLRs with APS-sized sensors.
Two elements of Low Dispersion (LD) and one of high refractive index (HID) glass promise better control of chromatic aberration. It's slightly faster and has a significantly bigger zoom range than the 11-18mm f/4.5-5.6 it replaces in Tamron's catalog.
As we went to press, only the Nikon mount was available (with built-in AF motor), but the Canon mount should be available by the time you read this, with Pentax and Sony soon to follow.
HANDS ON: Several ounces heavier and about a quarter-inch longer than its predecessor, the 11-18mm, the lens is average in size and weight for the ultrawide, digitalonly zoom class, and like most of the competition, it's long enough to block a portion of the output of a built-in flash at closer focusing distances.
Its satin-finish, poly-carb barrel sports a broad, ribbed, and rubberclad zoom ring, plus an amply sized, smooth-turning manual-focus ring. Both are well marked with large, white numerals. The ornamental "SP" ring in a gold color has been slightly enlarged, with larger type, and moved from the outer rim to center barrel. The lensmount is metal.
IN THE LAB: With Excellent-range SQF scores at the three tested focal lengths, the lens promises faultless contrast and resolving powers. Its performance matches that of the Canon 10-22mm, Sigma 10-20mm, and Tamron 11-18mm digital ultrawides.
In DxO Analyzer 3.0.1 tests of distortion control, we found Slight barrel distortion at 10mm (0.26%), 18mm (0.29%), and 24mm (0.24%)-all impressive numbers. They're noticeable improvements over Tamron's 11-18mm zoom, which produced barrel distortion in the Very Visible range at 11mm (1.01%). They're also significantly stronger than most of the competition, except the Canon 10-22mm, which produced barrel distortion that dipped close to the Imperceptible range at 14mm (0.11%), amazing for an ultrawide.
Light falloff left the Tamron's corners by f/5.6 at 10mm, and there was no discernible vignetting at the other tested focal lengths. Wow! This finding was also stronger than any competing lens that we've tested, including Tamron's 11- 18mm, which produced darkened edges to f/8 at the two tested focal lengths.
Close-up performance was also stellar. Its maximum magnification ratios at the uniform close-focusing distance of approximately 9.4 inches were 1:12.2 at 10mm, 1:6.64 at 18mm, and 1:4.95 at 24mm. Again, much stronger than the lens it replaces, which topped out at a relatively wimpy 1:7.9 at 18mm.
CONCLUSIONS: Able to deliver what you look for in an ultrawide zoom, this lens can handle everything from tight interiors to broad, horizon-spanning landscapes. If you've been putting off buying a zoom in this range for fear of the barrel distortion and vignetting that typically mar ultrawide images, give this Tamron a test drive. Likewise, if you want an ultrawide's ability to contrast large-looming foreground elements with relatively tiny detail in the distance, this lens-with its thrillingly tight 9.4 close focus and category-leading 1:5 magnifying power-won't disappoint.
Specifications:
10-24mm (10.34-23.60mm tested), f/3.5-4.5 (f/3.50-4.53 tested), 12 elements in 9 groups. Focusing turns 100 degrees clockwise. Zoom ring turns 80 degrees counterclockwise. Focal lengths marked at 10-, 13-, 15-, 18-, 20-, and 24mm.
Diagonal view angle: 108-60 degrees.
Weight: 1.03 lb.
Filter size: 77mm.
Mounts: Canon AF, Nikon AF (Pentax AF and Sony AF coming soon).
Included: Lenshood.
Street price: $480.