Lens Test: Sony Zeiss Vario-Sonnar T* 16–35mm f/2.8 ZA SSM AF
Well suited to landscapes, street photography, interiors, travel, photojournalism, and low-light work.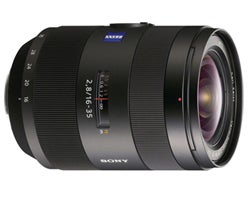 We may earn revenue from the products available on this page and participate in affiliate programs. Learn more ›
This pro-quality, high-speed zoom ($1,900, street) is one of the growing fleet of full-frame lenses Sony has introduced in support of its Alpha 900 pro-level full-frame DSLR. On Alpha bodies other than the 900, it scales up to a 24–52.5mm equivalent. In addition to three aspheric and two ED lens elements for controlling aberration, the lens offers Sony's quiet Super Sonic Wave focusing motor and coatings to suppress internal flare and ghosting.
HANDS ON: The surface is an attractive matte black, with Zeiss' signature ultra-fine ribbing on the smooth-turning zoom and focusing rings. At almost 2 pounds, it's heavier than average by several ounces. Its most unusual control is the large, midbarrel focus-hold button. This sits within a concentric MF/AF toggle and, like similar controls on bigger teles, it locks focus to prevent unnecessary AF hunting. Change the Focus Hold Button menu setting, however, and this button has another trick up its sleeve: image preview. Press and release the focus lock for an LCD preview that you can adjust (but not save) by altering exposure compensation and color balance. When it looks good, press the shutter release to take that picture.
IN THE LAB: SQF sharpness tests produced, as expected, Excellent-range results. DxO's Analyzer Version 3.2 tests found barrel distortion in the low visible range (0.44%) at 16mm, and pincushion distortion in the Imperceptible (0.09%) and Slight (0.22%) ranges at 24mm and 35mm, respectively. Historically fine numbers, but compared to today's high-speed-pro-ultra wides, about average. Vignetting left the corners by f/5 at 16mm, by f/5.6 at 24mm, and by f/4 at 35mm—also average performances. The lens' magnifying power is a forte: At the uniform close focus of 10.35 inches, it ranges from 1:7.45 at 16mm to a considerable 1:3.63 at 35mm.
CONCLUSIONS: Well suited to landscapes, street photography, interiors, travel, photojournalism, and low-light work, this lens delivers that famous Zeiss construction quality. As with a Mercedes-Benz, you can feel in its heft, and in the smooth draw of its internal gearing, that this gem could last a lifetime.