Lens Test: Nikon AF-S VR 70–200mm f/2.8G
A bread-and-butter tool for many Nikon pros.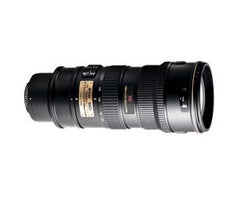 We may earn revenue from the products available on this page and participate in affiliate programs. Learn more ›
First produced in February 2003, this full-frame zoom ($1,900, street) has since become a bread-and-butter tool for many a Nikon pro. Scaling up to a 112-320mm equivalent on DX bodies, it has more elements of ED glass (five) then any other current Nikon zoom. Also on board: Nikon's silent SWM AF motor, an internal-focusing design, and full teleconverter compatibility. Its Vibration Reduction system doesn't work with all Nikon bodies, so check compatibility with your DSLR before purchasing.
Hands On:
Yes, it's heavy, but no more so than the comparable 70-200mm f/2.8 zooms from Canon, Sigma, and Tamron. Its matte-black finish and brass accents are unusually attractive, and the large focus and zoom rings turn with a buttery draw. The tripod-mounting cleat is light and removable, but the rotating lens collar to which it attaches stays put. Barrel switches control focus, VR and VR modes, focusing ranges, and focus hold.
In The Lab:
SQF resolving tests produced Excellent-range results, as expected. DxO Analyzer Version 3.2 tests found Slight barrel distortion at 70mm (0.21%) and Slight- to Visible-range pincushioning at 135mm (0.20%) and 200mm (0.31%), very close to the performance of the comparable Sigma and Tamron lenses. Light falloff departed the corners by f/4 at 200mm and f/3.5 at 135mm. At 70mm, we detected no vignetting-better than either of the aforementioned indies. Maximum magnification ratios at the constant close-focus of 57.6 inches ranged from 1:15.1 at 70mm to 1:5.41 at 200mm-a lackluster performance compared with Sigma's 1:3.27 and Tamron's 1:2.85. Finally, our image stabilization tests with three separate users shooting handheld produced acceptably sharp images with shutter speeds 2 to 3 stops slower than were possible without VR-about what we would've predicted.
Conclusions:
Its highly useful focal length range, speed, and image stabilization combine to make this Nikkor a must for portraitists, sports shooters, and (despite its weight) wedding, travel, and location specialists, too. Its top-drawer fit and construction deliver quiet, subject-nailing AF that's among the fastest and surest we've seen-the kind of glass that can comfortably take a photographer to the next level and beyond.