Nikon AF-S DX 35mm f/1.8G
The first DX Nikkor with the classic advantages of a high-speed "normal" lens.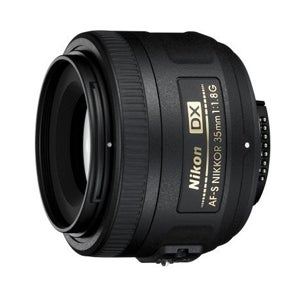 We may earn revenue from the products available on this page and participate in affiliate programs. Learn more ›
The first DX Nikkor with the classic advantages of a high-speed "normal" lens ($220, street), this 52mm full-frame equivalent is also the fastest DX and widest nonfisheye digital-only Nikkor prime. It has a single aspheric element, Nikon's super-quiet SWM autofocus motor, and rounded aperture blades for smoothly defocused image areas at all apertures.
HANDS ON:
An inch shorter and about half the weight of Sigma's comparable 30mm f/1.4 digital-only normal, it's both light and compact, casting no shadow when used with the Nikon D90's built-in flash. There's no distance scale, and its manualfocus ring turns with a slightly scratchy feel.
IN THE LAB:
Our SQF tests found near-flawless sharpness and contrast, with SQF scores a bit below the Sigma's mid-Excellent range results. DxO Analyzer 3.0.1 tests revealed only Slight barrel distortion (0.27%), an above-average performance. Light falloff left the corners by f/2.5. At the close-focus distance of 10.87 inches, maximum magnification came in at a powerful 1:5.10. Indeed, this Nikkor significantly outperformed the Sigma in distortion, falloff, and magnifying power.
CONCLUSIONS:
Fast for shooting in low light and able to produce attractively defocused backgrounds, this utility player is compact and light for travel, inconspicuous for street shooting, and about as affordable and useful a lens as you're likely to find.
SPECIFICATIONS:
35mm (36.28mm tested), f/1.8 (f/1.83 tested), 8 elements in 6 groups.
Focusing turns 120 degrees counterclockwise.
Weight: 0.47 lb.
Filter size: 52mm.
Mounts: Nikon AF.
Included: Lenshood, softcase.
Street price: $220.