Pentax K2000: Camera Test
DSLR, lens, and flash for little cash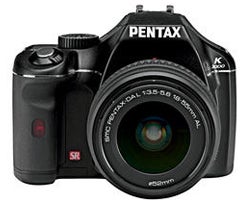 We may earn revenue from the products available on this page and participate in affiliate programs. Learn more ›
Pentax K2000: Camera Test
Everybody loves a bargain. And that's what Pentax promises with its new entry-level DSLR, the 10.2-megapixel K2000. For $577 (street), you get not just the camera body and 18-55mm f/3.5-5.6 zoom, but a small accessory flash that gives you about double the flash output of the camera's pop-up.
Add to that the fact that the K2000, like all Pentax DSLRs, accepts any lens the company ever made (though you may need adapters for some), and its built-in image-stabilization system will work with all of them. The K2000 becomes an even greater bargain.
The question is: How does this little starter model perform? Our tests in the Pop Photo Lab and in the field left us quite pleased-except in very low light. (Maybe that's the reason the standard kit includes that extra flash.)
IMAGE QUALITY
Overall, image quality rated Very High from ISO 100 through ISO 800, dropping to High at ISO 1600.
For a 10.2MP camera, the K2000 showed impressive resolution in our test, capturing 2170 lines for a score of Very High under our new rating system (see Editorial, page 10). This means it nudged into the lead of a very tight field of entry-level DSLRs, just ahead of the Canon EOS Rebel XS, Nikon D60, and Sony Alpha 200, and a bit farther ahead of the Olympus E-420. But in practical terms, there's hardly a difference.
The Pentax fell ever-so-slightly behind, though, in color accuracy. In our test, it logged an average Delta E of 8.3, for an Extremely High rating. (The same four competitors each scored between 7.6 and 7.8, rated Excellent.) Few people will be able to see much difference in their own images, we think.
Noise is another matter. While the K2000 did very well up through ISO 800, at ISO 1600 noise hit a Moderately Low-mid-pack and not a terrible distraction to the eye. At ISO 3200, noise became Unacceptable in our tests, even with noise reduction at its maximum in Pentax's RAW conversion software. The Nikon D60 and Sony A200 fare better than this. (Not all of this Pentax's competitors actually reach ISO 3200-the Canon and Olympus both top out at ISO 1600.)
AUTOFOCUS AND METERING
The K2000 uses a 5-point autofocusing system that lets you choose either single or continuous AF, as well as Auto AF, which lets the camera choose for you depending on its analysis of the scene.
Although there's a menu item labeled "Select AF point," you can't choose a point outside of the center one. Instead, you can widen or narrow the area the camera uses to find focus.
In bright light, the AF system responded swiftly and accurately in our tests. As we turned the lights down, though, it began to lag. At EV 2 (about the same amount of light as a moderately lit living room), it took 1.32 sec to focus and capture an image, longer than its competitors. The AF system was still able to focus at EV -1 (a little brighter than the light of a full moon)-the Olympus E-420 could not-but it took 2.38 sec to do so, compared with 1.4 sec for the Canon Rebel XS and Sony Alpha 200 and just 1.1 sec for the Nikon D60.
A 16-segment, through-the-lens (TTL) metering system determines exposure. You can choose from Multi-Segment (i.e., evaluative), centerweighted, or spotmetering. But since you can't really select AF points, you can't link the meter to a specific off-center point as you can on some DSLRs, such as the Canon EOS Rebel XS and Nikon D60.
BUILT FOR BEGINNERS
Befitting a DSLR aimed at people stepping up from compact cameras or EVFs, the K2000 keeps most of its controls to the right-hand side of the body. That means you can operate it one-handed, as long as you're not changing between manual and autofocus (that switch is to the left of the lensmount), or popping up the flash. And the camera is small and light enough to use this way.
The camera also comes in shocking white (with black grip), in a kit with two matching white-barreled lenses, an 18-55mm f/3.5-5.4 DA-L and 50-200mm f/4-5.6 DA-L. Price: $680, direct from Pentax (www.pentaxwebstore.com).
Another nod to DSLR newcomers is the Help button. Just behind the shutter button, bearing the symbol of a question mark, it serves up explanations of various camera functions: Press it once, and text on the LCD describes the virtues of the shooting mode you're currently in. Press it twice, and it'll prompt you to press another button on the camera for an explanation.
Don't need that kind of assistance? In the menu, you can reset the Help button to control RAW capture, digital filters, or custom image modes, or to provide a digital preview. This last function captures the current scene, but doesn't write it to the SD card. It can be useful in previewing your depth of field, especially since there's no optical DOF preview. But we would rather have seen a live-view mode instead-something most new DSLRs have.
Power comes from four AA batteries. Though we tend to favor proprietary Li-ion rechargeables, AAs have some merits. If you're out shooting and your batteries run out unexpectedly, it's easy to buy new ones (look for rechargeable ones). Pentax says that the K2000 can capture about 1,650 images using lithium AAs (we didn't test this claim), and a set of four Energizer lithiums are even included in the box-so if you give this camera as a gift, it's ready to use as soon as the wrapping comes off.
EXPANDABLE SYSTEM
Frugal folk will appreciate the built-in image stabilization, since you won't have to buy special lenses to combat the blur caused by hand-shake at slow shutter speeds or with very long lenses. You lose the benefit of seeing the shake compensation while it's happening, which some people find helpful in steadying their hands. But you still get IS even if you shoot with one of Grandpop's screwmount lenses from the 1960s.
Indeed, that's the beauty of Pentax's system. The K2000 accepts all Pentax lenses. You'll need adapters for some (such as the screwmounts), but most other DSLR systems, especially at the entry level, limit the types of lenses you can use
We popped a 50mm f/1.4 K-mount manual-focus Pentax lens on the K2000, using the aperture ring to control the f-stop (once we enabled this feature in the camera's custom functions), and shot in aperture-priority mode with no problem. Older lenses may come with restrictions in terms of metering and may not allow autofocus-certainly not if the lens is manual-only, like the one we tried.
BOTTOM LINE
If you're looking for a first DSLR, the K2000 shouldn't disappoint. It handles well and can produce beautiful images in moderate and bright light. (Low-light shooters may want to think twice before buying, however.)
Add to that Pentax's wide array of relatively inexpensive current lenses, plus the availability of low-cost legacy lenses, and the fact that this kit comes with the AF-200FG flash, and you've got yourself one sweet deal.
Imaging: 10.2MP effective, APS-C-sized CCD sensor captures images at 3872×2592 pixels with 12 bits/color in RAW mode.
Storage: SD and SDHC. Stores JPEG, PEF RAW, RAW DNG, RAW + JPEG.
Burst rate: Full-sized JPEGs (Fine mode): Up to 5 shots at 3.5 fps.
RAW: Up to 4 shots at 3.5 fps (12 bit). AF system: TTL phase detection with 5 non-illuminated focus points. Single-shot and continuous AF. Tested sensitivity down to EV -1 (at ISO 100, f/1.4).
Shutter speeds: 1/4000 to 30 sec plus B (1/3-, 1/2-, or 1-EV increments).
Metering: TTL evaluative 16-segment metering, centerweighted, and spotmetering (approx. 5%). EV 0-21 (at ISO 100). Exposure bracketing, 3 frames in 1/3- or 1/2-EV steps.
ISO range: ISO 100-3200 (in 1/3-, 1/2-, or 1-EV steps).
Flash: Built-in retractable P-TTL pop-up flash. GN 33 (at ISO 100, feet). Covers angle of view of 28mm lens. Flash sync to 1/180 sec. Supports wireless control of dedicated Pentax flashes. Hot-shoe with X-sync socket supports dedicated Pentax flashes.
Viewfinder: Fixed eye-level pentamirror. LCD: 2.7-in. TFT with 230,00-dot resolution.
Output: Hi-Speed USB 2.0, composite video.
Battery: 4xAA, CIPA rating, 1,650 shots with disposable lithium cells.
Size/weight: 4.8×3.6×2.7 in., 1.3 lb with card and battery.
Street price: $577 with 18-55mm f/3.5-5.6 Pentax DA-L lens and AF-200FG flash.
For info:www.pentaxslr.com.
VIEWFINDER TEST
Accuracy: 96% (Excellent)
Magnification: 0.85X (Excellent)
COMPETITIVE SET
Canon EOS Rebel XS
$490, street, with 18-55mm f/3.5-5.6 EF-S lens
With less noise at both ISO 1600 and ISO 800, and comparable resolution, the Pentax K2000 stands up well against one of Canon's least-expensive EOS DSLRs. Both sport 10MP sensors, record to SD cards, and are physically small for DSLRs. While the Canon is slightly smaller, the Pentax has a 2.7-inch LCD, versus the Rebel XS's 2.5-inch screen. The Canon has speedier autofocus in low light. And while the Canon kit costs less, the Pentax comes with an accessory flash: Even Canon's lowest-price flash, the Speedlite 220EX ($125, street), would boost its total price above the Pentax kit. Add to all of this the fact that the K2000 has built-in image stabilization, and this Pentax sure looks like a winner.
Sony Alpha 200
$500, street, with 18-70mm f/3.5-5.6 AF DT lens
Sony's entry-level DSLR gives the Pentax a tough challenge. Again both have 10MP sensors, as well as 2.7-inch LCDs, plus comparable resolution results from our lab. The Sony manages to win both the AF speed and noise contests, though. Even at ISO 3200, the Sony manages to keep its noise rating to Low when the noise reduction in Sony's RAW conversion software is set to the maximum (as was the Pentax's in our test). However, the Sony's noise reduction left the A200 with a resolution of 1725 lines, compared with the Pentax's 1880 lines at ISO 3200-a notable difference. As with the Canon, when you add Sony's least-expensive flash, the HVL-F32X ($135, street), it makes the A200 a more expensive kit than this Pentax. But the Sony's kit lens goes to 70mm instead of 55mm at the tele end. Considering everything, the Sony/Pentax match-up might be a draw.