Olympus E-620: Hands On
A small DSLR with big talents.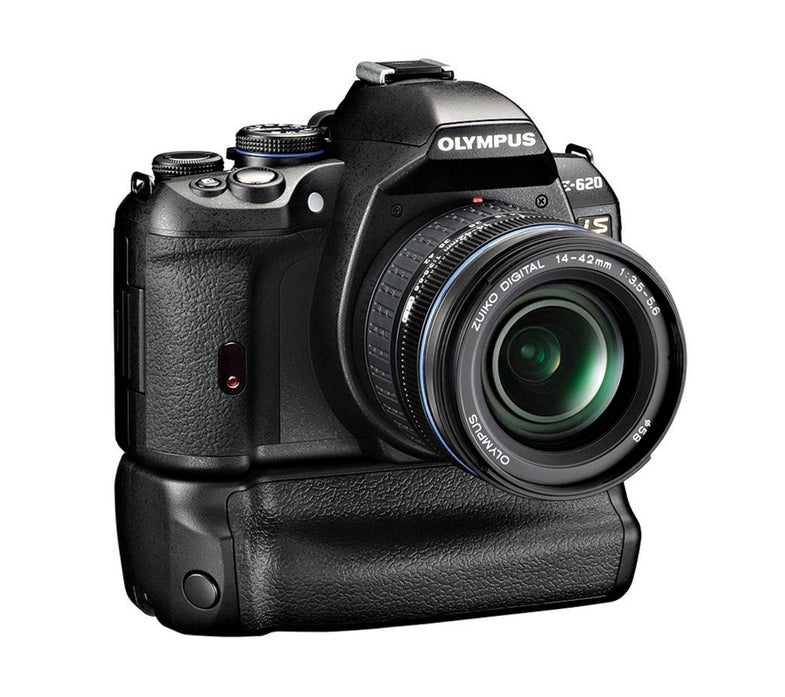 We may earn revenue from the products available on this page and participate in affiliate programs. Learn more ›
With its new 12.3MP E-620, Olympus has packed a lot of extras into a very small DSLR. At $700 (estimated street, body only; $800 with 14-42mm f/3.5-5.6 Zuiko lens), it borrows creative shooting controls from its big brother, the E-30 ($1,300, street, body only; $1,400 with the same lens). But its petite body is very similar to the entry-level E-420 ($413, street, with the same lens)-with a few key exceptions.
The E-620's 12.3MP LiveMOS sensor shifts in response to camera movement to provide image stabilization, while the E-420's 10MP sensor isn't stabilized. This new DSLR is the smallest to include in-body IS. It's also the smallest DSLR to sport a swiveling, tilting, 2.7-inch LCD.
In fact, at 5.1×3.7×2.4 inches without a lens, the E-620 is one of the smallest DSLRs, period. And despite its diminutive profile, it takes big CompactFlash cards, rather than tiny SDs. Some photographers may find the grip too small for their hands, but the optional HDL-5 vertical grip ($200, estimated street), shown here, bulks it up.
The swiveling screen is one of those features you may think you don't need-but we wish every camera had one.
Buttons and dials are well laid out, and Olympus added some new ones to the camera back. The Function button can be set to access one of nine different controls, such as face detection (in Live View mode), manual focus, or depth-of-field preview. The autofocus-mode button lets you switch between single center-point AF and area AF, or select one of the seven twin-sensor AF points.
A cluster of buttons do double duty for access to white balance, AF, ISO, and metering, whereas to get at these settings on the E-420, you must dig through menus or go through a control screen. You can use this nicely designed screen on the E-620, too-just press the OK button to change all your most important settings.
The new camera may feel similar to its baby brother, but it has much of the power of the 12.3MP E-30.
For instance, it has the same innovative Art Filters, six imaging effects you apply in the camera rather than in postproduction: Pop Art (boosts saturation), Soft Focus (adds a light haze to portraits), Pale & Light Color (turns it slightly pastel), Light Tone (opens shadows and reins in bright highlights), Grainy Film (goes black-and-white with heavy grain), and Pin Hole (vignettes the image around the edges).
Also like the E-30, the E-620 lets you create multiple exposures, though you're limited to two frames instead of four. Auto Gain ensures the combined image is properly exposed, even if you shot the frames without intending to combine them. Shooting RAW or RAW + JPEG? Combine images using Overlay in playback mode.
If you prefer to shoot in an aspect ratio other than the Olympus-native 4:3, you get a choice of seven others, ranging from widescreen to square-especially cool in live view mode. Of course, these reduce the pixel count a bit, since they involve cropping the image, but they do save you similar cropping in postproduction.
Without having tested it, we can't tell you how the E-620 stacks up against its competitors, including the 10.2MP Pentax K200D ($590, street, with 18-55mm f/3.5-5.6 lens) and 14.2MP Sony Alpha 350 ($750, street, with 18-70mm f/3.5-5.6 lens). Some things we know we like better: Olympus promises a burst rate of 3.5 frames per second, which outguns both the Pentax (2.8 fps) and Sony (2 fps). Then there's that flexible LCD-the Sony's tilts but doesn't swivel.
But the E-620's main appeal may be its size. If you're a backpacker, or just want a small DSLR, it's incredibly convenient to tote-and to use.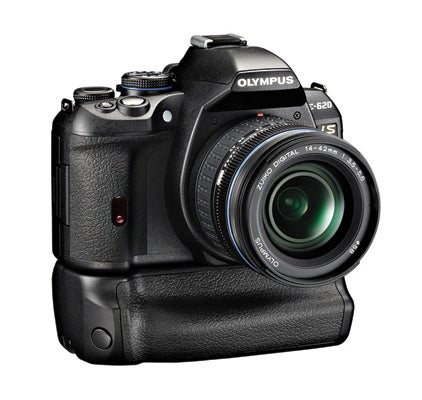 Olympus-E-620-front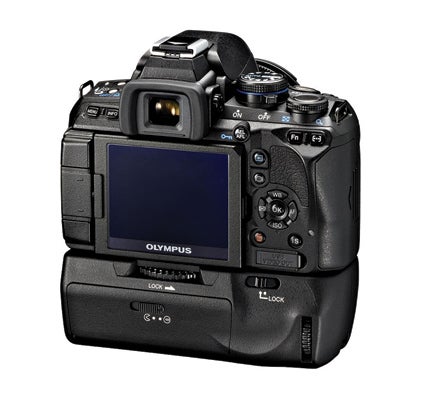 Olympus-E-620-back