Olympus E-30: Camera Test
Renew your creative license.
We may earn revenue from the products available on this page and participate in affiliate programs. Learn more ›
Olympus has thrown its latest DSLR, the 12.3-megapixel E-30, into a very crowded pool. At $1,300 (street, body only; $1,400 with 14-42mm f/3.5-5.6 Zuiko ED lens), it's about the same price as the 10.1MP E-3 ($1,317 street, body only) on the Olympus roster. And it's surrounded by a host of competing 12-15MP cameras in the $700-$1,400 price bracket.
The E-30 shares the E-3's built-in image stabilization system, fully articulated LCD monitor with live view, and, of course, the Four Thirds sensor format, whose 2X lens factor turns the 14-42mm kit lens into the equivalent of 28-84mm in full-frame terms. So given the modest price difference, and the plethora of competing models, it may be hard to choose. But Olympus sets the E-30 apart from the crowd with a unique assortment of in-camera special effects.
If you want to get creative with your pictures without messing with image-editing software on your computer, the E-30 is for you.
Six specialized scene modes, called Art Filters, create familiar looks from film days: Pop Art, Soft Focus, Pale & Light Color, Light Tone, Grainy Film, and Pin Hole. As you might expect, Pop Art boosts saturation, while Pin Hole rolls off the brightness toward the edges to create a vignetting effect. Grainy Film is a black-and-white setting — think Kodak Tri-X pushed 2 stops in the darkroom. While we often find new scene modes silly, these were fun to use. And in the right situations, you can get some cool images without much fuss in postprocessing.
As if that's not enough, the E-30 has a multiple-exposure mode. When you activate the setting, the camera asks how many frames you want to blend together (up to four) and whether you want to turn on Auto Gain and Overlay. Auto Gain adjusts the brightness of the frames being combined so the exposure looks normal in the final image. Overlay lets you combine multiple images and save them separately from the final, combined image. You can also combine up to four RAW images in playback mode.
Multi-exposure mode is hidden in a menu, but Olympus might want to put it in the drive mode options next time, because you'll want to play with it again and again once you get the hang of it. (For starters, always turn Auto Gain on. If you only want the final image and don't want to save the images separately, you can leave Overlay off.)
Cool stuff, but how well does the E-30 perform as a regular camera? Here our tests tell the story.
SOLID IMAGING
We were very pleased with the images we shot with the E-30, both in the field and in our target tests in the Pop Photo Lab. It achieved an overall image quality of Excellent all the way from ISO 100 to its penultimate sensitivity of ISO 1600.
Aside from ISO 3200, where it was Unacceptable, noise performance was impressive: The E-30 scored Very Low from ISO 100 through 800, and just barely edged up into Moderately Low territory at ISO 1600. Indeed, sensitivity and noise at high ISOs is a key differentiator in this category of DSLRs. For instance, the Olympus beat the Pentax K20D ($743, street, body only) and Sony Alpha 700 ($1,000, street, body only) at ISO 400-1600.
But images were noisier than those from Oly's own E-3, which rated Low in noise at both ISO 1600 and 3200, as did the Nikon D90 ($870, body only). The Canon EOS 50D ($1,170, street, body only) is the winner in the lowest light, with Moderate noise at ISO 6400 — plus it goes to ISO 12,800, albeit with Unacceptable noise.
The E-30's resolution? Excellent all the way through its sensitivity range, with 2195 lines at ISO 100, dropping only a little (to 1965 lines) at ISO 1600 and to 1840 lines at ISO 3200. But the competition is strong: All the cameras in this class capture an impressive amount of fine detail, especially when the ISO is kept low — each of the models we've named served up at least 2200 lines at ISO 100.
All but one of the cameras in this category (the Sony A700) achieved Excellent color accuracy ratings in our tests, in which a lower numerical score is better, and an average Delta E below 8 is considered Excellent. The E-30 scored 7.2, compared with 6.7 for the E-3. Of the other models, only the Canon 50D and Nikon D90 scored marginally better.
In all cases, our tests were performed with RAW files processed with the manufacturer's RAW conversion software.
SENSITIVE AUTOFOCUS
Like the E-3, the E-30 has 11 selectable focus points, each a pair of cross-type sensors to increase sensitivity. In our tests in the Pop Photo Lab, the E-30's autofocus was extremely fast in bright light. At EV 12 and EV 10, the two brightest levels we test, AF took 0.26 and 0.28 seconds, respectively. That's slightly faster than the E-3's 0.30 and 0.33 seconds in the same light and using the same 12-60mm f/2.8-4 Olympus Zuiko Digital ED SWD zoom lens.
The E-30 also beat Canon's EOS 50D at those two bright settings, and outperformed several rivals in a range of light. For instance, in all but very low light (EV 1 and dimmer), it proved faster than the Nikon D90, and it handily beat the Pentax K20D at most levels. Only Sony's blazingly fast Alpha 700 was able to beat the E-30 in both the very bright and very dim parts of our test.
But while it did very well in bright conditions, the E-30's AF system slowed as we turned down the lights. It took about the same time to focus, or just slightly longer than the E-3, in moderate and dim light, taking more than 2.3 sec at EV -2. That level, approximately the light cast by a full moon, is the dimmest the AF can handle, according to Olympus. Given our experience, we wouldn't use AF in conditions darker than a very dim living room (i.e., EV 0 or -1).
In live-view shooting, you can choose among three autofocus options. Imager AF uses a contrast-detection system that is significantly slower than the phase-detection system used in normal shooting. Still, it's about as fast as a point-and-shoot, and on par with what we've seen in competing contrast-detection systems. We generally preferred it in our own shooting with the E-30 in live-view mode.
If you don't mind having your live view interrupted, you can opt for the AF Sensor setting, using the phase-detection system, but this has to flip the mirror down, then focus, then flip it back up again. The third option, which Olympus calls Hybrid AF, uses contrast detection to get very close to perfect focus when you press the shutter button halfway, but follows up with phase detection before capturing the image. Since the initial half-press gets the lens so close to where it needs to be, the final focusing before capture shouldn't take very long.
VERY NICE BODY
With a design that closely follows that of the E-3, there's a whole lot to love about the E-30's body.
Dual command wheels? Got 'em. Dedicated buttons for ISO, sensor-shift image stabilization, white balance, autofocus, metering, and more? Check. The only LCD in this price range (other than the E-3's) that tilts and swivels? The E-30's got it.
One crucial difference is ruggedness. The E-30 lacks the E-3's extensive dust- and weathersealing. And its shutter isn't rated for durability, while the E-3's is rated to 150,000 cycles.
In normal shooting, though, it's a pleasure to use. Need to change a setting on the fly? Press the OK button and you jump straight into the status display on the main LCD, a 2.7-inch TFT with 230,000-dot resolution. From there you use the arrow keys to navigate to the setting you want to change. Technically, it's not too much faster than moving through a menu, but since you can see all the most important settings at once, it's easier to make sure you have the camera set the way you want it.
A function button can be programmed to perform a task of your choice, such as switching to manual focus, changing RAW or JPEG quality settings, or activating the camera's level gauge. That's right — there's a built-in level indicator. When activated, the exposure compensation scale converts to let you know if the camera is level or not. If you have trouble keeping your horizon lines level, especially when you're not using a tripod, this should help.
We weren't wild about the function button's default setting, which activates face detection and automatically switches to what Olympus calls the "best settings for taking pictures of people." These include single-shot, all-area AF; Imager AF in live view; Digital ESP, Olympus-speak for whole-frame evaluative metering; and auto tone curve. (We prefer to keep the tone curve in Normal mode when we shoot and then adjust later during RAW conversion, or to switch manually in the field to High Key or Low Key curves to help preserve highlights or shadow detail in very bright or very dark subjects.)
This wouldn't be a problem if the function button weren't so close to where your thumb rests — we accidentally activated it a few times during field testing. But the RAW conversion software that comes with the E-30 lets you adjust the tone curve during processing. And, of course, you can avoid similar mishaps simply by programming the button to a function you prefer to use.
BOTTOM LINE
If you're stepping up from an entry-level Olympus DSLR, such as the E-420, and have already started to invest in lenses, you need to decide between the E-30 and E-3. If you plan to shoot in harsh conditions, the E-3 is for you. If you're a more general-purpose shooter, and features such as the Art Filters and in-camera multiple exposures appeal to you, then the E-30 is probably the way to go.
If you're not married to the Four Thirds system, then things become more complicated. We took a closer look at the E-30's toughest competitors, the Canon 50D and Nikon D90, in the Competitive Set sidebar. The E-30 stands up very well against the Pentax K20D and Sony A700, but these are the oldest models in this class and neither offers live view. (Like the Olympus, though, both sport in-body image stabilization.)
Yes, others may be less expensive or perform better in our tests. But with its fun creative options, versatile swivel-and-tilt LCD, and well-designed body, the Olympus E-30 is enough camera to make any photographer happy.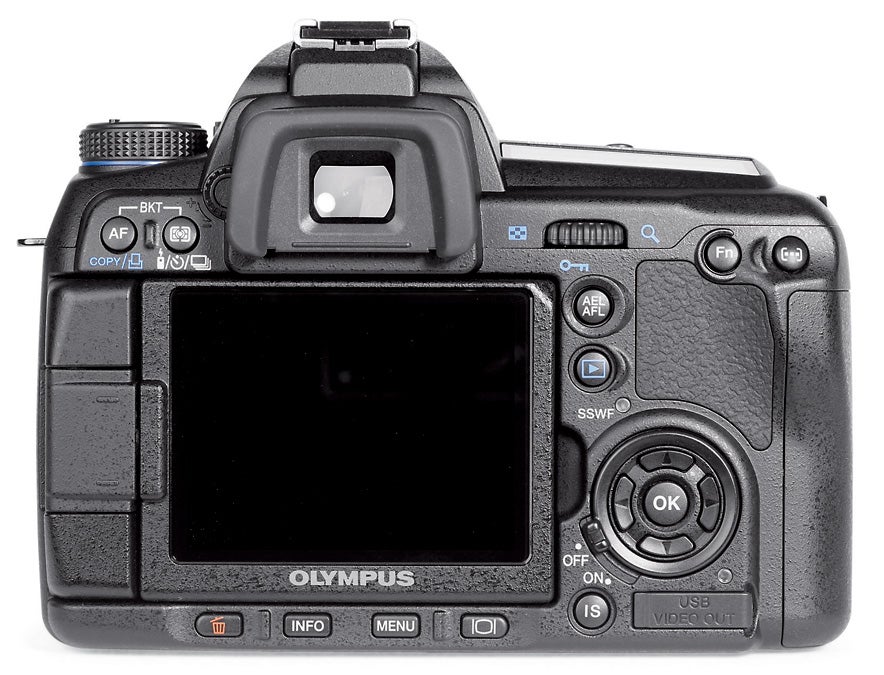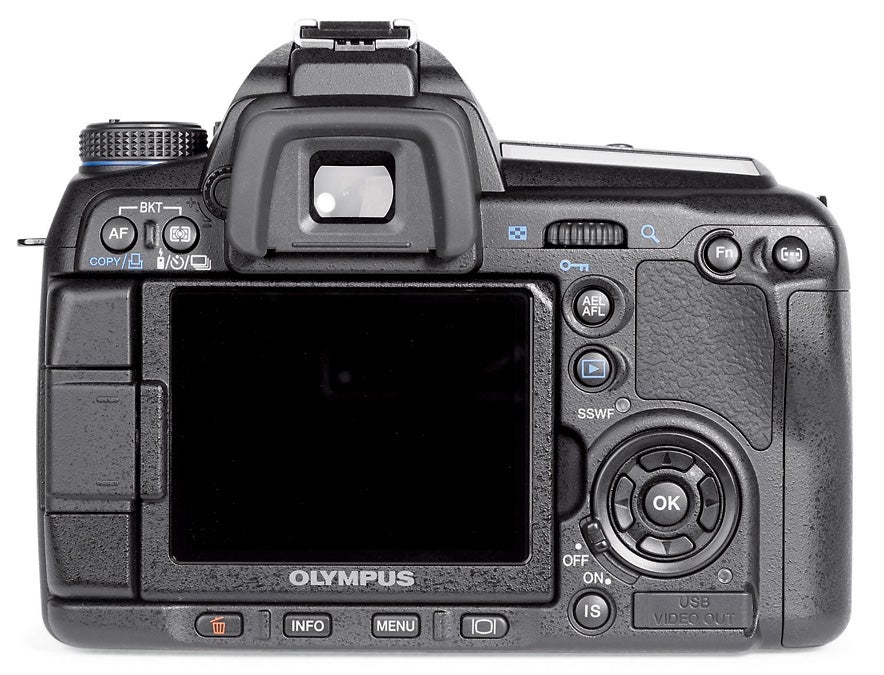 more-views-001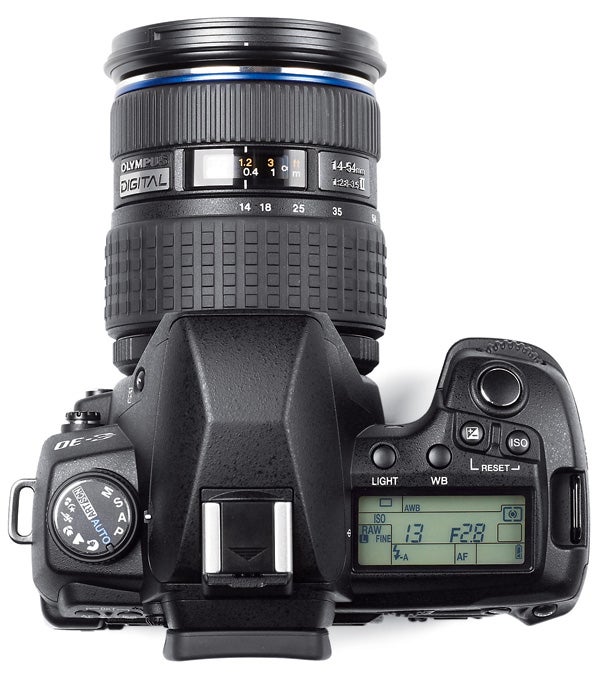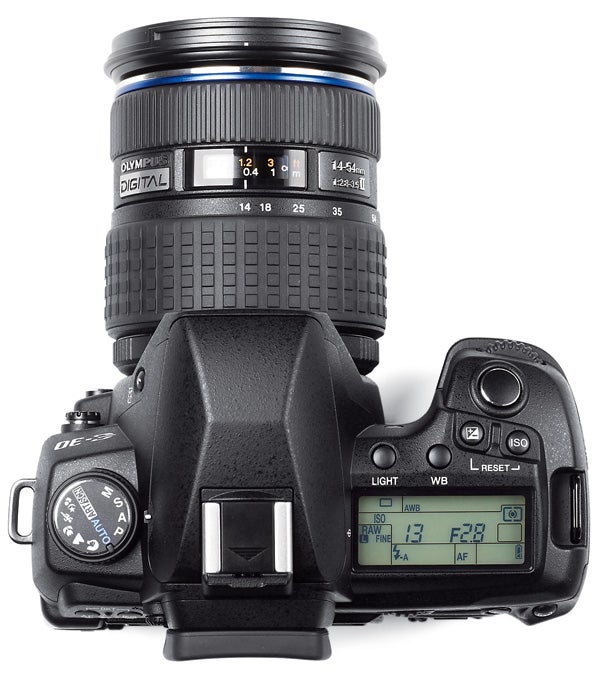 more-views-002