Nikon D3X: First Look
Megapixels and a whole lot more.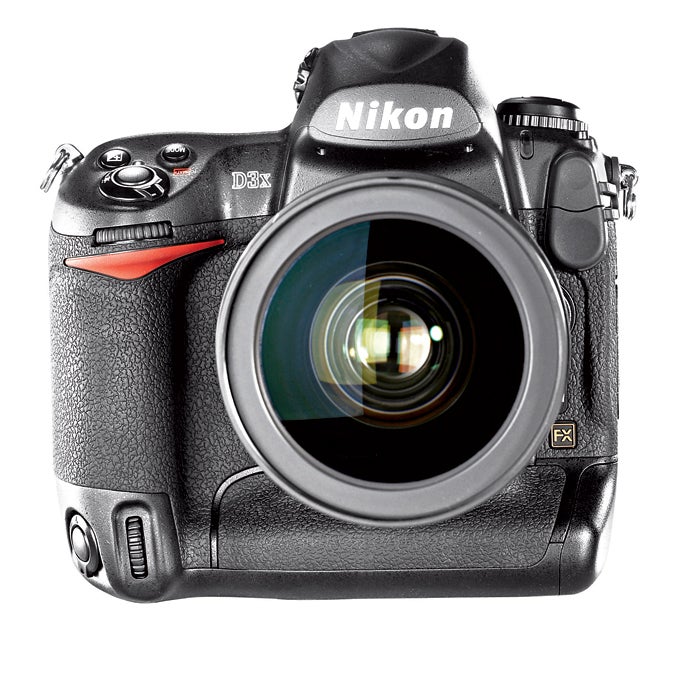 We may earn revenue from the products available on this page and participate in affiliate programs. Learn more ›
For a while, it looked as if Nikon were taking a break from the megapixel race to focus on other aspects of image quality. After all, the pro-caliber D3 is just 12.1MP, and the recent D90 is only 12.3MP.
But the hiatus is over. Nikon is back in the fray big-time with the introduction of a 24.5MP full-frame flagship, the D3X ($8,000, street, body only).
Trading the 12.1MP D3's super-high ISOs for a greater pixel count, this new camera takes direct aim at Canon's EOS-1Ds Mark III and Sony's Alpha 900.
In fact, the difference between the D3 ($4,200, street, body only) and D3X is much like the difference between Canon's EOS-1D Mark III ($3,750, street, body only) and 1Ds Mark III ($6,680, street, body only). In both cases, a step below the flagships gives you about half the pixels, but fast burst rates and high ISOs with relatively low noise. (The table on the opposite page spells this out.)
HARVEST THE CROP
So this new Nikon promises high resolution and great performance in bright light (it goes down to ISO 50), but it's no jackrabbit when it comes to burst capture, right?
Right. Unless you switch the D3X to its 10.5MP DX crop mode, where, Nikon says, it fires off 7 frames per second. And that's not the only crop mode. Prefer a 5:4 aspect ratio? You can have it — it brings the capture down to 20.4MP, while keeping the burst at 5 fps.
Although it boosted the megapixels, Nikon kept much of what made the D3 a breakthrough DSLR. There's the same 51-point Multi-CAM 3500FX AF system with a block of 15 cross-type sensors in the center of the frame. You also can limit the system to 21 or 9 AF points in Group Dynamic tracking mode or opt for 11-point selectable AF, as with the older D2Xs or D200.
Plus, in 3D tracking mode, the AF system uses the 1,005-pixel sensor in the 3D Color Matrix Metering II metering system. We all know how this determines exposure by referencing a database of images. But Nikon has added a database for white balance, too. We're eager to see how that performs when we get a production unit into the Pop Photo Lab.
And as with other pro-level cameras of late, you can fine-tune the focusing for up to 20 specific lenses.
GO LIVE
There are two live-view modes. Handheld mode uses the same phase-detection AF as regular shooting, but blanks out the screen while focusing. Tripod mode uses contrast-detection AF, though if the version in the D3 is any indication, it's far slower than the phase-detection system.
Have trouble leveling your horizon lines? The D3X has a virtual horizon indicator. In regular shooting mode, you can put it on the 3-inch, 920,000-dot LCD with a second indicator in the optical viewfinder. In live view, it can be overlaid on the image you're framing.
Image processing is handled by Nikon's EXPEED processing engine. It packs a 16-bit processing pipeline and 14-bit analog-to-digital conversion. That means 14-bit RAW files that contain more gradations per color channel than the 12-bit RAW files coming out of entry-level DSLRs.
If you've used a Nikon pro body, you'll feel right at home with the D3X. Controls and general design mimic the D3. The magnesium-alloy chassis and copious weathersealing are engineered for extreme conditions. And its shutter is rated to a hefty 300,000 cycles. All the familiar Nikon dials, switches, buttons, and command wheels are in about the same locations as on the D3. Pop-up flash? While the pro-level D700 has one, the D3X doesn't.
High-definition TV fans, note that Nikon has switched from the full-sized HDMI jack on the D3 to the smaller mini HDMI jack. This lets you connect the camera directly to an HDTV.
A pair of CompactFlash slots provides plenty of room for storage, which you'll need, given the pixel count. As with previous dual-slot Nikons, you can use the second slot as a mirrored backup of the main one, set one slot for JPEGs and the other for RAW files, or switch to the second one when the first fills up.
This arrangement is unique. Canon's 1Ds has two slots, but one is for SD cards, while the Sony A900's second slot takes Memory Stick PRO Duo cards. Some might argue that since most pros use CF cards, Nikon's approach is best. But Canonites can counter that as SD cards reach capacities higher than 8GB, the tiny SD cards are becoming useful to pros. Also, the ability to use devices such as Eye-Fi wireless SD cards and Canon's OSK-E3 data security kit ($650, street) adds to the appeal of the SD slot.
Does it seem odd that Nikon includes the same Retouch Menu as in its amateur-caliber models? The company says that pros asked for this feature, which lets you crop and apply minor fixes to photos right in the camera. And it makes sense for event photographers who might need to print on the spot, straight from memory cards.
BATTLE STATIONS!
If there was any doubt that Nikon has been emulating Canon's strategy over the past couple of years, the D3X should put that to rest. In short order, the company has jumped into the full-frame field both at the top and mid-range, and adapted its lens lineup to more closely mirror Canon's, with introductions such as the AF-S Nikkor 24 – 70mm f/2.8G ED.
To its credit, Nikon also managed to up the ante by leapfrogging Canon with higher ISOs and more pixels. And though Canon now lags behind both Sony and Nikon in pixel count, only a year ago it held that crown.
Nikonians have much to celebrate, but we're just wondering how long it will take for Canon to return fire.